Core Outcomes for Early Phase Surgical Innovation and Devices: the COHESIVE study
Are you a surgeon innovator, researcher, trialist or device manufacturer?



The COHESIVE study developed a core outcome set (COS) for evaluating new surgical procedures and devices. Use of the COS in all early phase studies will make innovation safer, more transparent and ensure efficient evaluation. The final COS consists of 8 outcome domains, including outcomes specific to innovation and outcomes shared with effectiveness studies (randomised controlled trials).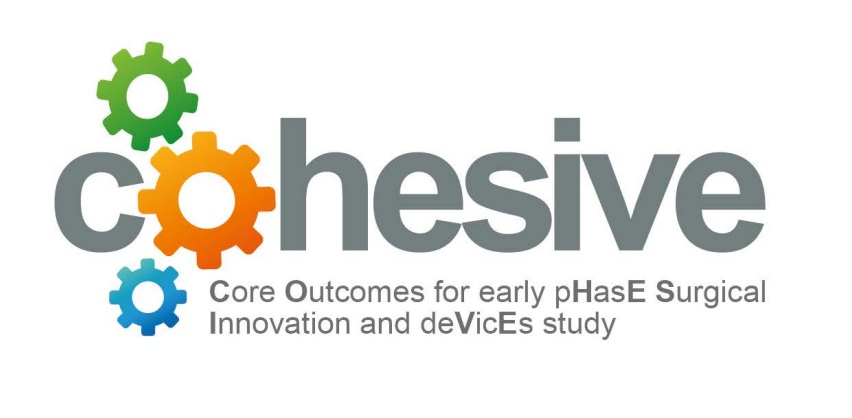 Publications
Avery K. et al. (2021). A core Outcome Set for Seamless, Standardized Evaluation of Innovative Surgical Procedures and Devices (COHESIVE): A Patient and Professional Stakeholder consensus Study. Annals of surgery, 10.1097/SLA.0000000000004975
Avery K. et al. (2019) Development of reporting guidance and core outcome sets for seamless, standardised evaluation of innovative surgical procedures and devices: a study protocol for content generation and a Delphi consensus process (COHESIVE study). BMJ Open, 9(9), e029574
Final COHESIVE COS
Download the full 8-item COS with further explanations for each outcome domain here (PDF, 257kB)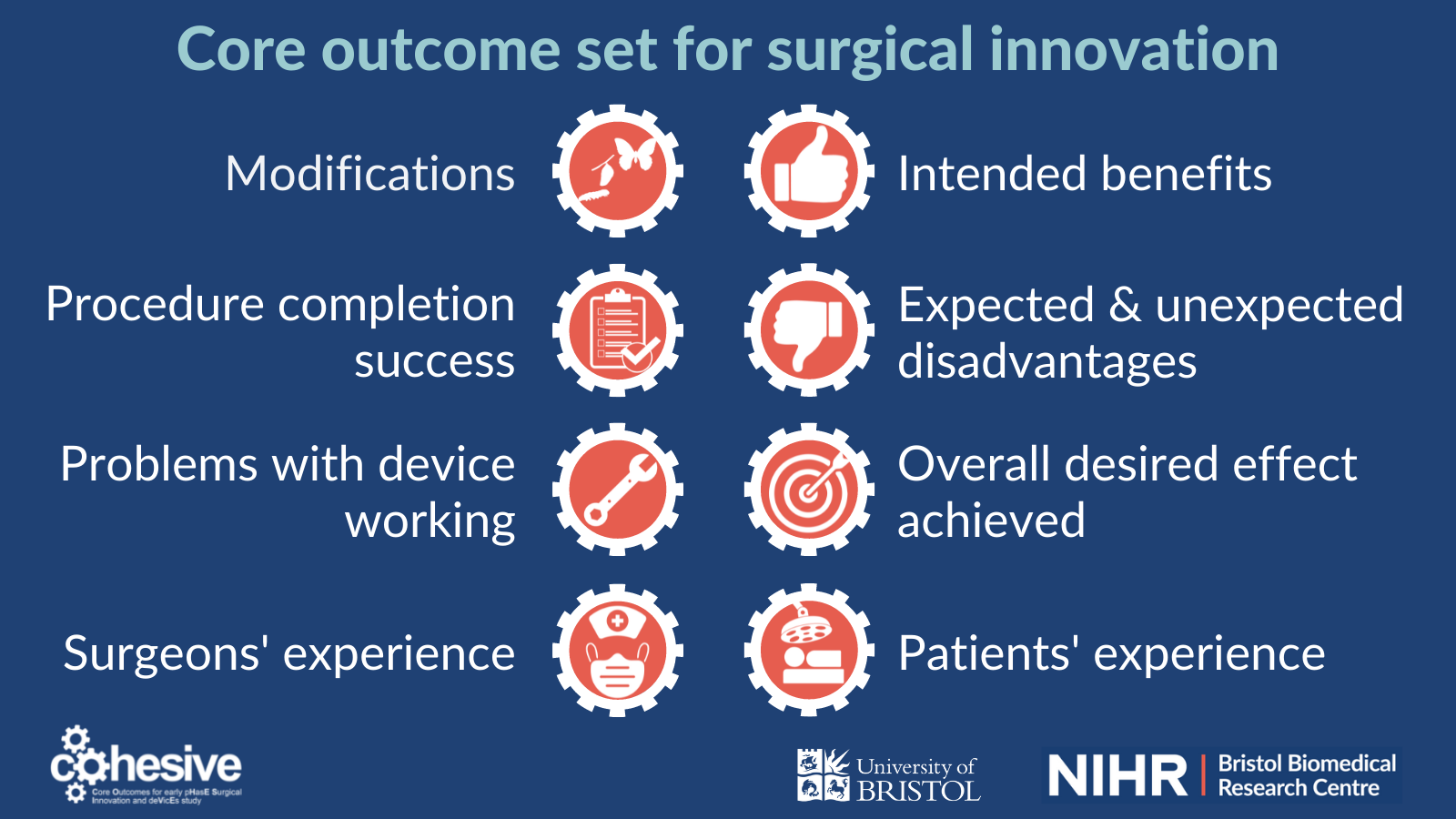 How was the COS developed?
The COS was developed with multiple international stakeholders, and using robust methodology. You can read more about this in the published protocol. Explanations of each outcome domain are available for download here (PDF, 257kB) or can be viewed in the results publication.
The COS is freely available and ready for use in research, clinical practice and audit.
A core measurement set is currently being developed to define optimal measurement instruments to assess the outcomes domains in the COHESIVE COS.

Our Ennovate study is also developing an electronic platform for the real-time measurement and sharing of information and outcomes of surgical innovation.
Acknowledgements and funding
The COHESIVE Study was funded by the National Institute for Health Research (NIHR) Biomedical Research Centre (BRC) at University Hospitals Bristol and Weston NHS Foundation Trust and the University of Bristol (BRC-1215-20011). This work was supported by the Royal College of Surgeons of England Bristol Surgical Trials Centre and the MRC ConDuCT-II (Collaboration and innovation for Difficult and Complex randomized controlled Trials In Invasive procedures) Hub for Trials Methodology Research (MR/K025643/1).
The views expressed in this publication are those of the authors and not necessarily those of the NIHR, the Department of Health and Social Care, Royal College of Surgeons of England or Medical Research Council.
Ethical approval was granted by North East - Newcastle and North Tyneside 1 Health Research Authority Research Ethics Committee (18/NE/0378).