Events 2014
Symposium: 'Promoting health in schools: reviewing the evidence, setting the agenda'
3 June 2014, Friends' Meeting House, London
Following the completion of three reviews of existing evidence on health promotion in schools, a recent DECIPHer-hosted symposium brought together experts in school health research, to shape the agenda for future research in this area. The following key reviews were discussed:
• The World Health Organization's Health Promoting Schools Framework: a Cochrane systematic review and meta-analysis;
• The health effects of the school environment;
• Implementing health promotion programmes in schools: A realist review.
Presentations were given on the development of school health research networks in England and Wales, and delegates had the opportunity to discuss where this vital area of research should go next.
Find out more about the sympsosium in Beki Langford's piece on the DECIPHer blog.
---
Bristol - Walking City
28 May 2014
Researchers from the University of Bristol argued in favour of Bristol as a walking city. Dr Suzanne Audrey presented findings from a Walk to Work study with workplaces in Bristol, while Professor Ashley Cooper and Dr Angie Paige focussed on walking to school. With high rates of physical inactivity and obesity, their work clearly shows the benefits of building physical activity into the daily routine by increasing walking during the commute to work and to school.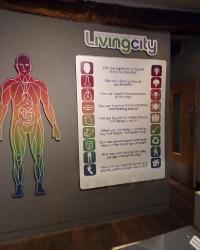 ---
Dora Pouliou presenting at 21st European Congress on Obesity
28 May 2014, Sofia, Bulgaria
As part of the 21st European Congress on Obesity, an interactive symposium entitled 'Assessing the cardiovascular effects of weight loss strategies' took place, chaired by Nicholas Finer. The symposium looked at why the putative cardiovascular benefits of weight control in obese people have often not been realized. DECIPHer's Dr. Dora Pouliou presented on 'Cardiovascular effects of diet and exercise in people who are overweight/obese'. The presentation reviewed the cardiovascular effects of diet and exercise, and what the evidence can tell us about optimising lifestyle interventions to reduce both weight and cardiovascular risk.
---
Suzanne Audrey presenting at Laria Annual Conference
13-14 May 2014, University of Warwick
The 40th annual conference of Laria, the Local Area Research + Intelligence Association, brought together researchers from across the UK to discuss key issues facing the sector. Keynote speakers included Councillor Izzi Seccombe, leader of Warwickshire County Council; Professor Michael Hughes; Martin Surl, Police and Crime Commissioner for Gloucestershire Constabulary; and Martin Reeves, Chief Executive, Coventry County Council.
Dr. Suzanne Audrey presented at the conference on her research on the free swimming initiative in England.
Full information on the conference.
---
South West Public Health Conference 2014
February 5th 2014, Winter Gardens, Weston-Super-Mare, BS23 1AJ.
The 2014 South West Public Health Scientific Conference, which was being partly funded by DECIPHer, took place in Weston-super-Mare on 5 February 2014.
Reflections on the conference can be found on the DECIPHer blog.