News
2019
Frank de Vocht awarded 2nd best poster prize at PHE UK Annual Conference 2019
Many congratulations to the Centre for Public Health's Frank de Vocht who was awarded the 2nd best poster prize at the Public Health England annual conference 2019 for his NIHR School for Public Health work on the impact of indivdual alacohol licensing decisions on health and crime using local, small-scale natural experiements. For more information please see here.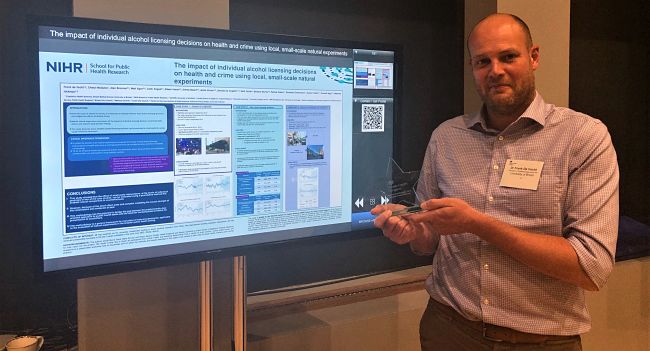 The field of Public Health at the University of Bristol has been ranked 2nd in the UK, 3rd in Europe and 8th globally by Shanghai Ranking's Global Ranking of Academic Subjects (GRAS).
Researchers in the UK have developed a new method for evaluating plutonium workers' historical internal radiation exposure in a study funded by the National Institute for Health Research. They focussed their efforts on workers employed at the start of plutonium operations at the Sellafield (formerly Windscale) nuclear reprocessing facility in the UK. In a paper published today in the Journal of Radiological Protection, the researchers describe how they developed this method and the need for this research.
Dr Frank de Vocht of the Centre for Public Health was the principle investigator on this research.
Researchers at Bristol and Cardiff universities are running the largest ever trial of a peer-led drug prevention programme in schools across the West of England and South Wales. FRANK Friends will run over three years, across 48 schools, and involve around 5,655 students. It will evaluate the effectiveness and cost-effectiveness of a peer-led programme in preventing drug use among young people.
More older people with depression could benefit from non-drug treatments
Depression is common in older age and with an ageing population how late-life depression is managed will become increasingly important. Researchers from the University of Bristol and University College London (UCL) suggest mental health in later life should be given greater priority by healthcare professionals. Nearly ten per cent of adults aged over 75 have major depressive disorder, and over one third sub-threshold depressive symptoms, yet people over the age of 85 are five times less likely to be referred for psychological therapies than people in their 50s. Researchers from the University of Bristol and UCL aimed to explore how healthcare professionals (HCPs) manage depression in older people and referrals to psychological therapies. The study, funded by the NIHR School for Public Health Research (SPHR), is published in the British Journal of General Practice (BJGP).
A new blog feature by the JGI interviewed David Troy, one of our Research apprentices at the Centre for Public Health on his research into the effect of glass markings on drinking rate in social alcohol drinkers.
2018
Important Cochrane review published
A new Cochrane Review led by Dr Georgie MacArthur of the Centre for Public Health has been published after a long period of hard work involving many Centre members. You can view the Review here.
Titled 'Individual‐, family‐, and school‐level interventions targeting multiple risk behaviours in young people', it examines the effects of interventions implemented up to 18 years of age for the primary or secondary prevention of multiple risk behaviours among young people. The team carried out a meta-analysis of of 70 eligible studies and found that the evidence is strongest for universal school‐based interventions that target multiple‐ risk behaviours, demonstrating that they may be effective in preventing engagement in tobacco use, alcohol use, illicit drug use, and antisocial behaviour, and in improving physical activity among young people, but not in preventing other risk behaviours.
However, results of the review do not provide strong evidence of benefit for family‐ or individual‐level interventions across the risk behaviours studied, and there remains a need for high‐quality multiple‐ risk behaviour intervention studies to further strengthen the evidence base in this field. Nevertheless, the review will be useful to policy makers and commissioners in assisting with decisions around investment or dis-investment.
Visit from Lauren Carpenter of the University of Melbourne
Lauren Carpenter, a Research Fellow at the University of Melbourne, Australia, visited us recently and on 27th September, gave a seminar "Nutrition and oral health in the first five years of life – an overview of young children's diets and the role that grandparent care providers play". Many thanks to Lauren for sharing her findings. Read more about Lauren here and about her group, the Melbourne School of Population and Global Health Department here.
Centre for Public Health staff member promoted to Reader
Congratulations to staff member Dr Frank De Vocht, who was promoted to Reader in Epidemiology and Public Health in July 2018.
Viva success for Centre for Public Health staff member Cheryl McQuire
Cheryl McQuire, who has recently completed a PhD in the epidemiology of prenatal alcohol use, reports that she passed her viva with only minor corrections. Many congratulations Cheryl!
She was "very pleased" and is taking a well-deserved holiday.
Call for School Governors to help project on Academy and Free School Engagement
Dr Tricia Jessiman, Professor Rona Campbell and Dr Vanessa Er of the Centre for Public Health are conducting a NIHR School for Public Health Research-funded study about engaging academy and free schools in health promotion and research. They would like to interview senior staff to explore who make decisions about health promotion in schools and school's participation in health-related research, and how these decisions are made.
Are you a governor of an academy school/free school? Alternatively, can you suggest others who we can approach about the study? If you are interested to be interviewed or would like to find out more about the study, please get in touch with Tricia (tricia.jessiman@bristol.ac.uk) or Vanessa (Vanessa.er@bristol.ac.uk)
CPH research on Heart Radio
Dr Frank De Vocht explained his new NIHR School for Public Health Research findings about attempts to reduce alcohol consumption on Bristol's Heart Radio on Thursday 25th January. His research paper was published in the journal Addiction on the same day. You can view it here.
New MSc in Public Health
We are delighted to launch a new MSc in Public Health which is open for applications to start in September 2018. The MSc covers the principles and practice of public health, health improvement, health protection, epidemiology and statistics, research methods and evaluation, health economics, ethics and healthcare services. The course is suitable for students from both clinical and non-clinical backgrounds.
---
2017
CPH research gains widespread attention
Dr Pandora Pound's timely and important research into best practice in Sex and Relationship Education (SRE) is featured this week in both Tes, formerly known as the Times Educational Supplement, and the scientific news website myScience UK.
Pandora, who is a Research Fellow in Public Health Research Methodology in the School of Social and Community Medicine at the University of Bristol, says: "We identified criteria for best practice based on the evidence.
"These criteria will be of value to those interested in developing high-quality SRE programmes to help safeguard young people and improve their sexual health. We hope that they will help to inform the forthcoming consultations around developing guidance for statutory SRE in English schools."
CPH member in the Guardian!
Centre for Public Health member Dr Frank De Vocht was recently quoted in the Guardian in an article on Michael Faraday. Frank commented on the effectiveness - or otherwise - of clothing designed to block electromagnetic waves.
Read the full article, from 22 May 2017, here.
Refreshed and renewed membership for the NIHR School for Public Health Research announced
The refreshed and renewed membership for the NIHR School for Public Health Research was announced on 4 April 2017.
Following an open competition, the membership of the School from 1 April 2017 to 30 March 2022 is confirmed as:
University of Bristol
University of Cambridge
Fuse - Research collaboration between Newcastle University, Durham University, Northumbria University, University of Sunderland and Teesside University
Imperial College London
LiLaC – Research collaboration between the University of Liverpool and University of Lancaster
London School of Hygiene and Tropical Medicine
University of Sheffield
University College London (UCL)
Professor Ashley Adamson has been appointed as Director for the School's second five-year term.
Professor Rona Campbell, Deputy Director and Bristol Lead, NIHR School for Public Health Research, said: "We welcome Bristol's continued membership of this important national public health research collaboration and look forward to working with our academic partners, colleagues in public health policy and practice, and members of the public to establish effective ways of improving population health."
The School was established in April 2012 to bring together leading academic centres in England demonstrating excellence in public health research and complement other NIHR funding streams. It aims to build the evidence base for effective public health practice including what works practically to improve population health and reduce health inequalities and can be applied across the country to better meet the needs of policymakers, practitioners and the public.
The focus of the School is to continue to have a positive impact on public health, policy, practice and capacity building. It will also continue to integrate with the public health landscape including Public Health England.
Funding of £20.5 million over five years is available to support the School.
---
2016
A Picture of Health
Late last year, we invited researchers from across the University to send us images representing their health-related work and research interests. We're pleased to announce we received 70 contributions from researchers in 8 departments.
A panel of judges carefully considered all the images and you can now see their selection of the best images on the Picture of Health twitter page.
Keep your eyes peeled for the top six images, each representing one of the themes, which will be displayed publicly in the University of Bristol in Spring 2017.
A big thank you to everyone who took part, and to the many people who helped make the project a success, including the judges and Research Staff Development who funded the project.
Sex and relationship education research hits the news
A BMJ Open paper written by CPH researchers Pandora Pound, Beki Langford and Rona Campbell has generated wide media coverage, both nationally and internationally. The team are based at the University of Bristol's School of Social and Community Medicine.
Their project explored whether current provision of sex and relationship education (SRE) meets young people's needs. It found that SRE should be 'sex-positive' and delivered by experts who maintain clear boundaries with students. Schools should acknowledge that sex is a special subject with unique challenges, as well as the fact and range of young people's sexual activity, the researchers found, otherwise young people will continue to disengage from SRE and opportunities for safeguarding and improving their sexual health will be reduced.
Read the paper here

2015
New Medical Research Council guidance for process evaluation of complex interventions available
Guidance for process evaluation of complex interventions (PDF, 1,690kB)
Updated MRC guidance for evaluation of complex interventions published in 2008 (Craig et al.2008) highlighted the value of process evaluation within trials of complex interventions in order to understand implementation, the mechanisms through which interventions produce change, and the role of context in shaping implementation and effectiveness. However, it provided limited insight into how to conduct a good quality process evaluation.
New MRC guidance for process evaluation of complex interventions has been produced on behalf of the MRC Population Health Sciences Research Network by a group of 11 health researchers from eight universities, including Dr Suzanne Audrey of the University of Bristol School of Social and Community Medicine, in consultation with a wider stakeholder group.
The document begins with an introductory chapter which sets out the reasons why we need process evaluation, before presenting a new framework which expands on the aims for process evaluation identified within the 2008 complex interventions guidance. It then presents discrete sections on process evaluation theory (Section A) and practice (Section B), before offering a number of detailed case studies conducted by the authors (Section C).
The guidance has received endorsement and support from the MRC's Population Health Science Group and Methodology Research Panel, as well as NIHR NETSCC. An abridged version will also follow shortly.
2014
School scheme unable to boost healthy eating and activity among children
A school-based scheme to encourage children to eat healthily and be active has had little effect, conclude researchers in a study published on bmj.com.
Combatting childhood obesity from the age of two
A successful American initiative to tackle childhood obesity will be trialled in the UK, thanks to a new £431,495 research project targeting children as young as two. See news item here.
The University of Bristol has been funded by the National Institute of Health and Research (NIHR) to undertake the study, which aims to increase physical activity and healthy eating among children aged between two and four-years-old.
The Nutrition and Physical Activity Self Assessment for Child Care (NAP SACC) programme was initially developed in America and has been successfully adopted across the US. The UK version will involve parents and carers, encouraging a healthy start for children in the community.
Making schools healthier places - New research by Beki Langford
Children spend almost half their waking hours in school so it makes sense to make this as healthy a place to be as possible.
New research into the effectiveness of the World Health Organisation's Health Promoting Schools framework has just been published in The Cochrane Library. This is a holistic, whole-school approach to health promotion focusing on the school's health curriculum, its ethos and environment, and its links with families and communities.
This new research, led by DECIPHer's Dr Beki Langford and Professor Rona Campbell from the School of Social and Community Medicine, reviewed 67 randomised controlled trials, to investigate the effect of the Health Promoting Schools approach on a number of key aspects of students' health, wellbeing and academic achievement. This study is the first to be carried out using the Cochrane framework, which uses only the most rigorous evidence to assess effectiveness.
A summary of the review's key findings can be found in this post on the DECIPHer blog. The full review can be downloaded from the Cochrane library here.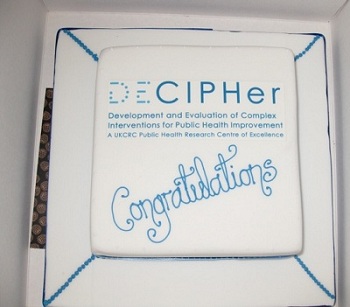 DECIPHer centre awarded £4.3 million funding to continue its work for a further five years
See news item here.
The Centre for the Development and Evaluation of Complex Interventions for Public Health Improvement (DECIPHer) tackles key public health issues such as smoking, obesity and mental health.
The renewed funding will enable experts from the Cardiff, Bristol and Swansea Universities to continue their work with children and young people across Wales and the South West, looking at how to tackle the social, environmental and behavioural issues which underlie health problems later in life.
DECIPHer research seeks to develop practical and innovative interventions, to follow them through and to see them implemented and evaluated, both locally and nationally.

DECIPHer is one of five Public Health Research Centres of Excellence in the UK which have been established by eight funding partners under the auspices of the UK Clinical Research Collaboration (UKCRC).
Research Assessment Success
The Research Excellence Framework 2014 ranked Bristol among the UK's top research universities.
Our research is shown to have top quality and major impact on society and the economy, according to this assessment of research at every UK university. REF2014 will decide how around £2 billion in research funding will be allocated each year from 2015-16.
Thirty-six per cent of the University's research received the top 4* rating, defined by HEFCE as 'world leading'. This is six per cent above the sector average and twice the level the University achieved in the Research Assessment Exercise (RAE) 2008, placing Bristol 10th in the Russell Group.
The research area 'public health, health services and primary care' achieved particular distinction - 100 per cent world-leading 4* impact.
Full results available here
2013
Smoking prevention programme wins Innovation and Impact Award
A ten-year study that reduced the uptake of smoking among adolescents by training influential students to act as peer supporters has been recognised for its success with a prestigious Cardiff University award.
The ASSIST programme, led by Professor Laurence Moore of the School of Social Sciences at Cardiff University and Professor Rona Campbell of the University of Bristol's School of Social and Community Medicine, in partnership with DECIPHer Impact Ltd, was awarded the Innovation in Healthcare Award at the Innovation and Impact Awards 2013.
The team was presented with the award by Jeff Pearson, Chief Executive of Geldards, in a ceremony at the University where guests included the First Minister of Wales, Carwyn Jones. The awards are sponsored by Geldards Law Firm and Fusion IP.
Developed by the University of Bristol and Cardiff University, the ASSIST programme was evaluated in a large-scale randomised trial funded by the Medical Research Council. It devised and tested processes to effectively identify and use influential students to promote smoke free as a positive choice through conversations and social networking.
In 2008 the programme was rolled out across Wales, in Tower Hamlets Borough Council and NHS Bristol. To support the roll out, Cardiff and Bristol Universities set up DECIPHer Impact Ltd and the ASSIST programme was exclusively licensed to the spin-out company.
Since DECIPHer Impact Ltd's creation, 24 licences have been sold to Primary Care Trusts and Local Authorities across the UK. More than 38,000 students have taken part in the programme since licensing began and based on an upward trend, 65,000 year 8 students will have taken part by summer 2013, with an associated reduction of 1,350 smokers expected. In the years ahead, the company - which now employs two staff - aims to license and distribute other evidence-based public health interventions and broaden its collaborations with other academic institutions.
Professor Laurence Moore said: "Through the ASSIST programme we identified an innovative, theory-led intervention that is both cost-effective and successful in reducing smoking rates among adolescents. To make sure we maximised its impact and implementation throughout the UK and beyond, we set up DECIPHer Impact Ltd which has helped to bridge the gap between academics and policy makers and is facilitating translation of this innovation practice."
The Innovation and Impact Awards Competition is organised by the Cardiff University Innovation Network; the business/university network established in 1996. They provide an opportunity for Cardiff academic staff to showcase their innovative collaborations with business and other non-academic organisations, demonstrating the positive impact that universities can have on economy and society.
This is an edited version of an article entitled 'Preventing smoking in teenagers', which appeared on the Cardiff University News Centre website. Permission to reproduce it here is gratefully received.The original article can be found here