Teaching and Training in Public Health Medicine
We teach a full and part-time MSc in Public Health. The MSc covers the principles and practice of public health, health improvement, health protection, epidemiology and statistics, research methods and evaluation, health economics, ethics and healthcare services. The course is suitable for students from both clinical and non-clinical backgrounds.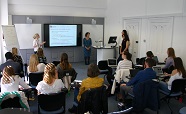 Members of the Centre for Public Health support the organisation and delivery of paediatric teaching to medical students at the University of Bristol:
The Community Orientated Medical Practice 1 (COMP1) unit of the medical curriculum is mainly devoted to Academy-based clinical attachments in Child Health but starts with central teaching covering Public Health and Evidence Based Medicine and an introduction to Child Health.
Teaching on this unit, delivered in year 4, uses a variety of approaches including lectures, workshops, tutorials and clinical skills. Most of the paediatric teaching is provided in the academies with central lectures given in Canynge Hall.
The Unit Lead for COMP1 is Prof Moin Saleem. The element leads are Prof Julian Hamilton-Shields (responsible for assessments) and Dr Esther Crawley (Curriculum lead).
The Community Orientated Medical Practice 2 (COMP2) unit focuses on Primary Health Care, Dermatology and Care of the Elderly. It is nine weeks long and runs four times a year, comprising eight weeks of clinical placements and five days central teaching in Bristol. The clinical time is divided into a 4-week GP placement and a 4-week Care of the Elderly placement with Dermatology clinics and tutorials throughout. During this time the students are academy-based. They all attend central teaching in Bristol for two days of the first week and the final three days of week 9.
This unit is led by Dr Lucy Jenkins.