Social and economic researchers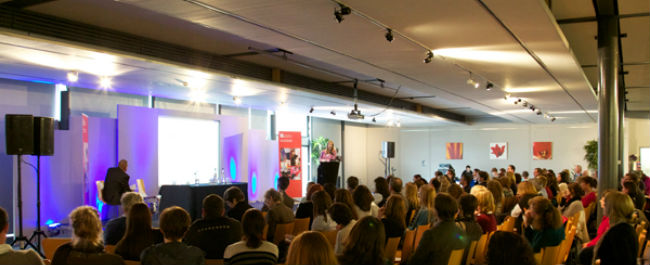 This page is aimed at researchers in social sciences and related disciplines who are using or may be interested in using data from the study.
ALSPAC Social science research newsletters
Past workshops
Early life interventions and intergenerational mobility
Friday 28th October 2011, 9.30am - 6.00pm, The Boardroom, BIPA, 2 Priory Road, University of Bristol. Conference programme (pdf, 110kB)
This conference was funded by the ESRC Large Grant – An Examination of the Impact of Family Socio-economic Status on Outcomes in Late Childhood and Adolescence
Recent Developments in Observational Epidemiology using Mendelian Randomisation
Thursday 26 May 2011, 10:30-5pm, Royal Statistical Society headquarters, 12 Errol Street, London, EC1Y 8LX
Mendelian randomisation involves using genetic variants that are known to be reliably associated with modifiable risk factors to estimate the causal effects of these risk factors. The last ten years has seen an explosion in the number of published Mendelian randomisation studies, most of which rely on instrumental variable techniques from econometrics. The aim of this meeting was to highlight recent developments from biostatistics, epidemiology and econometrics, and the impact that these will have on future Mendelian randomisation stuides. An extremely full day comprised six presentations from prominent workers in the field. The meeting concluded with a panel discussion in which matters raised during the day were discussed and questions were taken from the floor.
The meeting was sponsored by the ESRC-funded project "Impact of Family Socio-economic Status on Outcomes in Childhood & Adolescence"; the MRC-funded project "Inferring Epidemiological Causality using Mendelian Randomization"; and the MRC Centre for Causal Analysis in Translational Epidemiology at the University of Bristol. More information (Office document, 95kB)
Inequalities in Childhood and Adolescent Health
Thursday 14 April 2011, Burwalls conference centre, University of Bristol
This workshop was aimed at academics, population health practitioners and policy makers who are interested in understanding and reducing health inequalities in children and adolescents. It presented both methodological research, concerned with developments aimed to better understand causal effects and possible biases in inequalities research and applied research concerned with recent evidence on inequalities in health in children and adolescents and policy implications of these. More information
Showcasing ALSPAC as a Resource for Social and Health Researchers
Monday 4 April 2011, 2-5pm, Royal Statistical Society, 12 Errol St, London EC1Y 8LX
The Avon Longitudinal Study of Parents & Children (ALSPAC) has been running since 1991 and has resulted in a rich data set of biomedical and social measurements on children and their carers. While there has already been much high profile research based on ALSPAC, efforts have recently been made to increase awareness of these data among the wider research community. The aim of this meeting was to showcase the ALSPAC data and its potential for answering research questions concerning health and social factors. The four presentations covered the following issues: the ALSPAC data and its linkage to important administrative data sources; factors affecting the relationship between gestational weight gain and the health of mothers and their offspring in later life; a comparison of the socio-economic differences in children's behavioural and educational development found in ALSPAC and a US cohort; and the use of genetic data to establish the causal relationship between physical characteristics with a genetic basis, like obesity, and important outcomes, like educational attainment.
Longitudinal Data Analysis: Multilevel modelling and Structural Equation Modelling Approaches
20-21 September 2010, University of Bristol. More information
The Avon Local Group of the Royal Statistical Society Meeting
Tuesday 26th May 2009, 5-6 pm, Room 410 Graduate School of Education, University of Bristol, 35 Berkeley Square, Bristol, BS8 1JA
Theme: Avon Longitudinal Study of Parents and Children (ALSPAC)
Social Science User Group Workshops
Economics of Diet and Obesity - 3rd ALSPAC Social Science User Group Workshop
Wednesday 20th May 2009, Goldney Hall, University of Bristol, Lower Clifton Hill, Clifton, Bristol BS8 1BH. Programme (pdf, 8KB)
2nd ALSPAC Social Science User Group Workshop
Wednesday 1st October 2008, Work Based Learning Centre, Institute of Education, 20 Bedford Way, London, WC1H 0AL. Programme (PDF, 58kB)
1st ALSPAC Social Science User Group Workshop
Wednesday 21st May 2008, The Centre for Market and Public Organisation, University of Bristol, 2 Priory Road, Bristol, BS8 1TX. Programme (PDF, 92kB)