Disability Studies
Find a programme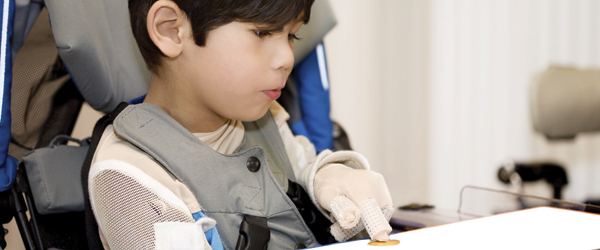 Run by
Faculty of Social Sciences and Law

Awards available
PhD
Programme length
Four years full-time;
seven years part-time
Location of programme
Clifton campus
Part-time study available
Yes
Start date
Most students will start in September each year, however other dates can be considered. Please contact the senior postgraduate admissions administrator to discuss the options available.
Programme overview
The School for Policy Studies links theory, policy and practice in a multidisciplinary, research-intensive environment. Our research engages with and influences national and international policy. Our policy experts come from a wide variety of backgrounds in social policy research, social work, sociology, gender violence, disability studies, health and social care, childhood studies, history, human geography, economics, psychology, physical activity, nutrition and health sciences, based within seven specialist research centres.
Our research examines policy areas that affect us all in day-to-day life, influences and challenges policies implemented by governments and institutions, and investigates the issues, factors and attitudes underlying the social concerns that make the headlines every day.
The school is an exciting environment for graduate studies; we welcome graduate students from the UK and around the world to join our diverse and highly-rated research team. We particularly welcome applications on topics with direct relevance to national and international policy and social work concerns.
The school houses seven specialist research centres, one of which is the Norah Fry Research Centre, specialising in research around disability studies. Specifically, our PhD applicants are interested in exploring policies, practices or societal issues from the point of view of people with disabilities, recognising and valuing their human rights.
Fees for 2021/22
We charge an annual tuition fee. Fees for 2021/22 are as follows:
UK: full-time

£4,475

UK: part-time

£2,238

Overseas (including EU): full-time

£18,900

Channel Islands/Isle of Man: full-time

£9,475
Fees are subject to an annual review. For programmes that last longer than one year, please budget for up to a five per cent increase in fees each year. Find out more about tuition fees.
Alumni scholarship
University of Bristol students and graduates can benefit from a ten per cent reduction in tuition fees for postgraduate study. Check your eligibility for an alumni scholarship.
Funding for 2021/22
Applicants may apply for funding from the University of Bristol scholarship fund or alumni PhD scholarship fund. Also, candidates for a Disability Studies PhD can apply for social work or social policy disciplinary studentships from the ESRC, which may encompass disability interests.
Further information on funding for prospective UK, EU and international postgraduate students.
Entry requirements
An upper second-class honours degree and a pass at MSc/MA level (or equivalent experience/qualification).
See international equivalent qualifications on the International Office website.
English language requirements
If English is not your first language, you need to meet this profile level:
Profile C
Further information about English language requirements and profile levels.
Admissions statement
Read the programme admissions statement for important information on entry requirements, the application process and supporting documents required.
Research groups
The Norah Fry Research Centre is a leading international centre specialising in research with and for disabled adults, children and their families. The centre is known for its work to include people with intellectual disabilities in the research process, as well as the development of accessible, easy-to-understand information and the dissemination of research findings in multiple formats to different audiences.
Careers
Studying for a PhD in Disability Studies will equip you with a broad range of research knowledge and skills, both within the disability field and beyond. As a result, what you learn when focusing on disability-related issues and developing skills in analysis and research will be relevant to vocational or non-vocational work in many different settings and topic areas.
Obtaining a PhD is a route into an academic post, either within a higher education institution or in a public sector or research enterprise.
Previous graduates have gone on to work for the University of Bristol or other universities, public sector bodies, third sector organisations, self-advocacy and user-led organisations, local government or education. Their roles have been strongly related to applied social research.
Staff profiles
Norah Fry Research Centre
Professor David Abbott, (Professor), Disabled children living in residential settings; issues for disabled children and young people and their families; making transitions to adulthood; multi-agency working.
Dr Sandra Dowling BA (London), MA (ELond), PhD (Ulster), (Lecturer in Disability Studies)
Dr John Franey, (Senior Teaching Fellow), Ethics in professional practice; leadership and management in local authorities; school-based multi-agency group work.
Dr Rob Green, Assessment, learning and intervention; dimensions of social and emotional development; multi-agency working; psychological dimensions of interpersonal communication.
Ms Carmel Hand BSc(Bristol), PGCE(WEngland), MSc Ed Psy(ELond), (Senior Teaching Fellow), Extensive experience in educational psychology practice, management and strategic work in Local Authorities particular interest in educational exclusion in practice and working with parents.
Professor Pauline Heslop, (Professor), Health and related issues; morbidity and mortality in people with intellectual disabilities; poverty and social disadvantage; young people with intellectual disabilities and transitions.
Dr Jak Lee, (Teaching Fellow, Senior Lecturer), Coaching psychology; school improvement and organisational development; whole-school procedures for supporting pupils with social and behavioural difficulties, and for emotional health and mental well-being. 
Mrs Beth Tarleton, (Senior Research Fellow), Supporting adults with learning disabilities; transition, short breaks (respite care), easy information and supported housing.
How to apply
Application deadline:
We welcome applications at any time of year; early application is advised.
The closing date for ESRC studentship applications (September 2021 start) is January 2021. For further details on applying for ESRC funding, please visit the SWDTP website.
Find out more about becoming a student at Bristol, applying for a visa and the support we offer to international students.
The Bristol Doctoral College facilitates and supports doctoral training and researcher development across the University.
REF 2014 results
Social Work and Social Policy:
38% of research is world-leading

(4*)

42% of research is internationally excellent

(3*)

18% of research is recognised internationally

(2*)

2% of research is recognised nationally

(1*)
---
Results are from the most recent UK-wide assessment of research quality, conducted by HEFCE. More about REF 2014 results.