MSc
Education (Policy and International Development)
Find a programme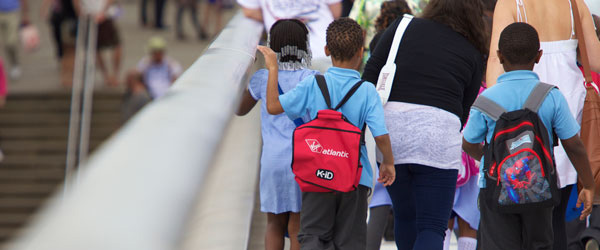 Programme overview
Our education master's degrees give you the opportunity to design a tailored programme of study that suits your cultural and learning needs. You will be able to specialise and receive an award in a particular disciplinary area.
The Policy and International Development pathway focuses on the relationship between education policy and practice and international development. It probes the influence of global policy agendas on education and the contribution that education makes to social justice, economic growth and sustainable development.
In line with the sustainable development agenda, development is treated as an international issue and the pathway considers case studies from countries around the world as well as from within Bristol. It examines formal and informal education through diverse institutions and organisations, including schools, universities and community organisations.
This MSc takes a critical look at ideas about social development, such as human rights, the capability approach and peace building, and their implications for education policy and practice. There will be opportunities to explore how educational theories and practice travel between and are adapted to specific contexts. You will analyse the role of key organisations involved in the global governance of education, including civil society, international non-governmental organisations, development agencies and commercial bodies.
The Policy and International Development pathway develops your skills in using international and comparative research, both in education and in analysing education policy. You will be supported to develop your own reasoned position and distinctive critical voice for commenting on education policy and education's role within social development at international, national and local level. You will have access to first-class library and information services, allowing you to study the specific ideas, issues, initiatives and policies you are interested in.
Fees for 2021/22
We charge an annual tuition fee. Fees for 2021/22 are as follows:
UK: full-time

£8,900

UK: part-time (two years)

£4,450

Overseas (including EU): full-time

£20,300

Channel Islands/Isle of Man: full-time

£8,900
Fees are subject to an annual review. For programmes that last longer than one year, please budget for up to a five per cent increase in fees each year. Find out more about tuition fees.
Alumni scholarship
University of Bristol students and graduates can benefit from a ten per cent reduction in tuition fees for postgraduate study. Check your eligibility for an alumni scholarship.
Funding for 2021/22
Further information on funding for prospective UK, EU and international postgraduate students.
Programme structure
Our education master's degrees give you the opportunity to design a tailored programme of study that suits your cultural and learning needs. You will be able to specialise and receive an award in a particular disciplinary area.
Visit our programme catalogue for full details of the structure and unit content for our MSc Education (Policy and International Development).
Alternatively, you can design your own pathway by opting not to specialise. Core units can be taken from across the different specialisms and from our bank of optional units to build a tailored programme of study, resulting in an award of MSc Education.
Entry requirements
A good UK undergraduate honours degree (or equivalent qualification) and some appropriate professional experience.
See international equivalent qualifications on the International Office website.
English language requirements
If English is not your first language, you need to meet this profile level:
Profile E
Further information about English language requirements and profile levels.
Admissions statement
Read the programme admissions statement for important information on entry requirements, the application process and supporting documents required.
Careers
We offer academic and personal development opportunities to equip you for the intellectual, social and personal challenges you will encounter during your career.
Our overarching goal is to enable our education graduates to display the following characteristics:
equipped to demonstrate impact, excellence and distinctiveness in your chosen field;
visionary, imaginative, innovative, reflective and creative;
high ideals and values, including a strong sense of social justice;
highly employable throughout the world;
adaptable, with the potential to be a leader in work and in the community.
Read more about the careers of some of our education graduates.
How to apply
Application deadline:
1 August 2021. Early application is advised as places may fill quickly.
Discover the expertise and resources on offer at Bristol with our live and on-demand events.
Request more information
Find out more about studying with us or request a prospectus.
Contact details
Student Services Office Phone: +44 (0) 117 331 4491 Email: ed-masters-admiss@bristol.ac.uk
School of Education
University of Bristol
35 Berkeley Square
Bristol, BS8 1JA
School website: School of Education
Find out more about becoming a student at Bristol, applying for a visa and the support we offer to international students.
REF 2014 results
Education:
44% of research is world-leading

(4*)

36% of research is internationally excellent

(3*)

19% of research is recognised internationally

(2*)

1% of research is recognised nationally

(1*)
---
Results are from the most recent UK-wide assessment of research quality, conducted by HEFCE. More about REF 2014 results.