MSc
Banking, Regulation and Financial Stability
Find a programme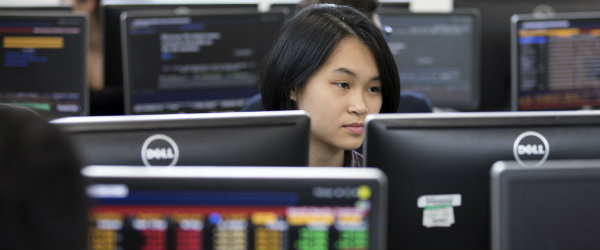 Programme overview
This programme will equip you with the specialist skills and knowledge to pursue a wide range of careers in the banking industry. It has been developed with the needs of the sector in mind and reflects the industry's growing demand for individuals with an extensive knowledge of regulation and compliance.
Our programme has a distinctive focus on banking regulation, supervision, compliance and risk management. It goes beyond traditional banking and finance courses by exploring the regulatory demands within banking and examining the role of central banks and international organisations in achieving and maintaining financial stability.
The MSc in Banking, Regulation and Financial Stability is designed for graduates of economics or finance who aspire to a career in banking. It will also appeal to recent graduates who are already working in financial services and wish to specialise in banking and financial regulation, as well as those who intend to continue to PhD research in this area. Successful students will be in demand and can expect to excel in careers in banks and regulatory bodies, or advisory roles in accounting, auditing and consulting firms.
You will be part of a dynamic and diverse body of staff and students, and will be taught by world-renowned experts. We pride ourselves on our highly interactive and innovative style of teaching, and take a case study approach to learning, utilising the sector experience of our teaching team. Our academics enjoy internationally recognised research profiles in banking and beyond, and bring experience and insight from working at a senior level within the sector. The academic staff on this programme enjoy strong links with central banks (Bank of England, European Central Bank, Deutsche Bundesbank) and international organisations (International Monetary Fund and the World Bank).
For this programme, we offer a mentoring scheme with mentors from the banking community and a small number of dissertations may be co-supervised by economists from the Bank of England.
You will also be able to develop your professional skills by taking part in the extensive programme of careers events and workshops offered by the school and the University's Careers Service.
Fees for 2021/22
We charge an annual tuition fee. Fees for 2021/22 are as follows:
UK: full-time

£13,400

Overseas (including EU): full-time

£26,500

Channel Islands/Isle of Man: full-time

£13,400
Fees are subject to an annual review. For programmes that last longer than one year, please budget for up to a five per cent increase in fees each year. Find out more about tuition fees.
Alumni scholarship
University of Bristol students and graduates can benefit from a ten per cent reduction in tuition fees for postgraduate study. Check your eligibility for an alumni scholarship.
Funding for 2021/22
Further information on funding for prospective UK, EU and international postgraduate students.
Programme structure
You will take eight 15-credit units: six core units, which are compulsory for all students, and two elective specialist units.
The final part of the MSc is a project-based dissertation; you will research a current theme or topic relevant to banking. You will be able to tailor your investigation to a setting that reflects your personal interests and future career aspirations, while being advised by a member of academic staff with a research interest in your chosen topic. The dissertation provides an opportunity to apply the skills and knowledge you have acquired and is a powerful way of showcasing your expertise and transferable skills to future employers.
Visit our programme catalogue for full details of the structure and unit content for our MSc in Banking, Regulation and Financial Stability.
Entry requirements
Applicants must hold at least an upper second-class honours degree (with a mark of 65 or above) in either finance or economics, or an equivalent overseas qualification from a reputable university. Students with a degree in finance are required to demonstrate a good understanding of economics and mathematics.
See international equivalent qualifications on the International Office website.
English language requirements
If English is not your first language, you need to meet this profile level:

Profile G
Further information about
English language requirements and profile levels
.
Admissions statement
Read the programme admissions statement for important information on entry requirements, the application process and supporting documents required.
Careers
The programme is excellent preparation for careers in banking and financial services. Given the increasing regulatory demands being faced by the sector, our programme will make you especially attractive to central banks and regulatory bodies.
Recent graduates of the School of Accounting and Finance have gone on to work with a variety of employers across the sector, including Deloitte, HSBC, Citi Bank, Lloyds Banking Group, JP Morgan and PwC. In 2019, the University of Bristol was ranked second in the UK for universities that are most targeted by top employers. Our careers service regularly runs recruitment events specifically for the banking sector.
Application deadline:
29 July 2021 for all applicants. Early applications recommended; places may fill before the deadline. As students from different regions tend to apply at different points in the application period, applications from some regions may close earlier in the year.
Discover the expertise and resources on offer at Bristol with our live and on-demand events.
Find out more about becoming a student at Bristol, applying for a visa and the support we offer to international students.