MSc
Bioinformatics
Find a programme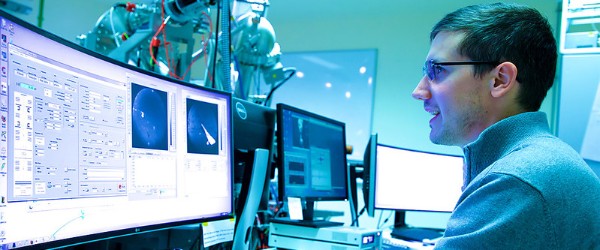 | | |
| --- | --- |
| Faculty | Faculty of Life Sciences |
| Awards available | MSc |
| Programme length | One year full-time |
| Location of programme | Clifton campus |
| Part-time study available | No, full-time only |
| Start date | September 2021 |
Programme overview
The MSc Bioinformatics covers a diverse range of areas in bioinformatics and is suitable for students from a variety of academic backgrounds related to the Life Sciences (biology, biochemistry, genetics, medicine, and other biosciences). Students will learn and work together with world-leading experts.
In the age of big data, conservation biology, biodiversity, genetics, and evolutionary biology involve the study of large amounts of data that increase in volume and variety at a high speed. The use of computational tools is essential to analyse such large datasets, some of which have shaken the foundations of many scientific disciplines. The advent of these technologies is also central to many companies and the public sector and has driven the emergence of innovative start-ups. The job market for graduates proficient in bioinformatics is expanding rapidly and will keep growing.
Topics include programming, machine learning, genomics, protein structure, evolutionary biology, as well as professional and entrepreneurial skills. Students will undertake a scientific research project supervised by the experts of the Faculty of Life Sciences and will leave with highly transferable skills that will boost their future careers and their employability. Moreover, they will learn how to capitalise their innovative ideas in a fast-moving entrepreneurial environment.
Fees for 2021/22
We charge an annual tuition fee. Fees for 2021/22 are as follows:
UK: full-time

£11,500

Overseas (including EU): full-time

£21,800

Channel Islands/Isle of Man: full-time

£14,040
Bench fees: For postgraduate research students who are not funded by UK Research Councils or (specific) UK charities, it is usual to charge a bench fee. A bench fee covers the costs of laboratory consumables, specialist equipment and other relevant costs (e.g. training) for the duration of the programme. The bench fee charged can vary considerably depending on the nature of the programme being undertaken. Details of specific bench fee charges can be provided on request and will made clear in the offer letter sent to applicants.
Fees are subject to an annual review. For programmes that last longer than one year, please budget for up to a five per cent increase in fees each year. Find out more about tuition fees.
Alumni scholarship
University of Bristol students and graduates can benefit from a ten per cent reduction in tuition fees for postgraduate study. Check your eligibility for an alumni scholarship.
Funding for 2021/22
Further information on funding for prospective UK, EU and international postgraduate students.
Programme structure
Mandatory units:
Scientific Programming
Statistics and R
Entrepreneurship and Professional Development
Project Planning
Group Project
Research Project.
Plus three units from the following:
Genome Biology and Genomics
Advanced Programming
3D Protein Structure
Genome Evolution
Omics.
Please visit our programme catalogue for full details of the structure and unit content.
Entry requirements
Applicants must hold/achieve a minimum of a first or upper second-class honours in degrees related to life sciences (biological sciences, biochemistry, zoology, ecology, etc)
See international equivalent qualifications on the International Office website.
English language requirements
If English is not your first language, you need to meet this profile level:
Profile C
Further information about English language requirements and profile levels.
Admissions statement
Read the programme admissions statement for important information on entry requirements, the application process and supporting documents required.
Careers
Bioinformatic skills are essential for future life scientists, not only to molecular sciences, but also in fields such as climate change, biodiversity, metagenomics, or conservation. Outside academia, many sectors are also reliant on Big Data, social media analytics, and other computer-based methodologies such as artificial intelligence or deep learning. Examples just in UK are public projects including Genomics England (Department of Health and Social Care), and the Darwin Tree of Life (Wellcome Trust). Consequently, the job market for graduates proficient in bioinformatics is expanding rapidly and will keep growing.
How to apply
Application deadline: 23 July 2021 for all applicants. Early applications recommended; places may fill before the deadline. As students from different regions tend to apply at different points in the application period, applications from some regions may close earlier in the year.
Discover the expertise and resources on offer at Bristol with our live and on-demand events.
Find out more about becoming a student at Bristol, applying for a visa and the support we offer to international students.
REF 2014 results
20% of research is world-leading

(4 star)

45% of research is internationally excellent

(3 star)

30% of research is recognised internationally

(2 star)

5% of research is recognised nationally

(1 star)
---
Results are from the most recent UK-wide assessment of research quality, conducted by HEFCE. More about REF 2014 results.