MSc
Stem Cells and Regeneration
Find a programme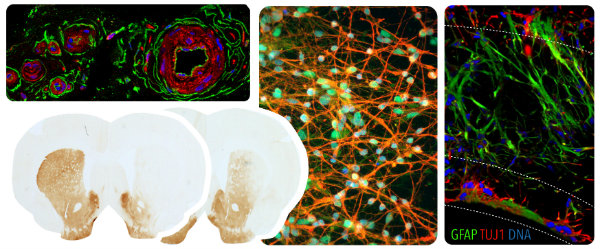 Faculty
Faculty of Health Sciences

Awards available
MSc , PG Certificate (Postgraduate Certificate), PG Diploma (Postgraduate Diploma)
Programme length
One year full-time;
two years part-time
Part-time study available
Yes
This programme is only offered by distance learning for both its full and part-time study formats. All students will need to come to Bristol during September for exams at the end of each year. The time spent in Bristol is one week per year for part-time students and two weeks for full-time students.
Start date
September 2021
Programme overview
This innovative distance-learning programme is taught online and will provide you with knowledge and understanding in the highly topical and exciting field of stem cell biology and regeneration. You will be guided from the origins of this field through to its application (and potential applications) in treating human disease, covering the latest tools and technologies available for study in this area. Programme content is delivered by researchers active in the field, giving you the opportunity to engage with the latest breakthroughs.
Lectures, online discussions and assessments are delivered over the internet. This offers you more flexibility than traditional campus-based courses as you can study in your own environment. You will only be required to visit Bristol for your formal examinations at the end of the academic year. This distance-learning model, together with a part-time study option, makes the programme particularly appealing if you want to combine full-time employment with study.
Fees for 2021/22
We charge an annual tuition fee. Fees for 2021/22 are as follows:
UK: full-time (MSc)

£9,000

UK: part-time (two years) (MSc)

£4,500

Overseas (including EU): full-time (MSc)

£21,800

Overseas (including EU): part-time (MSc)

£10,900

Channel Islands/IoM: full-time (MSc)

£11,540
UK: full-time (PG Dip)

£7,200

Overseas (including EU): full-time (PG Dip)

£17,440

Channel Islands/IoM: full-time (PG Dip)

£8,700
UK: full-time (PG Cert)

£3,600

Overseas (including EU): full-time (PG Cert)

£8,720

Channel Islands/IoM: full-time (PG Cert)

£4,350
Additional fees
Bench fee

£2,000 for the optional lab-based project
Fees are subject to an annual review. For programmes that last longer than one year, please budget for up to a five per cent increase in fees each year. Find out more about tuition fees.
Alumni scholarship
University of Bristol students and graduates can benefit from a ten per cent reduction in tuition fees for postgraduate study. Check your eligibility for an alumni scholarship.
Funding for 2021/22
Further information on funding for prospective UK, EU and international postgraduate students.
Programme structure
There are seven mandatory taught units and a research project/dissertation. Visit our programme catalogue for full details of the structure and unit content for our:
Entry requirements
An upper second-class (or, exceptionally, a lower second-class) honours degree in a relevant subject (science or medicine).
See international equivalent qualifications on the International Office website.
English language requirements
If English is not your first language, you need to meet this profile level:
Profile E
Further information about English language requirements and profile levels.
Admissions statement
Read the programme admissions statement for important information on entry requirements, the application process and supporting documents required.
Careers
The programme can open up a number of different career opportunities. It can be used as a pathway to further studies (eg a PhD) which in turn could lead to a research or academic career in the field.
It can also open up opportunities in private industry, for example:
Biotechnology sector research/sales
Stem cell business development
Stem cell banking
Stem cell patents
Stem cell clinical translation
Charity research development
Pharmaceutical industry
Stem cell regulatory bodies.
How to apply
Application deadline:
31 July 2021 for international applicants. 19 August 2021 for UK applicants. Early applications recommended; places may fill before the deadline. As students from different regions tend to apply at different points in the application period, applications from some regions may close earlier in the year.
Discover the expertise and resources on offer at Bristol with our live and on-demand events.
Find out more about becoming a student at Bristol, applying for a visa and the support we offer to international students.