MA
Chinese-English Audiovisual Translation
Find a programme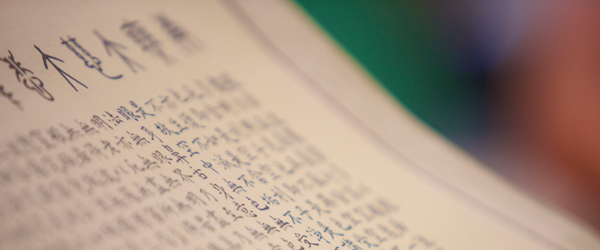 Faculty
Faculty of Arts

Awards available
MA
Programme length
One year full-time, two years part-time
Location of programme
Clifton campus
Part-time study available
Yes
Part-time study requires daytime weekday attendance
Start date
September 2021
Programme overview
The MA Chinese-English Audiovisual Translation is designed to prepare students to work in the fast-growing audiovisual sector of the language industries. The driver for industry growth is the ubiquitous availability of video content. Audiovisual translation accounts for up to a third of language services activity both in China and internationally.
The programme focuses on technological competence and practical skills building in a range of audiovisual translation modes. The programme also offers a broader grounding in key concepts and audiovisual industry dynamics. Students build their core skills through compulsory units in applied translation, CAT tools, translation theory and concepts in audiovisual translation. They can then take options in subtitling, videogame localization, introduction to specialised translation or translation and international film distribution. Students can do a research-based or a practice-based dissertation; the dissertation must be on a topic related to audiovisual translation.
Tutors include specialists in translation technologies, videogame localization and subtitling. Bristol is a UNESCO City of Film and film and media culture is very lively here. Bristol is also a hub for game developers and publishers. The training offered by the programme is practical and industry-oriented in nature.
Fees for 2021/22
We charge an annual tuition fee. Fees for 2021/22 are as follows:
UK: full-time

£9,100

UK: part-time (two years)

£4,550

Overseas (including EU): full-time

£20,000

Channel Islands/Isle of Man: full-time

£9,100
Fees are subject to an annual review. For programmes that last longer than one year, please budget for up to a five per cent increase in fees each year. Find out more about tuition fees.
Alumni scholarship
University of Bristol students and graduates can benefit from a ten per cent reduction in tuition fees for postgraduate study. Check your eligibility for an alumni scholarship.
Funding for 2021/22
Further information on funding for prospective UK, EU and international postgraduate students.
Programme structure
The programme structure is as follows. In the first teaching block students take 4 compulsory units:
• Applied Translation (20 credits)
• Theories of Translation (20 credits)
• Concepts in Audiovisual Translation (10 credits)
• Computer-Assisted Translation (10 credits)
They also take a non-credit-bearing Academic Language and Literacy unit.
In the second teaching block, students take the dissertation unit and three of the following optional units:
• Introduction to Specialised Translation (20 credits)
• Translation for Subtitling (20 credits)
• Games Localization (20 credits)
• Translation and International Film Distribution (20 credits)

The dissertation can be a practice-based or research-based dissertation but must be on a topic relating to audiovisual translation.
Visit our programme catalogue for full details of the structure and unit content.
Entry requirements
Applicants must hold/achieve a minimum of; For non-native Chinese speakers an upper second-class degree in Chinese Studies is required.
Applicants will be required to do a translation test and Skype interview as part of the application process. For native Chinese speakers an upper second-class degree in any subject is required Non-traditional qualifications/routes may also be considered.
See international equivalent qualifications on the International Office website.
English language requirements
If English is not your first language, you need to meet this profile level:
Profile B
Further information about English language requirements and profile levels.
Admissions statement
Read the programme admissions statement for important information on entry requirements, the application process and supporting documents required.
Careers
This programme is designed to prepare students for working, for example, as in-house interns or new hires at postproduction or localization companies, or for freelance work. A number of our students each year consider progressing to doctoral study after their MA. Many of the skills are transferable to other careers such as editing, marketing or social media. Audiovisual translation helps students to learn key attributes such as creativity and close attention to detail.
Application deadline: 29 July 2021 for all applicants.
Discover the expertise and resources on offer at Bristol with our live and on-demand events.
Find out more about becoming a student at Bristol, applying for a visa and the support we offer to international students.
REF 2014 results
20% of research is world-leading

(4 star)

45% of research is internationally excellent

(3 star)

30% of research is recognised internationally

(2 star)

5% of research is recognised nationally

(1 star)
---
Results are from the most recent UK-wide assessment of research quality, conducted by HEFCE. More about REF 2014 results.