News
2023
---
On Thursday 8th June, an expert meeting was held at the University of Bristol, titled: Treatment decision-making in advanced kidney disease: an international collaborative workshop on future directions. The meeting brought together renal and palliative care clinicians and researchers specialising in the area from across the UK with colleagues from Harvard University and Brigham and Women's Hospital, with two guests from Boston coming to Bristol to attend in person. The aim of the event was to share research and clinical practice models related to treatment decision-making in advanced kidney disease – an area in which the partnering teams have complementary expertise.

The event was led by Dr Lucy Selman, Associate Professor of Palliative and End-of-Life Care at the University of Bristol in collaboration with Professor James Tulsky, Professor of Medicine at Harvard University and Poorvu Jaffe Chair at the Dana-Farber Cancer Institute, and was funded by Bristol International Research Collaboration Activities (BIRCA) and the National Institute of Health Research. A total of 20 people attended the hybrid expert workshop
The day began with presentations, sharing research and clinical work with people at high risk of developing kidney failure. This included presentations on the UNPACK study, the PREPARE RCT, the OSCAR study, and the KidneyPal model of integrated palliative care and nephrology (picture 1). This was followed by a Keynote Lecture from Professor Tulsky titled: Enhancing Communication between Clinicians and Seriously Ill Patients: From Research to Pedagogy to Practice (picture 2). The lecture was recorded and is available to watch here:
The second half of the day consisted of brainstorming sessions to identify research priorities in the area, with the longer term aim of developing a position statement on communication about treatment options and advance care planning for older people with advanced kidney disease.
The international expert meeting created a constant flow of invigorated discussions, continuing throughout the whole day, despite the warm weather. Attendees reported feeling energised by the meeting, and were enthusiastic about taking the research priorities forward.
---
PhD Successes
We are delighted that two members of the research group completed their PhDs in the last 6 months:
Dr Barny Hole – kidney doctor at Southmead Hospital – is pleased to announce that he was awarded his PhD on 10th January 2023 with his thesis Understanding the treatment preferences of older patients deciding between dialysis and conservative kidney management. His examiners were Professor Katherine Payne (Manchester) and Associate Professor Matthew Graham-Brown (Leicester). Barny has accepted a Clinical Lectureship at the University of Bristol and North Bristol NHS Foundation trust and is conducting further research into how to provide the best kidney care for older people.
Dr Guy Schofield – a palliative medicine doctor training in London – was awarded his PhD on 6th December 2022 with his thesis Understanding the Ethical Challenges in the Practice of Palliative Care in Uganda. His thesis was examined by Professor Sheila Payne (Lancaster University) and Professor Michael Parker (University of Oxford). He has subsequently been appointed as a consultant in palliative medicine at Imperial College Healthcare NHS Trust and an honorary senior clinical lecturer at Imperial College London. He continues his research looking at everyday ethics in the practice of palliative care.
---
The future of Good Grief
Since our first virtual festival in 2020, on the eve of a long winter lockdown, over 25,000 people have attended and watched Good Grief events. We have considered all of your feedback and suggestions, and we are delighted to share with you a new, exciting course for the Good Grief community.
Our virtual festivals are the foundation that Good Grief was built on. Based on your feedback, and what we feel will best serve our community, Good Grief events will now take place more regularly, with a programme of one-day mini-festivals spread out over the coming year. Each mini-festival will have its own theme with speakers and events built around that theme.
The YouTube channel
In the feedback survey, 90% of people asked for a Good Grief YouTube channel. Good Grief are pleased to announce that from October onwards, Good Grief content (past, present and future) will be available to watch for free on YouTube. We will be releasing that content regularly over the coming months. Our team really put their hearts into this project and we are excited to reveal what we think could become one of the go-to places for all things grief on YouTube.
The Grief Hub website launch
Good Grief will be launching a new website with an extensive and easy-to-navigate resource hub. The resource hub will provide signposting to a whole host of useful tools, articles, organisations and much more, bringing together rich resources and content from other charities and groups across the UK.
---
The Grief Channel launches on YouTube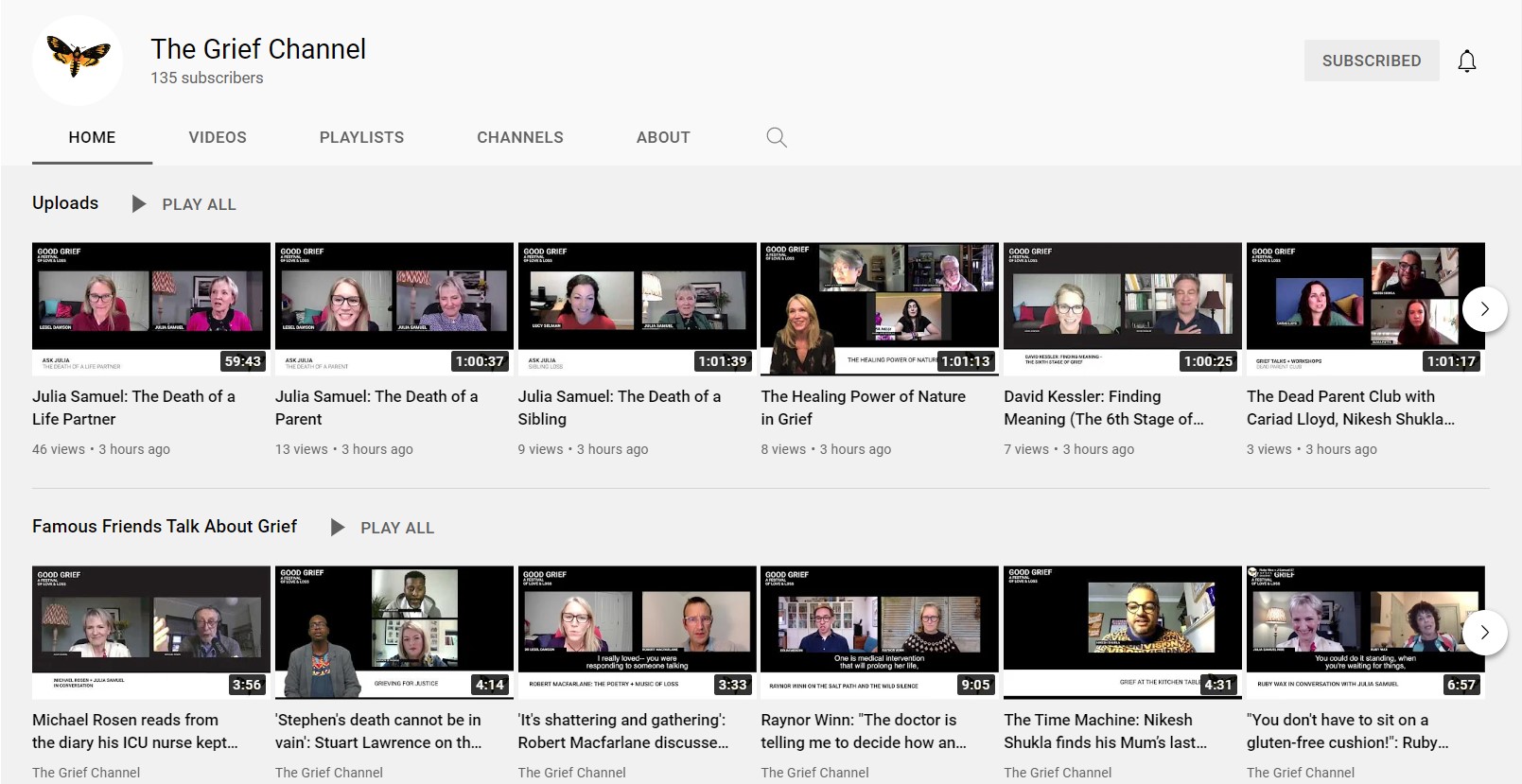 The Grief Channel is now live on YouTube. It features over 120 talks from Good Grief festivals and events, with Julia Samuel, Cariad Lloyd, David Kessler, Michael Rosen, Nikesh Shukla, Ruby Wax, Stuart Lawrence, Dr Rachel Clarke, Dr Kathryn Mannix, Amber Jeffrey, Professor Robert Neimeyer and many, many more!
All content is free to watch on The Grief Channel - available here. The Grief Channel aims to reach and help as many people as possible so feel free to share the videos far and wide. You can expect to see more and more videos appearing on The Grief Channel over the coming months so make sure to subscribe for updates.
---
Palliative and End of Life Care Research Group co-lead participates in the Lancet Commission
‌
Charlotte Chamberlain, co-lead of the Palliative and End of Life Care Research Group, had the privilege of participating in the Lancet Commission on the Value of Death.
The story of dying in the 21st century is a story of paradox. Covid-19 has meant people have died the ultimate medicalised deaths, often alone in hospitals with little communication with their families. But in other settings, including in some lower income countries, many people remain undertreated, dying of preventable conditions and without access to basic pain relief. The unbalanced and contradictory picture of death and dying is the basis for the Lancet Commission on the Value of Death. Drawing on multidisciplinary perspectives from around the globe, the Commissioners argue that death and life are bound together: without death there would be no life. The Commission proposes a new vision for death and dying, with greater community involvement alongside health and social care services, and increased bereavement support.
You can access the full commission report here and associated content here. To hear the Lancet Commission recommendations and debate online or in person join the Royal Society of Medicine on Tuesday 1st March 2022, 09:00-17:00: The Lancet Commission on the value of death.
---
2021
Good Grief Festival reaches over 4500 people internationally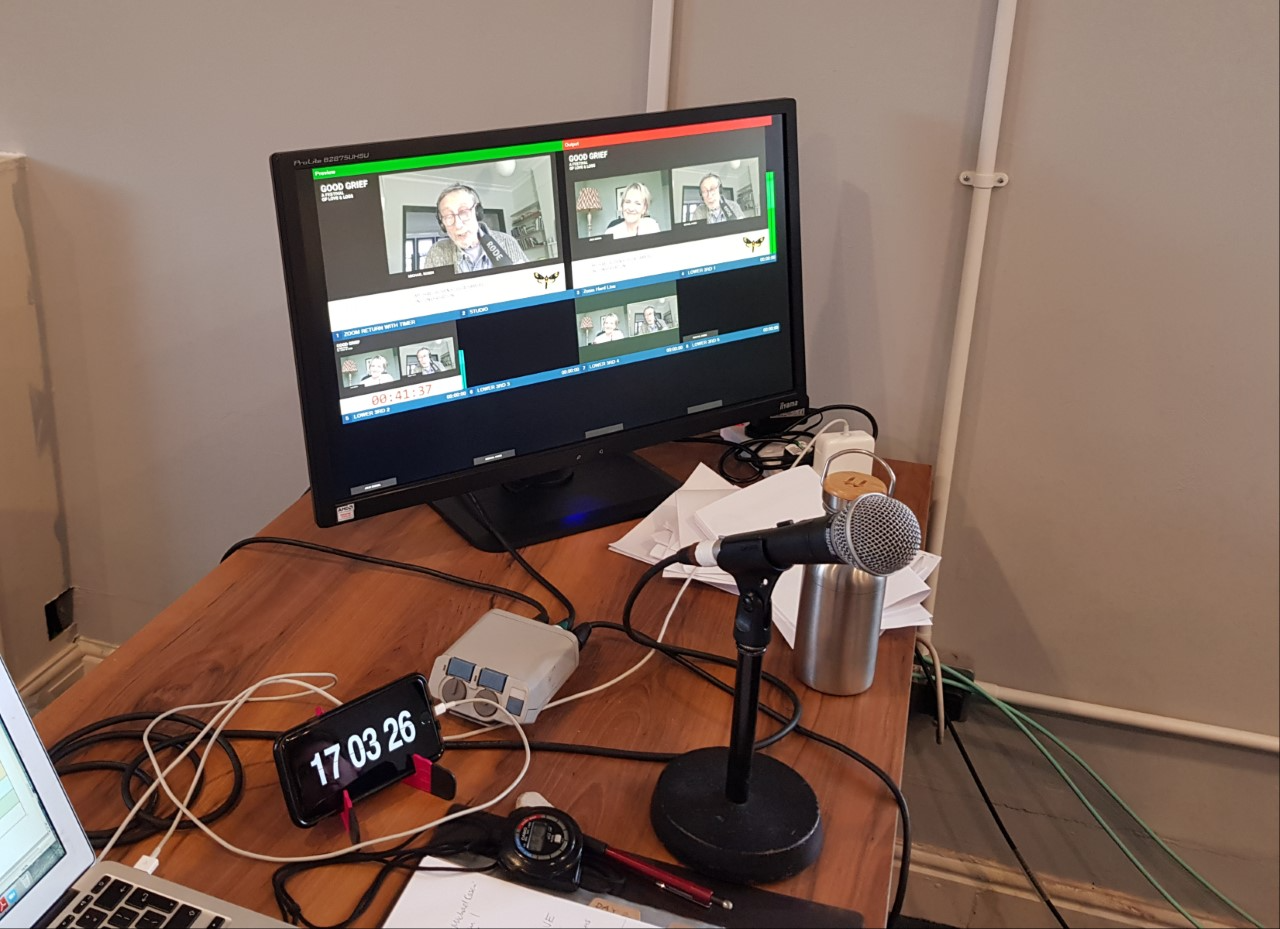 Behind the scenes at Good Grief Festival: Showing Michael Rosen and Julie Samuel MBE in conversation
The 2021 Good Grief Festival has been a resounding success, attended by over 4500 people on 27-28 March 2021. Feedback has been overwhelmingly positive, with attendees praising the range of events, accessibility, and oppurtunity to share experiences. Some of the positive feedback includes:
"Thank you for being a space for me to feel seen, heard and validated! I have felt more connected to others in the past 2 days than I have since my Dad died last year."
"Thank you so much for this wonderful event, but thank you for making it free. It's made it so accessible for so many, I really hope it continues online as well once Covid is over, online makes it open to the world, and that's wonderful."
For £20 you can access the events on demand for up to one year after the event on the Grief Channel.
If you attended Good Grief, please could you complete this short survey to provide feedback.
---
Good Grief Festival marks one year since first COVID-19 lockdown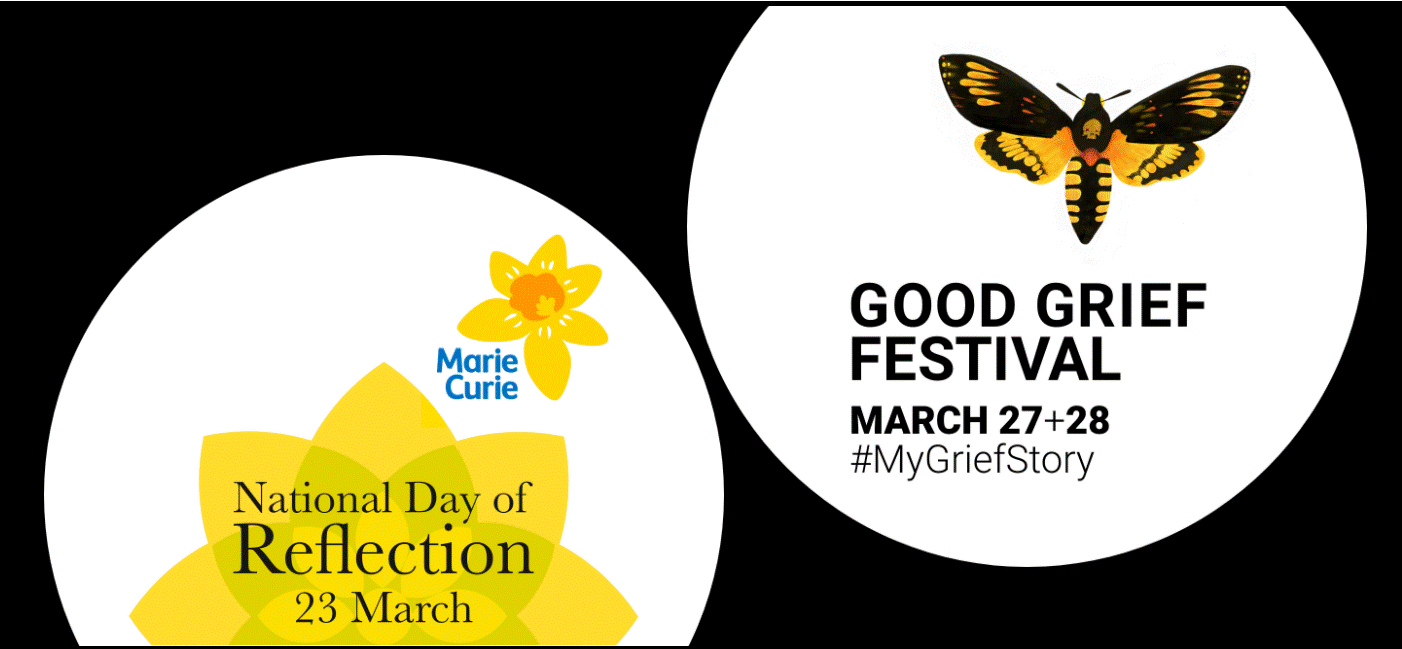 Good Grief Festival - a virtual festival exploring the many faces of grief - will return to our screens Saturday 27 and Sunday 28 March. The festival has a programme of over 70 speakers and 50 free online events to help the many thousands of people in the UK and across the world who are grieving.
Good Grief is also working with end of life charity Marie Curie to host a series of events for the National Day of Reflection on Tuesday 23 March, which Marie Curie is spearheading to mark one year since the first UK COVID-19 lockdown.
Good Grief will host 50 events, over the Day of Reflection and Good Grief Festival, including panel talks, interviews and conversations. Working with the themes of 'hope and meaning', Good Grief will explore the universal human experience of grief at a time when the UK is mourning over 115,000 lives lost to COVID-19.
Dr Lucy Selman, Founding Director of Good Grief, from the Palliative and End of Life Research Group at the University of Bristol, said: "Next month marks a year since the first national lockdown - a year which has brought with it huge challenges and significant losses.
"Around the world, millions of people are mourning the deaths of loved ones, friends and family members at an extraordinarily difficult time, when social networks and our usual ways of coping have been profoundly disrupted.
"This spring, when it is needed more than ever, we are holding Good Grief Festival to bring people together for solace and support. We are delighted to partner with Marie Curie to shed light on the many dimensions of grief, and provide time and space to share experiences and remember those who have died."
Over 70 speakers will take part in Good Grief including English children's author, poet and former children's laureate Michael Rosen, who will shortly be publishing a book about his experiences with coronavirus; Julia Samuel (This Too Shall Pass, Grief Works); best-selling authors Nikesh Shukla (The Good Immigrant, Brown Baby) and Katherine May (Wintering), Catherine Mayer and Anne Mayer Bird (Good Grief: Embracing life at a time of death), palliative care doctors Rachel Clarke (Dear Life: A Doctor's Story of Love and Loss, Breathtaking) and Kathryn Mannix (With the End in Mind), illustrator Gary Andrews (Doodle-A-Day/Finding Joy) and Stuart Lawrence, younger brother of Stephen Lawrence and author of Silence is not an Option.
Topics that will be discussed include: Behind the 'Numbers': Humanising Covid-19; The Grief Gift: Finding Meaning + Purpose After Loss; How the Seasons Teach us to Grieve; The
Importance of Storytelling in Grief; The Guilt Monster: Grief's Complicated Sidekick; What Harry Potter Teaches us about Grief; Reflections on Death + Dying: Finding Hope; and Finding Your Grief Tribe: The Importance of Community + Connection.
The festival will also include a Grief School featuring 40 hours of on-demand video content categorised by grief type: from childhood bereavement to the death of a partner, traumatic loss to complicated grief, sibling loss to pet bereavement. The Grief School will include conversations between grievers, panel talks with experts, and webinars with bestselling authors.
Good Grief is a collaborative event led by the University of Bristol and supported by charity partner Marie Curie, who have been supporting bereaved people as well as caring for dying people with and without coronavirus throughout the pandemic.
Good Grief online events are all free to attend. To pre-register visit goodgrieffest.com
---
2020
Interim report: Supporting people bereaved during COVID-19: Study Report
Supporting people bereaved during COVID-19 is a mixed methods national study of bereaved people's experiences and the bereavement services supporting them co-led by Dr Emily Harrop from the Marie Curie Palliative Care Research Centre at Cardiff University and Dr Lucy Selman from the Palliative and End of Life Care Research Group and the Centre for Academic Primary Care at the University of Bristol. People bereaved during the COVID-19 crisis face significant challenges that shape their experiences of grief. The interim findings of a survey from the first 532 respondents have been published as a study report, which was featured on ITV news. Some key findings are:
46% of respondents' loved ones died from confirmed or suspected COVID-19
Experiences of care provided at the end of life varied, however 23% of respondents said they were 'never' involved in decisions about the care of their loved one, with 51% of respondents not provided with any information about bereavement support.
Over half (52%) of participants demonstrated high or severe levels of overall vulnerability in grief
People reported using a range of formal and informal sources of support to help with their bereavement, most commonly from friends and family. However many (41%) respondents reported difficulties in accessing this kind of support.
The main implications state a need for:
Steps to be taken to reduce the trauma of bad death experiences: Communication with healthcare professionals at the end of life should be improved by ensuring a known point and method of contact with healthcare teams, regular updates and supporting family involvement in decision-making about their loved one's care.
Family visiting to be enabled as much as is safely possible, with accessible remote communication methods (e.g. facetime) readily available for connecting families/patients restrcitions are in place.
Healthcare providers to work to better support families after a death: such as allowing opportunities for discussion of questions relating to patient care and the death, information about locally and nationally available bereavement support and ensuring that such approaches are integrated within their formal COVID-19 response plans.
Increased public information on bereavement support options. GPs should also be provided with this information and supported to assess and appropriately signpost/refer bereaved patients seeking support.
Increased provision of bereavement services in areas which currently have long waiting lists and consideration given to ways of providing safe face to face and group based support.
Flexible support bubble arrangements for the recently bereaved to tackle social isolation and vulnerability in early bereavement and during funerals.
Identification of alternative ways of enabling collective mourning and celebrations of life, with consideration also given to providing financial support for funeral costs for families experiencing economic hardship.
You can find out more about the study and read the interim report here.
---
Dr Lucy Pocock receives NIHR Doctoral Research Fellowship award: The SHIPS study
The Palliative and End of Life Care (PEoLC) Research Group congratulates Dr Lucy Pocock on her recent NIHR Doctoral Research Fellowship award.
Lucy's research, sharing information at the primary/secondary care interface for patients with a poor prognosis (the SHIPS study), aims to understand what information should be shared with GPs about patients who are probably coming towards the end of their lives after a hospital stay, and how the information might best be shared.
This research is important as General Practitioners (GPs) find it challenging to identify patients who are coming towards the end of their lives. Dr Pocock's previous research has found that GPs would welcome clear communication from hospital specialists concerning those patients for whom the end of life is probably approaching.
Identification of these patients while in hospital, and communication of this information to their GP when they return home, enables continuity and coordination of care. Advance care planning discussions can then enable patients' wishes to be identified and respected, including their preferences for place of care and death, and future admission avoidance.
The SHIPS study will investigate this in two ways:
Review the literature for the different ways that hospitals share this information, and whether these methods make a difference to patient care. Findings will be used to guide part two.

Complete detailed observations of clinical interactions (both between clinicians, and between clinicians and patients), and interview patients, hospital clinicians and GPs about their views and experiences of sharing and/or receiving this information to understand what helps or hinders communication.
The SHIPS study has been developed at two workshops with the Bristol Palliative and End of Life Care PPI Advisory Panel. Lucy will continue to work closely with the panel members during the five-year study to oversee the study, review/edit patient-facing materials, assist with the analysis of data, and write a patient-facing publication of study findings.
Findings will be shared in academic journals and conferences and on the PEoLC webpage, as well as blogs and social media. Findings will be shared with practicing doctors for the benefit of patients and public through NIHR Applied Research Collaborations (ARCs), Clinical Commissioning Groups, and the West of England Academic Health Sciences Network (WEAHSN).
---
Report: Advance care planning in the community in the context of COVID-19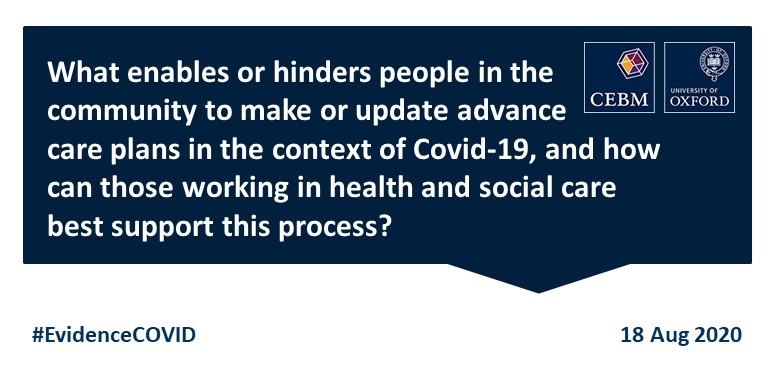 Dr Lucy Selman and Dr Lucy Pocock have collaborated with colleagues from the University of Bristol and the University of Oxford to complete a rapid evidence review and narrative synthesis of the published literature to report on advance care planning (ACP) in community settings. The report found:
In the context of COVID-19, some known barriers to ACP in community settings have worsened, while others have improved. The same is true for known enablers of ACP
COVID-19 has raised public awareness of ACP, increased the importance of and attention to IT systems, motivated the development of new guidelines and templates, and rapidly shifted 'business as usual' processes and protocols. This presents opportunities to improve ACP in the community.
However, existing guidelines and resources are to a major extent clinician-focused; there are few video- and web-based ACP resources for the public and those that exist are scattered and piecemeal. This is a concern given good quality evidence that online and video ACP interventions are beneficial, particularly among people with limited English proficiency, poor health literacy and/or from otherwise disadvantaged communities.
In the context of COVID-19, and to reduce inequalities in access to ACP, we recommend national investment in evidence-based, public-facing resources and integrated systems to support ACP, building on existing resources.
Alongside this investment, simultaneous, interconnected strategies are needed, underpinned by healthcare policy: training for those working in health and social care, better coordination of electronic medical record systems, and public education and awareness raising.
You can read the report in full here.
---
The Good Grief Festival
Good Grief was originally due to take place as a week-long festival in May, helping people to talk, think and learn about grief. But due to the COVID-19 pandemic it became clear that a live event wouldn't be possible for some time. Instead, the Good Grief Festival has developed into a free virtual event online, taking place from October 30th to 1st November at a studio in Bristol, reaching thousands of people all over the world.
Good Grief was featured in The Guardian and BBC online.
Good Grief involved dozens of scheduled free events. For £20 you can access the events on demand after the festival for up to one year after the event. Find out more here.
---
Report: Palliative care research during the COVID-19 pandemic
‌
The palliative care research community has responded quickly to COVID-19. However, the experiences, concerns and research priorities of people affected by serious illness and their families remain unknown. Lucy Pocock was part of a team, lead by colleagues at the Cicely Saunder Institute at King's College London, who conducted a rapid public consultation from March 16th to April 15th, 2020 to understand the emerging experiences, concerns and research priorities of people affected by serious illness, in relation to palliative care, during the COVID-19 pandemic.
Using virtual methods (online forum, email, telephone) we consulted members of patient and public involvement networks across four palliative care research groups in England, including members of our own Bristol Palliative and End of Life Care PPI Advisory Panel. These networks include individuals living with serious illness, and their family members and/or informal carers. Responses were synthesised into categories by a team including people with clinical, academic and lived experience relevant to palliative care.
We received responses from 44 patient and public involvement contributors. Their concerns and research priorities centred around four key areas: reduced professional support; strains on informal care networks; risk of reduced quality of care; and increased loss, grief and bereavement. Responses described anxieties around disrupted services, and concerns for how existing health inequalities may be exacerbated. Issues around increasing informal care responsibilities, as well as losing informal support due to isolation measures, were also raised. Contributors had questions around how individualised and holistic care would be maintained, and how care may be rationed with rising demand for healthcare. Many also felt that bereavement support should be prioritised.
Research priorities to innovate access to palliative care during a pandemic and beyond should address: ensuring timely professional support with increasing service demand; sustaining informal care networks under increasing strain; ways of monitoring and detecting compromised outcomes of care; and bereavement support responsive to increasing loss and grief. It is essential that, going forward, people affected by serious illness can continue to contribute to the palliative care response to COVID-19.
You can read the report here.
---
2019
The Good Grief Festival

‌
The Palliative and End of Life Care (PEoLC) Research Group is delighted to announce that funding has been awarded by the Wellcome Trust for a new festival to help people talk, think and learn about grief in Bristol next May. The festival, Good Grief, Bristol, is a collaboration between the University of Bristol and charities, bereavement services and cultural venues across the city. The project is led by the University of Bristol, with partners including St Peter's Hospice, Creative Youth Network, Bristol Museum & Art Gallery, Arnos Vale cemetery, Off The Record and Winston's Wish.
The festival, taking place during Dying Matters Awareness Week, will involve dozens of scheduled events across the city - including a full weekend of events at Colston Hall, a conference at the University of Bristol and film screenings at Watershed. The initial programme will be announced in late January. Good Grief is now welcoming applications from organisations and individuals who would like to host community events as part of the festival. Funding is available to support such community events, and interested organisations can find out more here. The closing date for applications is January 31st.
"Grief affects everyone, yet people often don't know how to react when someone is bereaved, and those grieving can feel isolated," said Festival Founder, Dr Lucy Selman of the University of Bristol's Palliative and End of Life Care Research Group. "We're thrilled to bring Good Grief, Bristol to the city. The festival will provide many opportunities to explore this universal human experience, as well as offering unique ways to share stories and remember those who have died." To find out more visit www.goodgriefbristol.com.
---
Public engagement funding success
The Palliative and End of Life Care (PEoLC) Research Group is delighted to have been awarded funding by the Elizabeth Blackwell Institute's seed fund for public engagement with health research.
In collaboration with Bristol Black Carers and St Peter's Hospice, we will be consulting with community members to explore the barriers experienced by black and minority ethnic (BAME) groups in accessing end of life care, advance care planning and bereavement support. The consultation meetings will also inform our future research and public engagement projects, with community members invited to join an ongoing patient and public advisory panel.
For more information, contact peolc-researchsw@bristol.ac.uk.
---
Local press coverage featuring Lucy Pocock and Kathryn Mannix
Following our successful event at Arnos Vale Cemetery, Bristol Live has published a feature about death and dying with quotes from our co-lead, Dr Lucy Pocock, and Dr Kathryn Mannix, our recent guest speaker.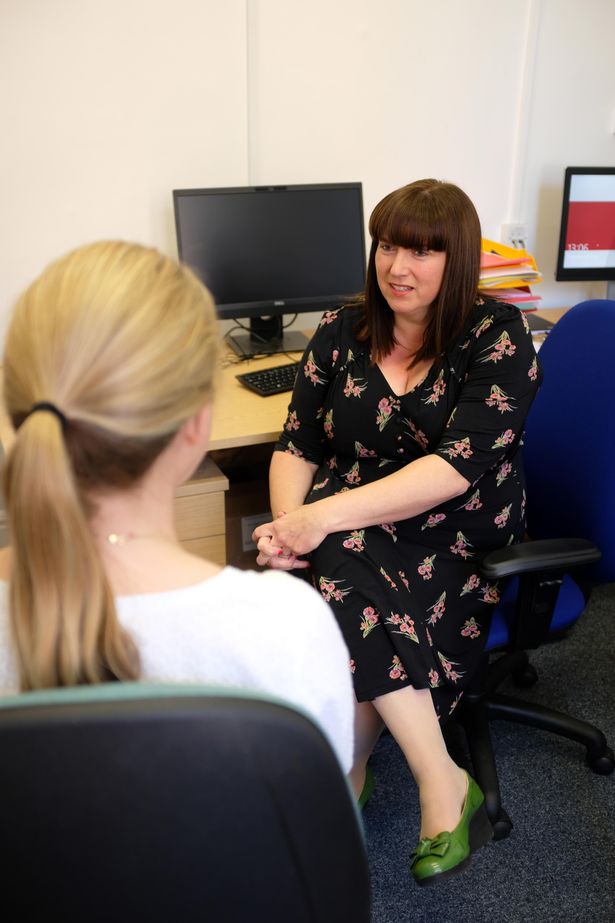 ---
Death and dying in an age of denial - 13th June 2019, Arnos Vale Cemetery
Members of the public, local clinicians and academics and Councillor Jos Clark, the Lord Mayor of Bristol, were joined this week by one of the country's bestselling authors to encourage people in Bristol to be braver when it comes to discussing death.
The Palliative and End of Life Care Research Group at the University of Bristol presented the event, an evening discussion of death and dying, featuring Dr Kathryn Mannix, bestselling author of 'With The End In Mind' at Arnos Vale Cemetery on Thursday 13th June. The event was also an opportunity to hear more about Patient and Public Involvement (PPI) in research and anyone who is interested in steering research in this area is invited to contact us.
Read more about the event here.
---
South West Palliative and End of Life Care Research Network meeting - 13th June 2019, University of Bristol
On 13th June 40 researchers from across the South West came together to share ideas for new research, and findings from completed work, in the area of palliative and end of life care. We were also delighted to host Cllr Jos Clark, the newly inducted Lord Mayor of Bristol (and a former socal worker), who has an interest in care at the end of life.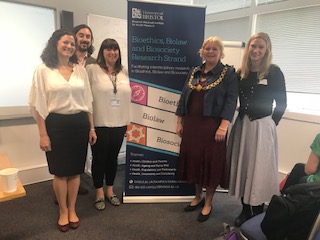 Presentations were heard from Dr Antonia Beringer (UWE) on advance care planning in children, Dr Lucy Plumb (University of Bristol) on conservative care for children with end-stage renal disease, Dr George Kimpton (University of Bristol) on the impact of cognitive impairment on discrete choice experiments in adults with end-stage renal disease, and Dr Jimmy Hay (University of Bristol) on the portrayal of grief in film.
To follow the event on Twitter search for #peolcresearchgroupsw or click here.
---
EBI Grant Funding
We were recently granted funding from the Bioethics, Biolaw and Biosociety Research Strand of the Elizabeth Blackwell Institute (EBI), funded by the Wellcome Trust, University of Bristol, to hold three meetings in 2019.
The next will be a research meeting on 13th June 2019 on the theme of 'Avoiding futile treatment while maintaining hope', followed by an evening public lecture by author Kathryn Mannix at Arnos Vale Cemetery.
The scheme funded eight additional research activities on the theme of Health, Ageing and Dying Well:
Dying and end of life support online: What information would people from relatively more deprived communities like and in what form? A public consultation and scoping exercise – Tracey Stone

Migration, ageing and older people: action to improve research, data and policy – Ann Singleton
(Re)Thinking trans healthcare: Bridging the gap between policy, practitioner and patient – Peter Dunne
For more information on the projects funded by EBI, please contact the named leads linked above.

Twitter