Core information set for surgical innovation
Are you involved in consultation discussions with patients being offered new surgical procedures or devices?
A core information set (CIS) was developed to guide consultation discussions with patients offered new surgical procedures/devices. The widespread use of the CIS in the NHS will ensure patients are provided with transparent and consistent information about surgical innovation to help optimise consent and shared decision making for surgery.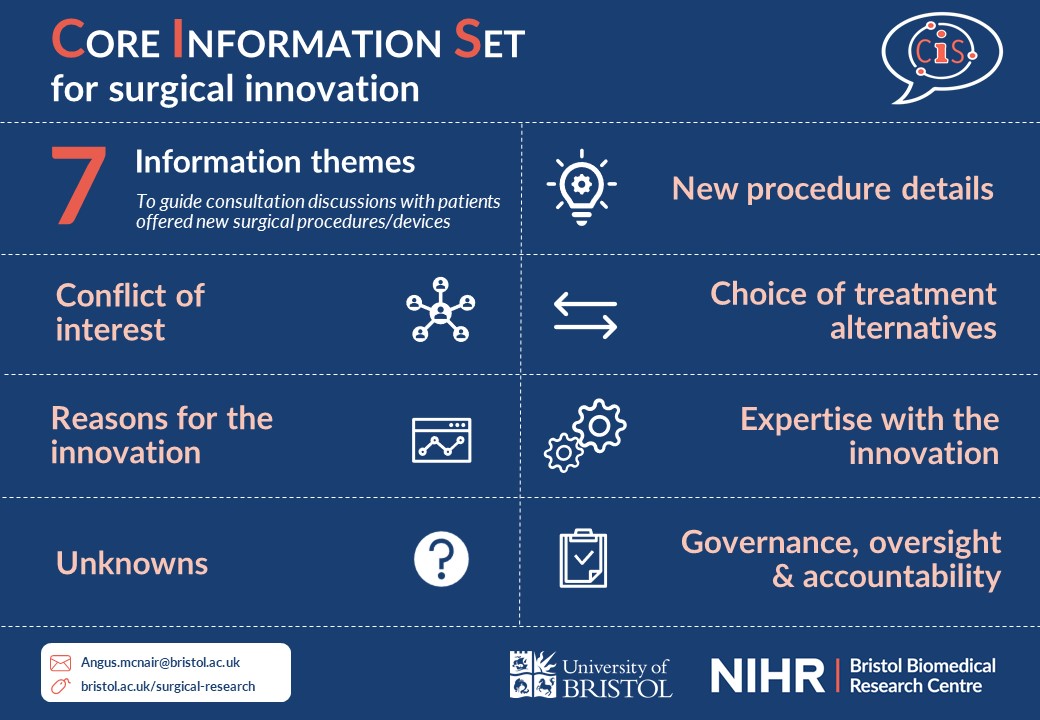 How was the CIS developed?
The CIS was developed with multiple national stakeholders, and using robust methodology. Guidance for the development of CIS and core outcome sets (COS-STAD) were followed across three study phases:
Identification of a range of data sources with information relating to surgical innovation, patient consent and shared decision making

Coding and categorising of information into themes and sub-themes to develop a draft CIS

Refinement and agreement on a final CIS with key stakeholders nationally
A stakeholder workshop was held 4 July 2022 to discuss implementation of the core information set. Experts in shared decision making and consent were invited as guest speakers. Watch the recordings on our YouTube channel
Next steps
Work to validate the core information set and define optimal ways to implement the information domains is currently underway.
Funding
This study is supported through an NIHR Clinician Scientist fellowship (CS-2017-17-010) and The Bristol NIHR Biomedical Research Centre (BRC-1215-20011).
Governance
Ethical approval was granted by The University of Bristol Faculty Research Ethics Committee (ID: 111362).
Study lead