Course overview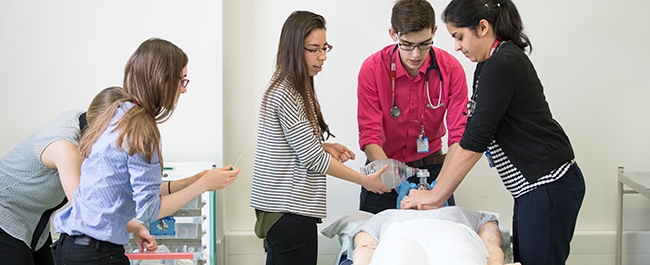 Typical offer
A-level standard offer: AAA
A-level contextual offer: ABB
See entry requirements for full details and eligibility.
Course duration
5 year(s) full-time
Part-time study is not available for this course
Application method
Full-time: UCAS
The closing date for Medicine UCAS applications is 15 October. UCAS advises that no more than four choices from a possible five are used for Medicine.
Fees
£9,250 per year, home students
£42,800 per year, international students
More about tuition fees, living costs and financial support.
Location
This course is the primary medical qualification awarded by the University of Bristol and is recognised by the General Medical Council.
On this course you will learn about the art, science and craft of medicine through:
early clinical exposure in hospital, community and primary care settings;
a blend of lectures, case-based learning and practical work;
state-of-the-art anatomy facilities including cadaveric prosections;
integration of basic science and clinical learning throughout the course;
inter-professional working on placement with allied health professional students;
broad experience in a variety of clinical academies;
a substantial student choice programme to explore personal interests in more detail, experience potential career options, and gain the opportunity for involvement in audits and research;
an exciting opportunity to study abroad as part of your final year elective;
a final year that is constructed explicitly to prepare you for your first job as a foundation doctor.
Health and conduct
Certain health conditions may be incompatible with some careers in medicine. Further information can be found with our pre-course information, within General Medical Council guidance "admission to medical school", or you can contact our Occupational Health team.
If you have a chronic health condition please contact the enquiries team for guidance on making an application.
We have excellent support services available including Disability Services, Students' Health Service and Student Counselling.
Medical students must complete a health questionnaire and undergo a medical examination. Non-immune students must be immunised against hepatitis B and tuberculosis.
In accordance with General Medical Council guidance, all medical students undergo a Disclosure and Barring Service (DBS) check in line with other UK health-related courses.
Age Requirement
Students must be 18 years of age (or above) at the beginning of their year of entry to undertake the clinical experiential learning in our teaching general practices and clinical academies. This is to ensure that our students have the legal capacity to be bound by the rules of confidentiality of our NHS partners.
Interviews
Applicants must be available for interview from December to April immediately following submission of their application.
This course is accredited by the following organisations

The General Medical Council (GMC), this primary medical qualification entitles the holder to apply to the GMC for registration to practise medicine in the UK.
Course structure
First year
This year will help you to explore health and wellbeing through case-based learning, to provide a foundation for your knowledge and skills, alongside clinical placements in primary and secondary care.
Second year
In this year you will explore disease processes and differential diagnoses for common symptoms through case-based learning, alongside clinical placements in primary and secondary care.
Third year
You will work in primary, community and secondary care settings in our clinical academies, where you will meet patients presenting for scheduled (elective) and unscheduled (emergency) care and learn about how common conditions are managed in the NHS.
Intercalation
Between years three and four, there is an opportunity to spend an additional year studying for an intercalated degree at Bachelors or Masters level in medical science or humanities subjects.
Fourth year
You will learn about the care of patients across the life course, from birth to old age in primary, community and secondary care in our clinical academies in preparation for your final knowledge-based and clinical examinations.
Fifth year
Following an elective study period, you will prepare for your Foundation Programme posts by working within clinical teams in the clinical academies, experiencing teamwork and decision-making in primary, community and secondary care.
Throughout your studies, you will be supported to deal with the challenges and uncertainties inherent in the practice of medicine to equip you to provide safe and effective care in all clinical settings.
Full details about the course structure and units for this course can be viewed in the programme catalogue.
Go to programme catalogue
Entry requirements
We accept a wide variety of qualifications and welcome applications from students of all backgrounds. Below is a guide to the typical offers for this course.
A-level standard offer
AAA including Chemistry and either Biology, Physics, Mathematics or Further Mathematics. Graduates are required to obtain a 2:1 in their degree plus ABB at A-level, including A in Chemistry and B in either Biology, Physics, Mathematics or Further Mathematics.
International Baccalaureate Diploma
36 points overall with 18 at Higher Level, including 6, 6 at Higher Level in Chemistry and one of Biology, Physics or Mathematics (either Analysis and Approaches or Applications and Interpretations)
International Baccalaureate Diploma contextual offer
32 points overall with 16 at Higher Level, including 6 at Higher Level in Chemistry and 5 at Higher Level in one of Biology, Physics or Mathematics (either Analysis and Approaches or Applications and Interpretations)
Find out if you are eligible for a contextual offer
European Baccalaureate
85% overall, with 8.5 in Chemistry and one of Biology, Physics or Mathematics
Scottish Qualifications Authority
Advanced Higher: AA in Chemistry and one of Biology, Physics or Mathematics, and Standard Higher: AAAAB
Access to HE Diploma
Access to HE Diploma in Science, Biomedical/Medical/Health Science or Psychology (or similar titles). The 45 graded Level 3 credits must include at least 30 credits at Distinction and 15 at Merit or above; at least 12 credits at Distinction from Chemistry units; and at least 12 credits (with 9 at Distinction) from one of Biology, Physics or Mathematics.
Mature students can contact mature-students@bristol.ac.uk to check the suitability of their Access course.
Welsh Baccalaureate
Requirements are as for A-levels, where you can substitute a non-subject specific grade for the Welsh Baccalaureate Advanced Skills Challenge Certificate at that grade.
Cambridge Pre-U
Requirements for principal subjects are as for A-level, where D1/D2 is A*, D3 is A, M1/M2 is B, and M3 is C.
International qualifications
The University of Bristol welcomes applications from international students, and we accept a wide range of qualifications for undergraduate and postgraduate study.
Search international qualifications
Applicants must also meet these requirements
GCSE profile requirements
Advanced numeracy requirement (7 or A in GCSE Mathematics or equivalent) and Standard literacy requirement (4 or C in GCSE English or equivalent)
Further information about GCSE requirements and profile levels.
English language requirements
If English is not your first language, you need to have one of the following:
IELTS 7.5 overall with 7.0 in all skills
GCSE English Language grade B or 6
Further information about English language requirements and profile levels
Additional requirements
UCAT
The University Clinical Aptitude Test (formerly UKCAT) is required. Bursaries are available to cover the cost of taking the UCAT - please see the UCAT website for details. The combined score from all subtests, with the exception of Situational Judgement, will be used to select applicants for interview. For 2023 entry, the final UCAT threshold score to be invited to interview was 2910 for home applicants and 2960 for overseas applicants. The number used as a threshold for interview is subject to change year-on-year.
Work experience
Work experience is not a requirement for this course, but it is encouraged. Please see the Admissions statement for further details.
More about UK qualifications.
Selection process
We select successful applicants based on the UCAS application, UCAT and interview.
Full information about our selection processes for this course:
Regulations and codes of conduct we abide by to create a positive environment for learning and achievement:
Key information about this course