Programme of Research on Violence in Diverse Domestic Environments (PROVIDE)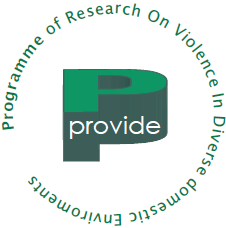 PROVIDE is a UK National Institute of Health Research funded programme which ran between October 2009 and September 2014. It brings together a group of key DVA researchers from the health and social science fields.
To mark the end of our five-year programme, we held a one-day conference to disseminate our findings.
We pride ourselves on the collaborative nature of our research across organisational boundaries. The Our People and Partners section provides details on our researchers, partners and collaborators.
The four workstreams that comprise the PROVIDE programme are sited in general practice, sexual health clinics and 3rd sector domestic violence agencies. The topics range from the prevalence of domestic violence in health care settings and the health care response for men as victims or perpetrators to improving outcomes for women seeking help from domestic violence agencies with a psychological intervention.
Workstream 1: Men in GP practice setting
Workstream 2: Mental health
Workstream 3: Men in sexual health setting
Workstream 4: Synthesis
By combining the group's expertise, building on member's previous research and links with health sector and third sector DV organisations, PROVIDE has been able to develop research that is groundbreaking and complex. We are committed to ensuring that the outcomes of our research have impact in the context of policy making and clinical practice. Our Evidence into Practice section list publications and resources related to the research programme and how we are promoting evidence into practice.
---

@DV_Bristol