Physical Activity and Healthy Eating
Current Research
Completed Research

Active for Life Year 5 was a school-based research study which took place in primary schools in Bristol and North Somerset during 2011-2013. The research study was led by Professor Debbie Lawlor, and a multidisciplinary team of researchers at the University of Bristol, who worked in collaboration with Bristol City Council and NHS Bristol. The study was adopted by DECIPHer and three DECIPHer staff were co-applicants (Prof Rona Campbell, Dr Ruth Kipping and Dr Russ Jago).
The aims of the project were to test whether lessons that teach children about the importance and enjoyment of being active and having a healthy diet are an effective and cost-effective way: to increase physical activity; to decrease the amount of time that children are sedentary, and; to increase the children's consumption of fruit and vegetables
The project was funded by the National Institute for Health Research Public Health Research programme (project number 09/3005/04). Sixty schools were recruited and randomised, with 2,133 children recruited to the study.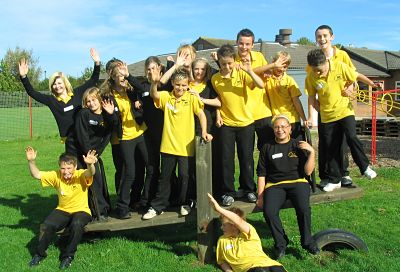 AHEAD was a two-year feasibility study incorporating two of the phases in the MRC's framework for evaluating complex interventions.
Phase I involved the development of a schools-based peer-led intervention to increase physical activity and healthy eating amongst Year 8 students, based on existing evidence and focus group discussions with key stakeholders. This phase also included a pilot study in one school.
Phase II comprised an exploratory trial of the peer-led intervention in six secondary schools (three randomised to participate in the intervention and three to act as control schools). The study included a process evaluation and an economic evaluation.
Environmental associations with physical activity in children and adolescence
Sarah Harding's PhD investigated the patterns of the decline in sedentary time and physical activity during adolescence. This was carried out using PEACH (Personal and Environmental Associations with Children's health). This found that there were few changes in MVPA but substantial changes in sedentary time. Based on the results of this, the remainder of the PhD focussed on why sedentary time increases during adolescence. For example what sedentary behaviours contribute to this increase in sedentary time? What are the determinants of these behaviours?
Developing and evaluating a physical activity intervention to prevent disability in older people: a feasibility study and pilot RCT
Gemma Morgan
obtained funding from a Doctoral Research Fellowship award from the National Institute for Health Research.
This research
involved using mixed methods to develop a physical activity intervention to prevent disability in older people. Specifically, the role of social support in initiating and sustaining physical activity was explored. A pilot RCT assessed the feasibility of a full-scale evaluation. Older adults over 70 years and at risk of disability were recruited through primary care. Outcomes of interest included acceptability and feasibility of the trial process, and objective and self-report measures of physical activity, physical function, and quality of life.
NAP SACC
‌NAP SACC UK was an obesity prevention study taking place in nursery schools and other childcare providers across Gloucestershire and North Somerset. The study aimed to test whether we can adapt and use a six month programme from the United States called The Nutrition and Physical Activity Self Assessment for Childcare (NAP SACC). We modified it for use in the UK and successfully tested whether it was acceptable to childcare providers with the intention of making their environments healthier.
Dr Suzanne Audrey developed and evaluated a workplace-based intervention to encourage walking to work, including: testing methods of recruitment; measuring changes in employees travel behaviour; considering barriers and facilitators to walking to work, and; examining costs and benefits to employees and employers. This was a feasibility study incorporating two phases in the MRC framework for evaluating complex interventions.
During Phase I a review of current resources that promote walking (in particular walking to work) was undertaken. In addition, focus groups with employees and interviews with employers were conducted in three workplaces (small, medium, large) to finalise the intervention design.
Phase II comprised an exploratory randomised trial in 17 workplaces to examine recruitment and retention rates, test data collection methods including the use of accelerometers and GPS monitors, estimate possible effect sizes and explore other requirements of a full-scale trial. The study included a process evaluation and an assessment of costs. The study took 30 months commencing October 2011.
‌‌‌