PGCE Science programmes (Biology, Chemistry and Physics)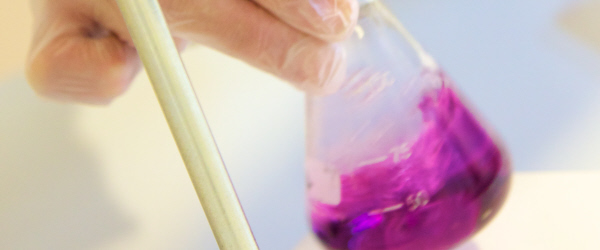 This one year programme leads to a PGCE, recommendation for QTS and 60 credits at Master's level.
Programme overview
Develop as a confident, effective practitioner who can teach science and your specialist subject in ways that deepen pupils' understanding and motivate them to take their study of science further.
Our PGCE Science programmes are based on science in schools: varied, multi-disciplinary, practical and thought-provoking. We offer PGCEs in physics, biology and chemistry. You'll study in cross-curricular groups as well as focusing on your specific scientific subject.
We will prepare you to teach science across the curriculum to GCSE level and your specialist subject to A-level.
We also encourage you to question the teaching of science. This could be the practices, theories, classroom strategies or the nature of science itself.
By the end of the programme you'll be able to inspire young people to value and enjoy science at school.
Who you will be studying with
Your peers will come from a range of backgrounds and have a range of different experiences. The typical age range is early 20s to late 40s. Some will come straight from undergraduate studies, others will be coming from successful careers in related or unrelated professions.
Despite the range of backgrounds, all our students are supportive and share an enthusiasm for science and teaching.
What you will learn
You will think about the nature of science and the aims of science education and reflect on how these translate into practice.
The different abilities of children are explored and you'll learn a range of methods that can be used to meet these varying needs.
You'll also learn about the value of scientific models, ICT, investigative work, school trips and assessments.
The Physics PGCE
Underpinning much of the work will be the development of concepts and pedagogy in key curriculum areas, such as forces, energy and electricity.
Tackling the challenging areas of physics is a key part of the programme, along with thinking how to help children engage with difficult topics.
We also understand that you may also have an interest in teaching maths. Therefore there is scope in the physics programme to work with PGCE Maths student teachers. Together you'll take part in school-based projects and you'll examine some of the key issues involved in effective teaching and learning of maths.
The Chemistry PGCE
You'll investigate the curricular, pedagogical and practical aspects of chemistry, including hands-on activities designed to improve learning.
Dramatic and attention-grabbing reactions are part of this course, but we examine how to use these effectively to maximise engagement and learning in the classroom. There is a focus on concepts from a particle model of matter to an understanding of structure and bonding. Representational conventions, such as equations also feature on this course.
The Biology PGCE
You will look at well-established and new approaches to biology. The programme will develop your subject knowledge across all aspects of biology that are relevant to the school curriculum. Emphasis is on:
Trends in Applied Biology, such as biotechnology
Tackling difficult ethical issues
How you will learn to teach
Focus is on practical experience and hands-on learning, across all subject specialisms. You'll have workshops that are practical and active and you'll spend lots of time in labs and in classrooms.
A really important feature of our programmes is collaborative learning and teaching. You'll have the opportunity to work in specialist and mixed-subject groups.
You'll be in a tutor group that meets regularly to give you a chance to discuss your learning and experiences. Your science tutor will offer you support and accompany you on your journey of learning to teach science.
Experiences in school
Introduction
There will be a short primary school experience during the PGCE year. This work allows you to understand the child's experience before they go into secondary school.
Placement one
During the first term, you begin with preliminary visits to a secondary school. These visits will help prepare you for a shorter placement in that school.
Placement two
In the spring term, you will be on placement in a different secondary school. This placement will last the duration of the spring term.
Placement three
You will have another placement in the third term, possibly in a different school again.
Benefits
You will benefit greatly from having your placements spread across different schools. They will provide you with the opportunity to:
compare and contrast your experiences
face different challenges and achieve different triumphs
see different teaching styles
learn how you can adapt to different situations.
By the end of your third teaching placement, you will have developed into a confident teacher with your own teaching style.
We will support you throughout your teaching experiences and you have a mentor in school. These specially trained teachers are committed to developing your practice in the classroom.
Opportunities
As part of the programme you will take part in a number of special workshops and projects including:
Workshops at We the Curious ( formally called At-Bristol) an internationally renowned hands-on science centre in Bristol.
Workshops in up-to-date school laboratories
Field trips.
You'll also collaborate with PGCE students in other subjects to create a project that explores issues that might be controversial or relate to sustainability. You'll then take this project to schools in Bristol to raise awareness of issues that young people will have to grapple with in the future.
We strongly believe that our PGCE programme can and does make a difference in science education in Bristol.
Following the course, our graduates have an excellent opportunity for gaining employment. Our employment rates are very high with many of our student teachers securing jobs in schools within Bristol and the surrounding area.
What our students say
Our PGCE Science programmes are demanding and challenging, but our student teachers enjoy and value them.
Who this programme is for
We recommend that you have spent time in a UK state secondary school to demonstrate your interest in teaching.
If you do not have a degree in your chosen subject, or substantial relatable experience in the workplace but you do display the characteristics and qualities of a competent and inspiring science teacher, we may offer you a conditional place and refer you to a suitable subject knowledge enhancement course.
Physics
In addition to applications from those with physics or engineering degrees, we consider applications from those who have some physics background, such as A-level physics, or related experience in the workplace, though it is likely that a subject knowledge enhancement course would need to be completed.
Chemistry
We value applications from good chemistry graduates. You should also have a strong background in at least one other science at A-level.
We also consider applications if you only have some chemistry background (e.g. part of your degree or experience gained in the workplace), though it is likely that you would need to complete a subject knowledge enhancement course.
Biology
We welcome applications from good biology graduates. You should also have a strong background in at least one other science at A-level.
Contact us
Due to the COVID19 pandemic and in line with government policy, some of our PGCE team are working remotely so are not contactable by telephone. Please contact us by email so we can assist.
Initial Teacher Education (PGCE and School Direct) Office
Phone: +44 (0) 117 331 4492
Email: ed-pgce@bristol.ac.uk
School of Education
University of Bristol
35 Berkeley Square
Bristol, BS8 1JA
Your tutors
Your tutors are Neil Ingram, Jon James and David Richardson.
The science technician is Joie Ledger.