View all news
New ALSPAC gateway on Wellcome Open Research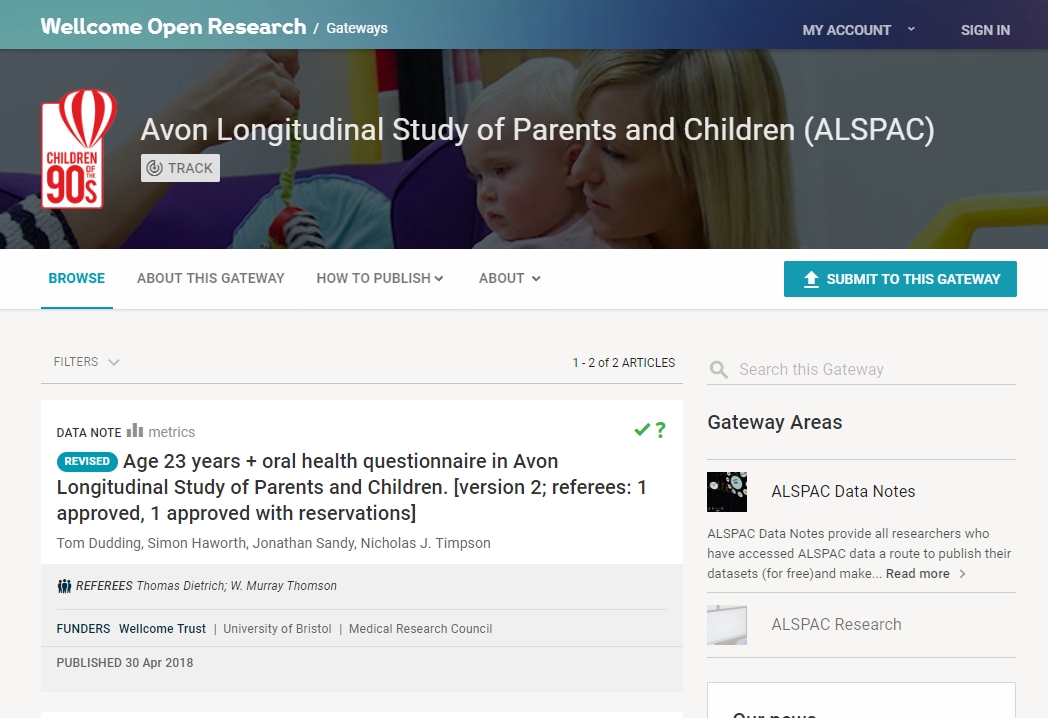 Press release issued: 30 April 2018
We are excited to announce the launch of a new ALSPAC gateway on Wellcome Open Research, a collaboration that aims to enhance access and reuse of ALSPAC data.
Part of Wellcome's mission is to encourage open research, which includes the sharing of data, code and materials to ensure the research and resources have maximal impact. The creation of the ALSPAC gateway will provide a dedicated area for all researchers, not just those funded by Wellcome, who have accessed ALSPAC data to publish their datasets and make them open to the wider community.
These datasets will be published as Data Notes, providing succinct descriptions of research datasets, with details of why and how the data were created. These data notes are then peer-reviewed. Reviewers of Data Notes are asked to address the following questions:
Is the rationale for creating the dataset(s) clearly described?
Are the protocols appropriate and is the work technically sound?
Are sufficient details of methods and materials provided to allow replication by others?
Are the datasets clearly presented in a useable and accessible format?
The first two ALSPAC Data Notes published in the gateway describe data related to the exposure of infection of five-, seven-, 11- and 15-year-old children and rare oral health data collected on individuals at multiple time-points.
The ALSPAC gateway will also be the home for any research articles published specifically by Wellcome-funded researchers with results based upon ALSPAC data.
This pilot project is all about making data more accessible and enabling the wider research community to reuse rich datasets which they couldn't do before. We hope researchers who are already using ALSPAC data will go the extra step and provide citable, peer-reviewed descriptions of datasets, which could be reused and built upon in other studies. Success will then ultimately come with these newly accessible datasets being found by other research groups and used in ways to further their own research.
Principal Investigator of ALSPAC, Professor Nic Timpson, noted that:
"This is an exceptional opportunity for ALSPAC and our valued collaborators to get data, methods and papers out to the wider research community. Our ambition is to build on the reputation of ALSPAC as an accessible resource by using Wellcome Open Research as a portal to data access and the gateway as a forum for showing this and exciting research."