Carry Naloxone Somerset
Co-design of an intervention using a person-based approach to encourage people in Somerset to carry naloxone
This project aimed to co-design a local campaign and interventions to encourage people who may experience or witness an opioid overdose to carry naloxone around with them. Carry Naloxone Somerset campaign was launched on 31 August 2023 to coincide with International Overdose Awareness Day. Read the news.
Background
Opioid is a term used to describe a group of strong painkillers that all chemically similar. Some are used as medicines, like morphine and fentanyl. They also include heroin (which when used as a medicine is called diamorphine) and newer synthetic drugs which are not used as medicines, such as nitazenes. Naloxone is a first aid medicine which can be supplied without prescription.
Overdoses with heroin and other synthetic opioid drugs are increasing. Naloxone can prevent an opioid overdose being fatal. A review of international studies found 57% of people offered naloxone accepted it, but rate of carriage is lower (20%).
As opioid related deaths continue to increase, and concerns escalate about contamination of street heroin with highly potent synthetic opioids due to reduced opium production, carriage of naloxone is vital. Involving drugs workers and people at risk of overdose in designing ways to promote carriage could increase credibility, engagement and effectiveness of the resulting materials and interventions.
The research
We have undertaken a co-design project, guided by the Person-Based-Approach, to:
understand the local Somerset context with respect to carrying naloxone
work out what needs to happen to enable people to carry naloxone, and
come up with possible ways to encourage people to carry naloxone locally.
We did this by:
undertaking a survey of clients in the Somerset Drugs and Alcohol Services (SDAS)
running two workshops with drugs service staff and peer mentors, and
running three workshops/1-2-1 discussions with people who use heroin.
We first identified lots of ways to promote and facilitate the carrying of naloxone and then, with people who use heroin, prioritised those that resonated most.
The SDAS clients we surveyed had high levels of naloxone overdose experience, either personally or as a witness. Local naloxone take-up was high but carriage lower. Physical and psychological barriers to carrying naloxone were identified. Widening access and clearer messaging on carriage were priorities.
Of 26 possible solutions identified, co-design work prioritised an information campaign, an app and map to navigate naloxone suppliers, and provision of a carry case to facilitate discreet carriage alongside drugs and injecting equipment.
We worked with an artist and app developer to operationalise the solutions, which included production of three posters, a logo with QR code, an app and paper map. See: Carry Naloxone Somerset (PDF, 450kB)
We have imported naloxone carry cases from Canada to support discreet carriage.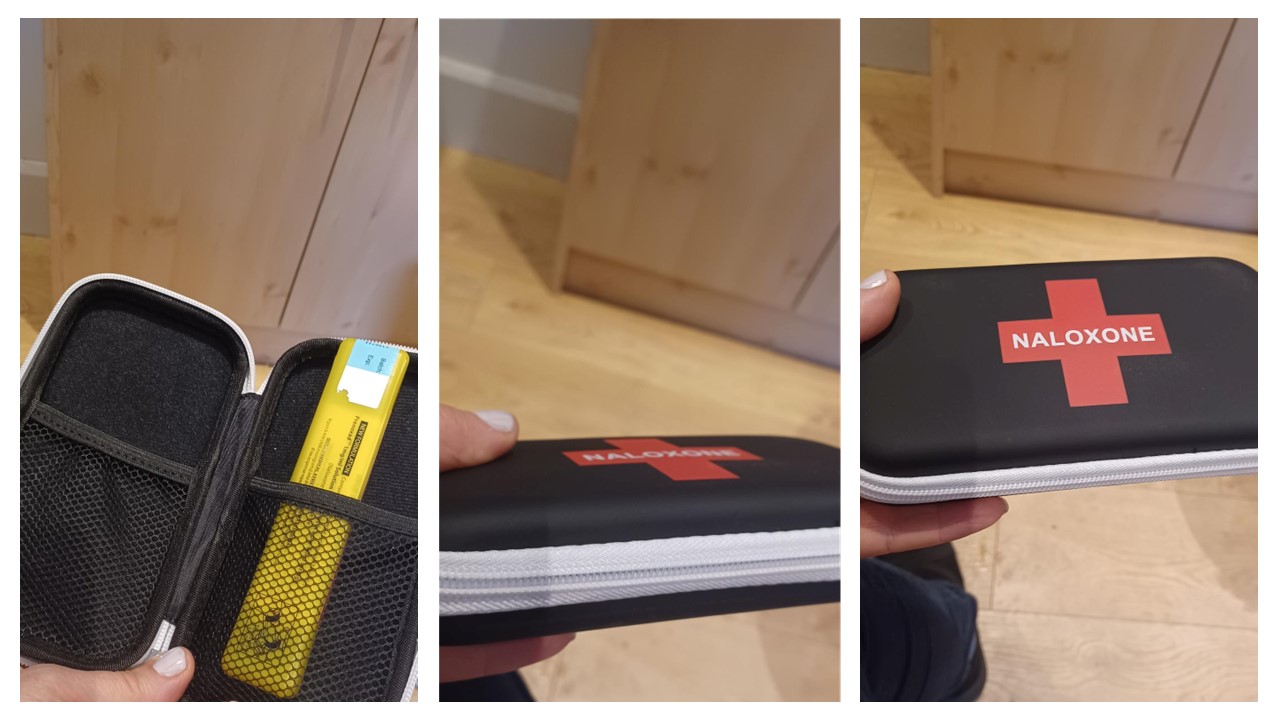 The poster aimed at the public will be placed around Somerset in prominent places. The posters aimed at people who use opioids will be displayed in SDAS services and pharmacies that supply naloxone. This includes a poster promoting the carry case and another about why carrying naloxone is important.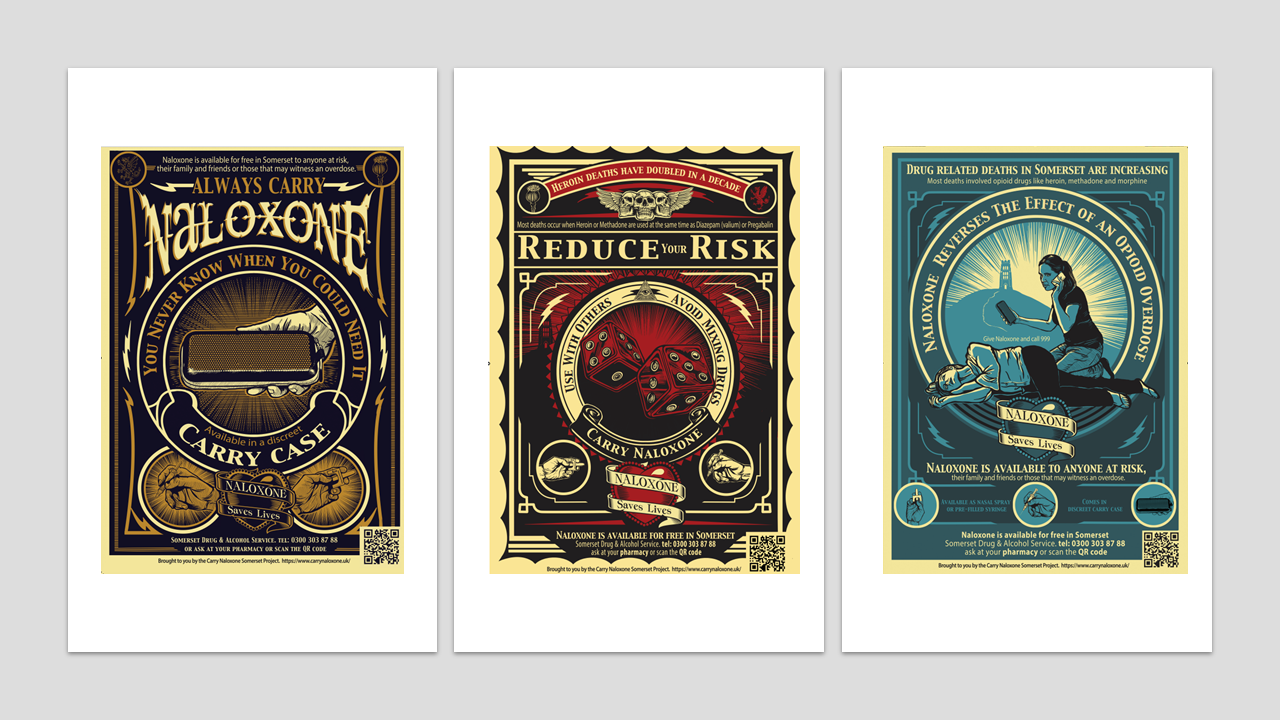 Naloxone poster (blue) (PDF, 583kB)
Naloxone poster (red) (PDF, 613kB)
Naloxone poster (yellow) (PDF, 761kB)
In conclusion, an intervention to promote carriage of naloxone has been co-produced with people with lived experience of heroin use, incorporating thoughts and ideas of people working or volunteering in drug services.
The intervention is being rolled out and the next step is to evaluate its impact.
Training video for pharmacists
This video is a recording of the training delivered in September 2023 to pharmacy teams who are part of the Somerset 'Take Home Naloxone' scheme. It is aimed at those who were unable to engage in the online training events.
Study team
Jenny Scott, Senior Lecturer, Centre for Academic Primary Care, Bristol Medical School, University of Bristol
Jo Kesten, Research Fellow, NIHR HPRU in Behavioural Science and Evaluation Bristol Medical School, University of Bristol & NIHR ARC West
Deb Hussey, Safer Lives Lead, Turning Point, UK
Amanda Payne, Service Manager – Drugs and Alcohol, Public Health
Somerset County Council
Justin Hoggans, Snr. Operations Manager, Somerset Drug & Alcohol Service (SDAS), Turning Point, UK
Tom Heaton, App developer, University of Bath Computer Science student
Michael Linnell, Designer, Linnell Communications
Our co-design team includes our five team members with lived experience, who we are not naming here for confidentiality reasons.
Funding
This work was funded through a drug treatment grant to Somerset Council from the Office of Health Improvement and Disparities (OHID).
Contact
For further information about the project, contact jennifer.scott@bristol.ac.uk.