Dr Denize Atan
Denize currently divides her time between working as a Senior Clinical Lecturer and as an Honorary Consultant in Neuro-ophthalmology at the Bristol Eye Hospital. Managing such a demanding workload and raising a young family has created some challenges along the way.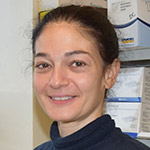 "Being a clinician in academia can be difficult at times" she said. "It's like doing two jobs in one. The workload and demands can be quite heavy whilst complementing each other at the same time. Being a clinician gives you the insight into why the research is important and the detective skills you gain as a scientist help you with your diagnostic work."
"My initial inspiration came from my Bristol PhD supervisors Professor Andrew Dick and Dr Amanda Churchill." she said. "Following that I did a Research Fellowship in Toronto, funded by the Wellcome Trust, with Professor Rod McInnes. All of these influences, the support and enthusiasm I received along the way, enforced my drive to continue in research".
In 2015, Denize was appointed the Lead for Women in Science in the School of Clinical Sciences, becoming a high-profile role model for women in the School and an active promoter of equality and diversity. In particular, she will help establish effective and fair action planning for the career progression of individuals of different race, ethnicity and gender across the School.
"I think the University is very supportive in maintaining a healthy work/life balance for working parents; however, sometimes it is difficult for individuals to find out what support is actually available and the range of initiatives that are currently underway to improve the working lives of everyone in the University. Hopefully, I can help to change that."
"I have three children, my eldest is 13 and I have twins who are 11. I would be lying if I said that it wasn't challenging having a career whilst bringing up children. My husband also works in academia, which brings its own challenges too. But all of my children went to the University Nursery, which was fantastic and actually working in academia does lend itself to flexible working patterns. In principle, flexible working is available to everyone in the School."
The new leadership role has allowed Denize to develop her network and to feel more supported at Bristol.
"Building a network of contacts in Bristol has been really valuable in lots of different and sometimes unpredictable ways. You get a better insight into how the University works. More positive role models are definitely needed as an inspiration to others – if I can do it, so can you."