Seminar Programme
Current seminar programme for 2022/2023
The Center for Comparative and International Research in Education (CIRE) and the ESSRG run regular termly seminars as part of Bristol Conversations in Education research seminar series
Upcoming seminars with link to register via Eventbrite:
Recent seminars
2022/2023
06 December - The Commonwealth, Climate and Energy Policy: Where do we stand after COP27?
Dr Nicholas Watts (Institute of Commonwealth Studies, School of Advanced Study, University of London)
Video below, intended to be shown as part of the seminar: A video from the Commonwealth Foundation showing a recording of youth voices at COP27.


2021/2022
03 November - Locating the development of 'Education for All' in the Isle of Man within an international literature
Professor Angela Little (Honorary Emeritus Professor, UCL Institute of Education and UCL Social Research Institute)
05 October - Voices from SIDS at the Sharp End of Environmental Uncertainty: Small Island Developing States speak to COP26
Aminath Muna & Aminath Shiyama (ESSRG Team Members, Maldives), Dame Pearlette Louisy (Emerita Governor General of St Lucia), Merle St.Clair-Auguste (Vice Principal, Sir Arthur Lewis Community College, St Lucia), Rosiana Lagi (Deputy Head of School of Education, The University of the South Pacific, Fiji/Tuvalu), Cabot Institute representative TBC (Cabot Institute, University of Bristol)
2020/2021
30 June - Monitoring or mentoring: Exploring the role of leading teachers in Maldivian island schools
Dr Rhonda Di Biase (Senior Lecturer, Melbourne Graduate School of Education)
26 May - Experiences of higher education on small islands in and around the UK
Dr Holly Henderson (Assistant Professor of Education, University of Nottingham)
---
Previous small states events
Day Conference and Research Planning Workshop in association with the School of Education, University of Bristol Cabot Institute and Sazani Associates
Living at the Sharp End of Environmental Uncertainty in Small Island States
17 & 18 July 2014
Small island states conference report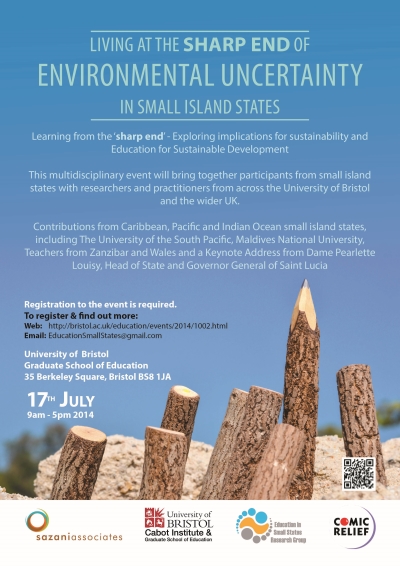 Day conference on Educational Policies and Priorities in Commonwealth Small States
25 October, 2010
12:00 - 16:30, Berkeley Conference Suite (410), Graduate School of Education, 35 Berkeley Square
The Research Centre for International and Comparative Studies (ICS) is hosted a day conference in conjunction with the Council for Education in the Commonwealth (CEC) about educational policies and priorities in Commonwealth small states.
Speakers included:
Professor Michael Crossley
Steve Packer
Terra Sprague
They presented findings from a recent research project on educational policies and priorities in Commonwealth small states to be published in 2010 by the Commonwealth Secretariat.
Guests of Honour included the High Commissioners of Tonga and Namibia as well as representatives from the Commonwealth Secretariat and the Council for Education in the Commonwealth.
The event also celebrated Commonwealth decadal anniversaries of four small states:
Namibia
Samoa
Tonga
Vanuatu
Commonwealth scholars from small states responded to the research findings.
For more details, please see the 25th October informational flyer (PDF, 136kB).
Note: some of the documents on this page are in PDF format. In order to view a PDF you will need Adobe Acrobat Reader