News bulletin
---
Recent News
ESSRG group participation in the Festival of OCIES 2020
Members of the ESSRG group participated in the Festival of OCIES 2020 - Virtual Conference – 8th-11th December. Our participants from the Maldives presented 4 different research studies on the topic of Education Challenges with the Covid-19 Pandemic: A SIDS perspective with special reference to the situation in the Maldives.‌
link: OCIES Virtual Conference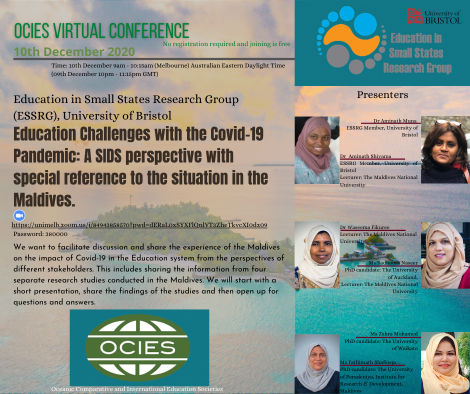 Bristol University Press launches the Bristol Studies in Comparative and International Education Book Series in 2021
Professor Michael Crossley's highly successful Symposium series Bristol Papers in Education: Comparative and International Studies, established in the
1990s, is now to be published by Bristol University Press. The series has been updated with a new name and additional series editors, and will retain the Symposium series commitment to publishing high-quality research, emphasising work that bridges theory, policy and practice, supporting early career researchers and the publication of studies led by researchers in and from the global South. More information on this can be found here.
Professor Michael Crossley's interview with The Australian Teacher Magazine in Melbourne, Australia, March 2020
On March 13th 2020, Professor Michael Crossley led a day conference at The University of Melbourne, hosted by the OCIES (Oceania Comparative and International Education Society) and the Melbourne Graduate School of Education. This was the last day that the university was open for face-to-face events before the first COVID-19 lockdown. In this interview for the Australian Teacher Magazine he drew attention to climate change and its impact in both Australia and Oceania and highlighted the importance of contextualizing teachers' experience to better understand the challenges they face in our interconnected. uncertain and rapidly changing world. The interview can be found here.
ESSRG member Aminath Shiyama presented on her PhD research on teacher professional development in the Maldives
On the 21st January 2020, ESSRG member Aminath Shiyama (Shimmi) presented to the ESSRG team as part of the Bristol Conversations in Education (BCE) series. Her presentation, based on her PhD research was titled: A small-island-developing-state lens on teacher professional development and learning – Research in Progress. The seminar presentation was attended by several members of ESSRG as well as staff and students of the School of Education, University of Bristol.
Education in Small States Research Group to serve as Secretariat for UN SIDS Partnership
A formal partnership was initiated on 18 July 2014 at the international conference 'Learning from the Sharp End of Environmental Uncertainty in Small Island States'. This builds upon existing collaboration and synergies amongst members of the 20 year strong Education in Small States Research Group and participant organisations at the conference. The Education in Small States Research Group will serve as the secretariat of this new Partnership: Learning from the Sharp End of Environmental Uncertainty in Small Island Developing States.
---
Small States Research Group Archive
Note: some of the documents on this page are in PDF format. In order to view a PDF you will need Adobe Acrobat Reader.
Education in Small States Research Group hosts international conference
In association with the School of Education, University of Bristol Cabot Institute and Sazani Associates. 17 & 18 July 2014. Living at the Sharp End of Environmental Uncertainty in Small Island States.
Commonwealth Secretariat Commissioned Research now available
The Education in Small States Research Group, part of the Research Centre for International and Comparative Education (ICS), directed by Professor Michael Crossley, completed an inquiry into the educational policies and priorities of Commonwealth Small States, the results of which were published by the Commonwealth Secretariat in 2011. Read about the publication entitled Education in Small States: Policies and Priorities.
UNESCO/IIEP Publication on Tertiary Education in Small States
This publication takes stock of recent reforms in the tertiary education of selected small states. It presents regional and national experiences from different development contexts. The book concludes with a discussion of policy issues, including sustainable funding and technological solutions to overcome the constraints of small states. It notes some ways in which the challenges facing small states can be turned into opportunities. Read more and download the book here.
Founding Member of Education in Small States Research Group Receives Prestigious Award, October 2011
Dame Pearlette Louisy, Governor General of Saint Lucia, is a founding member of our specialist Education in Small States Research Group in 1994, who continues to work very actively with ICS and this Research Group and to work on joint publications in this area of comparative research. We are pleased to report that her own regional university, the University of the West Indies, has awarded her an Honorary Doctor of Laws (LLD) on 15th October 2011, saying "Her Excellency is a Caribbean icon who has contributed significantly to the development of the region....." This reflects directly upon Dame Pearlette's own contribution to education in small states and adds to the earlier Honorary LLD conferred upon her by the University of Bristol.
Remembering Dr Willie Ako, May 2011
Very sad news from Papua New Guinea. Dr Willie Ako passed away in May 2011 from a suspected stroke at the age of 44. Many in the GSoE will know Willie well since he studied for his Doctorate with us graduating in 2003, and he then returned to Bristol for 3 months as a Visiting Commonwealth Professional Scholar with ICS in 2009.
Dr Ako came from Batri village in the Southern Highlands of PNG and he was one of the first people from his village to go to school and university .... and probably the first to receive a doctorate. On returning to PNG he became First Secretary in the Ministry for Planning and more recently he worked for the Commission for Higher Education. I first met Willie when he was a young boy, when I taught him social science at Kagua Provincial High School in the Southern Highlands in 1980. He then followed me to Bristol years later to study for his doctorate with me.
Willie Ako moved across cultures more than many people, even in his own family, realise.... and in doing so he was always a talented, helpful, cheerful and very kind spirit. He will be greatly missed in his own community (where he did excellent work researching and introducing treated mosquito nets in collaboration with Dr Jane Fitzpatrick from UWE). I was also pleased to have been involved in this work and in his study of curriculum reform in SHP.
So that colleagues can feel the impact that Dr Ako and his work had in PNG I have attached the funeral programme (PDF, 244kB) and a brief review (Office document, 29kB) of the recent funeral service (over 400 people attended) written in very PNG style by Russell Jackson. Russell is also a former ICS/GSoE student based in Port Moresby, who continues to work with us in various ways. Condolences from the GSoE were sent for the funeral day. Willie Ako is a great loss to Papua New Guinea, to the Southern Highlands and to all his family and friends.
Michael Crossley, May 8, 2011.
Educational Policies and Priorities in Commonwealth Small States conference attracts capacity international audience
On October 25th 2011, preliminary findings from Commonwealth Secretariat commissioned research on educational policies and priorities in Commonwealth Small States were shared during a conference jointly hosted by the Centre for Comparative and International Research in Education (School of Education) and Council for Education in the Commonwealth (CEC). The day also celebrated the Commonwealth decadal anniversaries of four small states: Namibia, Tonga, Samoa and Vanuatu.
Read more about the Educational Policies and Priorities in Commonwealth Small States conference.