Clinical Academies
After two years of pre-clinical training at the University of Bristol, our medical students go on to placements at Clinical Academies across the South West region.
These form the core of your clinical training and you will rotate between the clinical academies during the 3rd to 5th years of your medical degree.
Representing a range of healthcare settings, from smaller rural hospitals to large city-based ones, training at the academies brings you into contact with a diverse body of patients and different medical teams.
You will gain in-depth clinical experience from different NHS trusts, preparing you for life as a junior doctor and beyond.
Our academies
Bath
The Royal United Hospital Bath NHS Trust provides acute treatment and care for a catchment population of around 500,000 people in Bath.
It provides 565 beds and a comprehensive range of acute services including medicine and surgery, services for women and children, accident and emergency services, and diagnostic and clinical support services.
Gloucestershire
Gloucestershire is the largest Academy outside of Bristol and consists of two sites, Gloucester and Cheltenham, including an Education Centre, library, and modern teaching and seminar rooms.
North Bristol
North Bristol is the largest NHS Trust in the South West and is sited at Southmead Hospital.
The Academy is based in the Learning and Research building which is a purpose-built facility offering well equipped teaching rooms, simulation suites, a library and student common room and can take up to 200 students from Years 2-5 at any one time.
Clinical teaching will take place in the new £430 million, 800 bed hospital.
South Bristol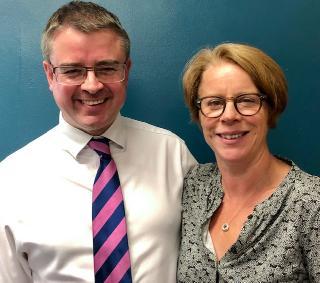 Mr Jonathan Rees and Dr Julie Dovey -
South Bristol Academy Deans
The South Bristol Academy provides clinical teaching and learning opportunities at a number of hospitals, namely the Bristol Royal Infirmary (BRI), including the Bristol Heart Institute, Bristol Royal Hospital for Children, Bristol Haematology and Oncology Centre, Bristol Eye Hospital and St Michael's Hospital.
You will also be taught at the University Hospitals Bristol Education Centre. These facilities are within walking distance of the main University precinct.
The Bristol Royal Infirmary provides a full range of hospital services for the population of south Bristol, together with tertiary services for cardio-thoracic, paediatric and oncology patients for the South West.
North Somerset
The North Somerset Academy is based on the site of Weston General Hospital. You will be among students who are able to take advantage of our £2 million Academy building and Education Centre.
We also have a new, well equipped, light and airy library to support you with your studies. We can take a maximum of 55 students at any one time and provide a contrasting experience to the larger Academies.
Somerset
The Somerset Academy is based on two sites - Musgrove Park Hospital in Taunton and Yeovil District Hospital.
There are plenty of opportunities for teaching and clinical experience in both acute and community medicine at these busy district general hospitals.
Swindon
Each year at Swindon we teach over 200 University of Bristol students in the 2nd, 3rd, 4th and 5th years of their undergraduate course.
The Academy provides a formal setting for learning and teaching for a wide range of health care professionals as well as students from other medical schools.
The Great Western Hospital is an excellent place to train as a medical student and we are very proud of the educational programme we offer here.
It is a new, purpose built hospital with state of the art facilities for patients and staff.