View all news
Article by Dr Yvette Russell wins award for excellence in law and language scholarship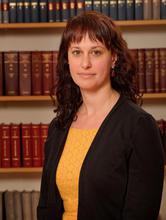 Press release issued: 12 June 2018
Law Lecturer Yvette Russell was recently named as the 2017 recipient of the Penny Pether Award for Law and Language Scholarship, a prestigious American prize for excellence in interdisciplinary scholarship.
The award is an in memoriam prize named for Professor Penny Pether who was a pioneer in the study of law and its intersection with the humanities. The award was conferred last week by a distinguished panel of US Law Professors who considered over 25 nominations.
Dr Russell received the award for her article published last year entitled: 'Woman's Voice/Law's Logos: The Rape Trial and the Limits of Liberal Reform.' (2016) 42(2) Australian Feminist Law Journal 273-296.
In the article, she argues that previous writing on rape, law and linguistics has failed to adequately account for the question of why law continues to appear systematically deaf to the calls of untold numbers of women for justice in the aftermath of rape. The paper seeks to illustrate law's continuing complicity in the failure of the institutional response to the crime of rape with particular reference to the rape trial.
This is only the fifth time the award has been conferred, and the first time it has been awarded to an academic outside the United States (previous winners were from Columbia, Harvard, Duke and Buffalo Law Schools).
Commenting on Dr Russell's work, Jeremy Mullem, Professor of Law at Duke University, and Chair of the Award Committee said:
"I loved that [the article] demonstrated how practical and necessary a strong and fresh critical perspective on law and its processes can be. In those things, it reminded me so much of Penny Pether's own work. But given its subject and our times (particularly in the US), it was especially powerful."
To read the article in full please click here. A summary of Dr Russell's work can be found on the Bristol law school blog.
Further information
Dr Yvette Russell is Lecturer in Law at the University of Bristol Law School. Her research interests include criminal law, feminist theory, and race and criminal justice. She was admitted as a Barrister and Solicitor of the High Court of New Zealand in 2006 and is a Co-ordinating Editor of the international law journal Feminist Legal Studies.