Research
Ongoing research projects
LISFLOOD-FP has been used for a wide variety of research relating to floodplain hydraulics and inundation. Of particular interest at the moment are:
Urban flood modelling
Funded by: EPSRC Flood Risk Management Research Consortium (GR/S76304/01)
NERC Urgency award, Mapping and modelling water elevations for the 2005 Carlisle flood event (NE/D521222/1)
NERC Industrial CASE Studentship Award with Halcrow Ltd to Tim Fewtrell
In collaboration with:
Dr. David Mason, ESSC, University of Reading
Dr. Jon Wicks, Dr. Matt Horritt Halcrow Ltd
Bristol researchers:
Tim Fewtrell
Jeff Neal
Paul Bates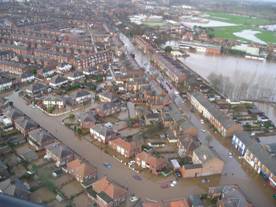 Over the last five years new airborne remote sensing and computing technologies have led to major improvements in our ability to model inundation over rural floodplains. However, this is not where the majority of people live and the key big challenge in inundation modelling is to extend our methods to urban environments. This is a key part of the Flood Risk Management Research Consortium and in it we will be using the LISFLOOD-FP model to simulate urban flooding. This has involved adding the adaptive time stepping algorithm described elsewhere on these pages, and looking at sub-grid scaling methods to correctly represent the effect of small scale urban features in large scale models.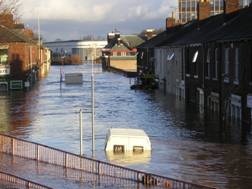 We are also working with Dr. David Mason at ESSC, University of Reading on developing novel processing algorithms for remotely sensed data that can provide the parameterization data needed to drive urban hydraulic models.
Until recently, the key problem for urban flood modelling has been a lack of validation data. The 2005 Carlisle flood event provided an opportunity to deal with this and thanks to an NERC Urgency award to Dr. Matt Horritt we were able to conduct a post-event survey of flood marks. Combining this with data collected by the Environment Agency will yield a benchmark data set for urban flood modelling that should be capable of validating our models.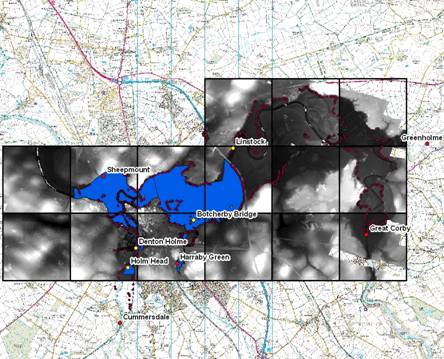 Fig 1:Extent of the Carlisle 2005 event as determined from University of Bristol and Environment Agency surveys overlaid over the EA LiDAR survey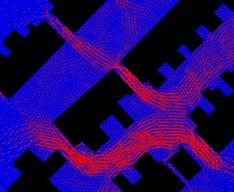 Fig 2: Flow paths through buildings simulated with the SFV unstructured 2D code that will be used to benchmark LISFLOOD-FP simulations
Modelling flow on the Amazon floodplain
Bristol Researchers:
Prof. Paul Bates
Dr. Mark Trigg
Calum Baugh
Amanda Hall
Funded by:
EPSRC Hydraulic modelling of remote river basins (GR/S98634/01)
The Royal Society, International Outgoing Short Visit programme, International Exchanges Scheme
NERC, PhD Studentships
In collaboration with:
Dr. Doug Alsdorf,Ohio State University
Dr. Walter Collischonn, Federal University of Rio Grande do Sul, Brazil
Dr. Adriano Rolim da Paz, Federal University of Paraiba, Brazil
Dr. Guy Schumann, NASA Jet Propulsion Laboratory
Dr. Matt Wilson, University of the West Indies
Dai Yamazaki, Institute of Industrial Science

Despite being one of the largest single components (~15%) of the global terrestrial water balance, very little is yet known about the dynamics of the Amazon flood pulse. A combination of the vast area, lack of in-situ measurement stations or accurate mapping means that we do not posses even basic knowledge about the volume of water discharged and its exchange with floodplain wetlands. Despite this, it has been estimated the Amazon mainstem annually exchanges ~ 25% of its average annual flow with its floodplain, and whilst this is greater than twice the discharge of the Mississippi River the estimate is not constrained by any floodplain gauges. Such floodplain flows also play a key role in globally significant biogeochemical processes such as carbon cycling as a result of CO 2 respiration and evasion from flooded wetlands.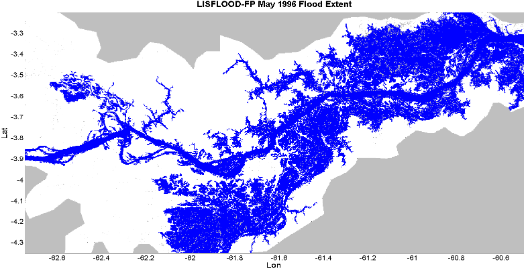 2D numerical models of floodplain flow are potentially an ideal tool with which to gain a better understanding of the spatial and temporal dynamics of the inundation of the Amazon floodplain. We have therefore been working with colleagues in Brazil, the US and Japan to model a 300 x 200 km section of the middle Amazon above Manaus using topography data from the Shuttle Radar Topography Mission (SRTM). We have been conducting fieldwork to collect vegetation height data to correct the SRTM to 'bare earth' values and bathymetry data to help parameterize the LISFLOOD-FP channel model. First results are encouraging and the model shows good potential for application at these scales.
Coastal flood risk assessment and climate change
Funded by: The Tyndall Centre Assessing coastal flood risk at specific sites and regional scales (project T2.46)
In collaboration with:
Professor Rob Nicholls, University of Southampton
Professor Jim Hall, University of Newcastle
Dr. Rich Dawson, University of Newcastle
Dr. Paul Sayers, HR Wallingford
Bristol researchers:
There is increasing recognition that investment and planning decisions related to flood hazards need to be taken within a formal risk assessment framework. This project aims to develop methods for the comprehensive analysis of changing coastal flood risk due to climate change that can account for a range of geographic scales and a range of different impacts. Here, LISFLOOD-FP is being used to simulate coastal flooding at a number of key sites. However, instead of being used to produce a single deterministic prediction, the model is being run within a Monte Carlo analysis to evaluate the total risk from all possible defence failures scenarios. The results will provide a regional analysis of coastal flood risk in East Anglia under a range of climate change scenarios and socio-economic storylines, complemented by more detailed assessments at local scales.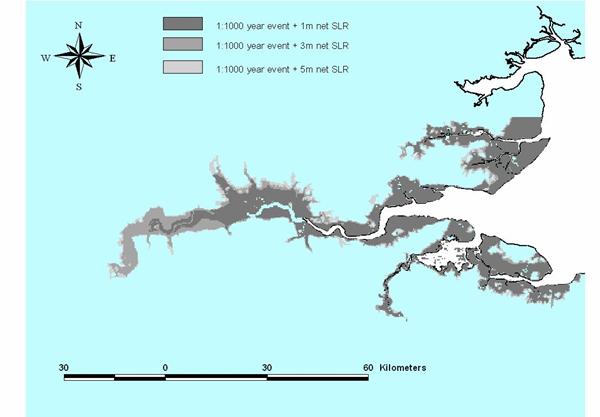 Remote sensing data integration for hydraulic models
Funded by: EPSRC Flood Risk Management Research Consortium (GR/S76304/01)
NERC Urgency award, Mapping and modelling water elevations for the 2005 Carlisle flood event (NE/D521222/1)
In collaboration with:
Dr. David Mason, ESSC, University of Reading
Dr Matt Horritt Halcrow Ltd
Bristol researchers:
Paul Bates
Tim Fewtrell
Jeff Neal
Remotely sensed data can be used for both parameterisation and validation of LISFLOOD-FP and this is an area of active research. Airborne laser altimetry (or LiDAR) data have been used to provide both topography and roughness parameters for inundation models. This allows the effects of small scale topographic features, such as dykes and ditches, to be represented in hydraulic models, and the effects of spatially variable roughness to be investigated.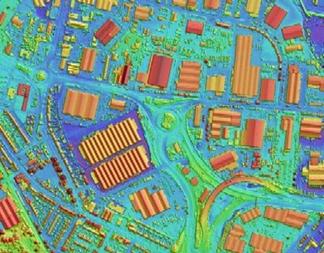 Synthetic Aperture Radar (SAR) imagery has also been used to provide synoptic views of flood extent for inundation model validation and calibration and to compare performance of different models This has required the development of image processing algorithms such as statistical snakes. As well as using satellite borne sensors such as ERS-1/2 and RADARSAT, the use of airborne sensors producing high resolution and multi-band imagery has been investigated. These can produce higher quality validation data sets and can detect flooding beneath vegetation canopies, for example using HH-VV phase difference or enhanced backscatter.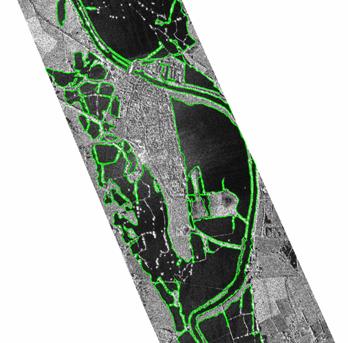 The WatER HM satellite Virtual Mission
Funded by: NASA, Terrestrial Hydrology Programme
In collaboration with:
Dr. Doug Alsdorf, Ohio State University
Professor Dennis Lettenmaier, University of Washington
Dr. Ernesto Rodriguez, NASA Jet Propulsion Laboratory
Dr. Delwyn Moller, NASA Jet Propulsion Laboratory
Professor Jay Famiglietti, UC Irvine
Dr. Nelly Mognard, CNES, France
Dr. Matt Wilson
Bristol researchers: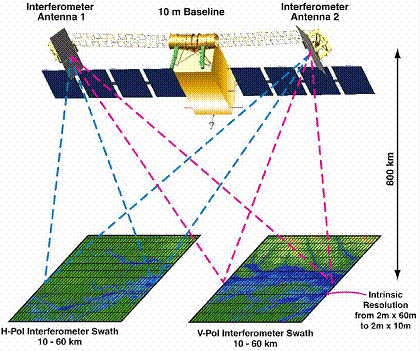 WatER HM is a satellite mission proposal formulated by a team of European and American that seeks to answer the question: what is the spatial and temporal variability in terrestrial water storage? The proposal includes a detailed instrument design for a swath-based interferometric altimeter by Ernesto Rodriguez of NASA Jet Propulsion Laboratory and is backed up by a Virtual Mission study funded by the NASA Terrestrial Hydrology Programme which aims to determine the value added science and related costs that can be attained from various spatial (i.e., pixel size) and temporal samplings of surface water storage and movement.
Within the Virtual Mission the LISFLOOD-FP model is being used to produce simulations of inundation area and hydraulics that are then synthetically sampled at various resolutions to identify science and cost trade-offs. Inputs to LISFLOOD-FP are derived from the Variable Infiltration Capacity (VIC) macroscale water and energy balance model implemented at the continental scale and the outputs are then treated as 'truth' and ingested into an instrument simulator developed by NASA Jet Propulsion Laboratory. Science and cost trade-offs are then determined using an inverse modeling procedure developed at the University of California , Irvine . Preliminary results from simulations of a 700km reach of the Ohio River show that profiling instruments poorly sample the hydraulic regime.