View all news
Up to one in six people with COVID-19 report long COVID symptoms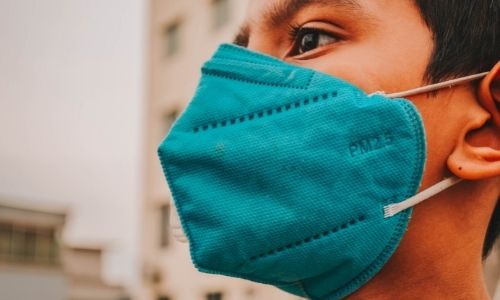 Press release issued: 28 June 2021
One in six (17%) middle-aged people who report being infected by SARS-CoV-2 also report long COVID symptoms, while this falls to one in 13 (7.8%) among younger adults who reported having Covid-19, according to a new study led by UCL and King's College London researchers.
The preliminary findings, part of the UKRI-NIHR funded multi-institution CONVALESCENCE study and submitted to the preprint server medRxiv, also found that women were 50% more likely to report long COVID than men, and that the risk for long COVID symptoms increases with age, is linked to poorer pre-pandemic mental and physical health and is associated with a previous diagnosis of asthma. Non-white ethnic minority groups had lower odds of reporting long COVID (about 70% less likely).
Using a stricter definition of long COVID as impacting routine daily activities, the researchers found that it affected 1.2% of 20-year-olds who had Covid-19, but 4.8% of people in middle age. The researchers analysed anonymised data from 1.2 million primary health records across the UK together with 10 population-based cohort studies with 45,096 participants. Using existing cohort studies, whose participants are surveyed regularly, allowed the research team to include cases not reported to the GP and to look at people's health before the pandemic.
Professor Nishi Chaturvedi (MRC Unit for Lifelong Health and Ageing at UCL), who leads the ongoing CONVALESCENCE study, said: "Getting consistent findings from this combination of many different studies gives us greater confidence that our findings are robust, which is critical given that we know so little about long COVID."
Dr Claire Steves of King's College London, senior author of the paper, said: "Knowing which factors increase the risk of long COVID is an important first step in understanding how best to prevent and treat this condition."
First author Dr Dylan Williams (MRC Unit for Lifelong Health & Ageing at UCL) said: "Amassing this body of evidence would usually take many months or years to assemble but we achieved this more quickly through massive, constant collaboration by researchers at many different institutions.
"Our findings hint at the mechanisms behind long COVID. Next we need to identify the predispositions that might explain, for example, why women or individuals with asthma appear to be at higher risk. Could a liability to suffer from autoimmunity or allergies play a role? Establishing concrete research avenues to go down will eventually lead to benefits for people with long COVID."
First author Dr Ellen Thompson, of King's College London, said: "It's really important to identify risk factors in the population so we can prepare and devise prevention strategies, protecting people at increased risk of poor outcomes from COVID-19."
The study forms part of the larger COVID-19 Longitudinal Health and Wellbeing National Core Study, which is investigating the health, social and economic impacts of the COVID-19 pandemic by combining rich pre-COVID data collected from participants of numerous national research studies with national anonymised electronic health records.
The researchers investigated if the risks of developing long-term Covid symptoms differed by several pre-pandemic socioeconomic and health characteristics. Coordinated analyses of the longitudinal studies and health records data showed consistently that female sex and increasing age (up to 70 years) were associated with increased odds of long COVID.
Pre-existing adverse mental health was associated with a 50% increase in the odds of reporting long COVID, while asthma was the only specific prior medical condition consistently associated with greater risk of developing lasting Covid-19 symptoms (a 32% increase). Participants were identified as having pre-existing adverse mental health if they had been diagnosed with one of a number of conditions such as depression and bipolar disorder, or their responses to questionnaires indicated they had a mental health condition before the pandemic.
Analysis was conducted on 6,899 individuals self-reporting COVID-19 from 45,096 surveyed adult participants of ongoing longitudinal studies in the UK, and on 3,327 cases assigned a long COVID code in primary care electronic health records out of 1,199,812 adults diagnosed with acute COVID-19. Long COVID, identified as Post-COVID-19 syndrome in the study, is defined as symptoms persisting for longer than 12 weeks after the initial infection.
The research team included researchers at the Universities of Bristol, Edinburgh, Glasgow, Oxford, as well as the London School of Hygiene & Tropical Medicine, and the Bradford Royal Infirmary. Dr Fiona Glen, programme director for the NICE Centre for Guidelines, said: "There is still much we do not know about the long-term effects of COVID-19. We continue to monitor and assess the latest evidence on the long-term effects allowing us to continuously update our guideline recommendations. We welcome this new research which will ensure we have a better understanding of how to manage the care and treatment of patients with prolonged symptoms of COVID-19."
Further information
About UCL – University College London
UCL is a diverse community with the freedom to challenge and think differently. Our community of more than 41,500 students from 150 countries and over 12,500 staff pursues academic excellence, breaks boundaries and makes a positive impact on real world problems. We are consistently ranked among the top 10 universities in the world and are one of only a handful of institutions rated as having the strongest academic reputation and the broadest research impact. We have a progressive and integrated approach to our teaching and research – championing innovation, creativity and cross-disciplinary working. We teach our students how to think, not what to think, and see them as partners, collaborators and contributors. For almost 200 years, we are proud to have opened higher education to students from a wide range of backgrounds and to change the way we create and share knowledge. We were the first in England to welcome women to university education and that courageous attitude and disruptive spirit is still alive today. We are UCL.
www.ucl.ac.uk
King's College London
King's College London is one of the top 35 UK universities in the world and one of the top 10 in Europe (QS World University Rankings, 2020/21) and among the oldest in England. King's has more than 31,000 students (including more than 12,800 postgraduates) from some 150 countries worldwide, and some 8,500 staff. King's has an outstanding reputation for world-class teaching and cutting-edge research. In the 2014 Research Excellence Framework (REF), eighty-four per cent of research at King's was deemed 'world-leading' or 'internationally excellent' (3* and 4*). Since our foundation, King's students and staff have dedicated themselves in the service of society. King's will continue to focus on world-leading education, research and service, and will have an increasingly proactive role to play in a more interconnected, complex world. Visit our website to find out more about Vision 2029, King's strategic vision to take the university to the 200th anniversary of its founding.
World-changing ideas. Life-changing impact: https://www.kcl.ac.uk/news/headlines.