Triathlon
Triathlon Outcomes Study
Knee replacement is a common operation, with about 100,000 people having a knee replacement every year in the NHS. To ensure that patients receive the best care, studies are carried out to find out how well people do after their knee replacement.
In this study, we are monitoring the results of the Triathlon knee replacement. The Triathlon prosthesis was developed to produce natural knee motion and a greater range of flexion.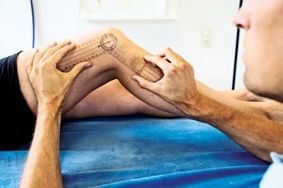 Between 2006-2009, 266 patients in Bristol were recruited into the study. We have followed up patients at 3 months, 1 year, 2 years, 3 years, 5 years and 7 years after their knee replacement. We are now following up patients at 10 years. We have asked people to fill in questionnaires and have their knee examined by a physiotherapist so that we can find out how well people are doing after their Triathlon knee replacement.
As well as looking at how well people do with a Triathlon knee replacement, we have looked at other important questions in this study, such as how mental wellbeing affects people's pain and mobility after a knee replacement.
The study team is led by Professor Ashley Blom working alongside Dr Vikki Wylde, Alice Rose and Mr Michael Whitehouse. The study is funded by Stryker UK. The team have so far published the following papers from the Triathlon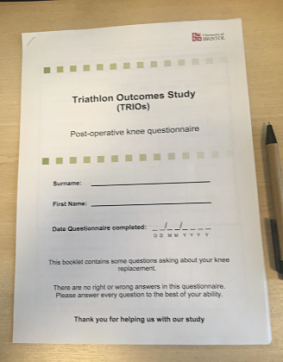 Outcomes Study:
For further information, please contact Alice Rose. ‌