Oliver Messel Schools' Resources
As part of our recent HLF funded project Sharing the Messel Magic we have developed a series of thematic digital resources based upon the Archive of Oliver Messel, one of the twentieth century's greatest theatrical designers.

These resources have been designed to introduce teachers of Art and Design across Key Stages 3, 4 and 5, to artist, designer and magic-maker Oliver Messel. Each pack contains thematic material, reference images and creative activities, such as discussion points, focused tasks and ideas for independent research (dependent on level of study), which can be adapted as needed for different stages of the curriculum.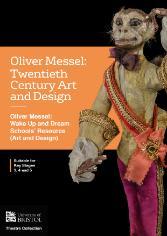 Pack 1: Magic Maker Pack 2: 20thC Art & Design Pack 3: Art of Theatre Design
The packs can be used separately by teachers with which to plan an individual lesson, or sequentially to help develop a larger project around Oliver Messel, art and theatre or twentieth century art and design, and can be used either in the classroom or as part of a structured visit to the Theatre Collection.
Additional resources are available (right) to accompany each pack including:
Glossary designed to introduce students to specific terms and vocabulary related to the art of theatre design.
Biographical history covering Oliver Messel's personal and professional life.
Account of Oliver Messel's Professional Practice including a scenography, filmography, design commissions and a list of exhibitions.
Downloadable image packs to accompany each of the above packs.
Theatre Glossary (PDF, 1,937kB) Biography (PDF, 2,754kB) Professional Practice (PDF, 1,481kB)
Please note that our schools' resources are free to teachers, young people and learning professionals. They are to be used for educational purposes only and materials should only be reproduced for this use. This notice also adheres to the accompanying image packs which can be requested by email.
These resources are kindly supported by the National Lottery Heritage Fund.

To download an image pack to accompany our schools' resources please click here
To book a visit to the Theatre Collection please visit our School's page here.
You can also access the Oliver Messel Personal Archive online catalogue with over 10,000 object descriptions to research here.