University of Bristol wins three South West Fair Trade Business Awards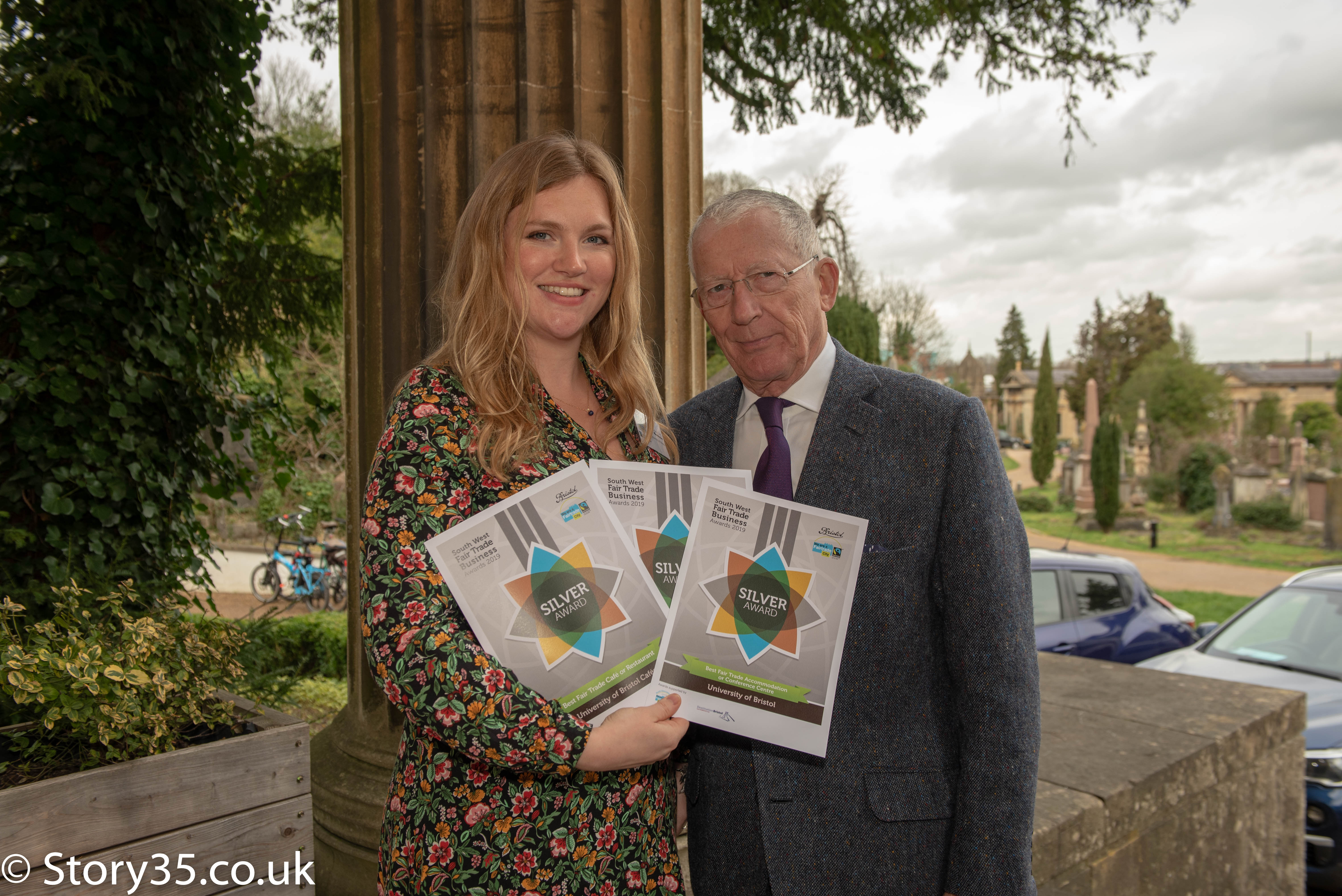 The University has been awarded three Silver awards in the South West Fair Trade Business Awards 2019, in the categories of Best Fair Trade University or College, Best Fair Trade Café or Restaurant, and Best Fair Trade Accommodation or Conference Centre, respectively.
The awards, now in their seventh year, recognise organisations across a range of areas and sizes throughout the region who sell or purchase Fair Trade certified products, and who promote Fair Trade campaigns and values through their communications.
The University received three awards following a successful collaboration involving Sustainability, Residential and Hospitality Services, Procurement and Bristol SU's shop; The Basket. The University was represented at the awards ceremony by Alice Maxwell-Lyte, Environmental Supervisor for the Sustainability team (Estates).
The ceremony took place at Arnos Vale Cemetery on Friday 8 March, with awards being presented by TV personality and Fairtrade Foundation Patron Nick Hewer, who praised organisations that support Fair Trade through their business. In a speech made as host of the ceremony, Hewer commended businesses "willing to put their money where their mouth is and use their business as a force for good".
Other guest speakers included LJ Loftus, Head of Supply Chain Management at Fairtrade Foundation, and Christine Storry speaking about business opportunities for the Sustainable Food Cities Going for Gold programme, in which the University is also participating.
The ceremony was also attended by Juneith Leiva, Fairtrade coffee and cocoa producer visiting the UK from the community of San Pedro Buculmay, Nicaragua who spoke about her experiences of fair trade. Speaking with the aid of an interpreter, Leiva said:
"By choosing Fairtrade, you are not just helping one person, you are helping a whole community. Just by buying one product you are helping many people have a better life. Working with Fairtrade is the best thing that has happened to me in my life […] It has meant that everyone—not just me and my siblings—but the whole community has access to education and healthcare."
Among the actions undertaken by the University, over 67% of the tea, coffee and sugar product range spend from the University's key stationery supplier, Office Depot, is Fairtrade and the University has plans in place to make this 100% by June 2019.
In addition, the Bristol SU Shop stocks over 50% of its range as certified Fairtrade products, with plans to increase this further in 2019. The Catering facilities at University halls of residence also hold Fairtrade evenings showcasing the range of Fairtrade offerings at the University.
Most recently, the University celebrated Fairtrade Fortnight (25 Feb – 10 Mar) with a series of awareness-raising events and promotions including film screenings, pop-up information stands, competitions and giveaways and discounts in conjunction with the Bristol SU Shop and Source Cafes across campus.
(Image credit: Story35 Photography)
Further information
Fairtrade guarantees a fair and living wage for small scale farmers in developing countries, as well as a social premium to benefit the wider community, to be spent on healthcare, education, clean water and more.
Fairtrade standards also guarantee environmental protection of local ecosystems and rainforests, as well as strict controls on waste, carbon emissions and water use.
Find out more about the University's Fairtrade Policy and the actions we are taking to promote Fairtrade to staff and students.