Course overview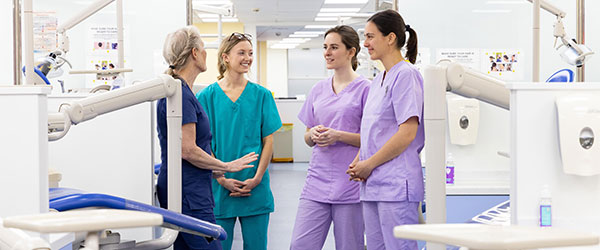 Typical offer
A-level standard offer: AAA
A-level contextual offer: ABB
See entry requirements for full details and eligibility.
Course duration
5 year(s) full-time
Part-time study is not available for this course
Application method
Full-time: UCAS
The closing date for Dentistry UCAS applications is 15 October. UCAS advises that no more than four choices from a possible five are used for Dentistry.
Fees
£9,250 per year, home students
£43,100 per year, international students
Fees quoted are for 2023 entry only. Fees for 2024 will be confirmed, subject to government approval, later in 2023.
More about tuition fees, living costs and financial support.
Location
This five-year degree comprises clinical activity with integrated scientific and technical teaching. With a strong core of clinical work throughout, theory, science, clinical skills, personal and professional development and teamworking are integrated at the relevant levels.
We are moving into a new Dental School with the latest technology, designed with input from our current students and staff, and planned for completion in the academic year 2022/23.
Year one introduces the clinical environment through peer group activities and observations. Clinical skills training and patient contact commence early in year two.
The programme structure is helical, with four main themes of development: Practitioner, Scholar and Scientist, Professional and Agent of Change, Person and Citizen. You will be introduced to basic concepts in the healthy patient before progressing to apply your knowledge and skills to treat an increasingly complex range of oral disease.
Later in the programme you can choose to intercalate in a science subject to obtain an Honours BA or BSc.
You will begin your dental practice under supervision in clinics after simulated skills training, all undertaken in new state-of-the-art facilities. Here you will treat patients with a wide variety of oral and dental diseases in preparation for practice beyond graduation.
Student welfare is central to our programme and you will have access to a wide range of support, starting with our well developed in-house personal tutor network.
Health and Disclosure and Barring Service check

Certain health conditions may be incompatible with careers in dentistry. Before starting your degree you will need to complete a health assessment questionnaire and pre-course screening for blood-borne viruses. These blood tests are to identify the few whose health status may place them and/or future patients at risk. Please note that as part of your training you will come into contact with human and animal cadaveric material.
Practising dentistry demands the highest standards of professional and personal conduct. In accordance with General Dental Council guidelines, all dental students must complete a Disclosure and Barring Service (DBS) check. For more information, please visit our guidelines for students on the DBS disclosure page.
This course is accredited by the following organisations

General Dental Council (GDC) The General Dental Council quality assures and approves qualifications for registration, for the following registrant groups: Dentists; dental hygienists; dental therapists; dental nurses; clinical dental technicians; dental technicians; and orthodontic therapists. Found to be sufficient by the General Dental Council (GDC) for the purpose of eligibility for registration with that body (http://www.gdc-uk.org/)
Course structure
Full details about the course structure and units for this course can be viewed in the programme catalogue.
Go to programme catalogue
Entry requirements
We accept a wide variety of qualifications and welcome applications from students of all backgrounds. Below is a guide to the typical offers for this course.
A-level standard offer
AAA including Chemistry and one of Biology, Physics, Mathematics or Further Mathematics.

Graduates are required to obtain a 2:1 in their degree and BBB at A-level including Chemistry and one of Biology, Physics, Mathematics or Further Mathematics.
International Baccalaureate Diploma
36 points overall with 18 at Higher Level, including 6, 6 at Higher Level in Chemistry and one of Biology, Physics or Mathematics (either Analysis and Approaches or Applications and Interpretations)
International Baccalaureate Diploma contextual offer
32 points overall with 16 at Higher Level, including 6 at Higher Level in Chemistry and 5 at Higher Level in one of Biology, Physics or Mathematics (either Analysis and Approaches or Applications and Interpretations)
Find out if you are eligible for a contextual offer
European Baccalaureate
85% overall, with 8.5 in Chemistry and either Biology, Physics or Mathematics
Scottish Qualifications Authority
Advanced Higher: AA in Chemistry and either Biology, Physics or Mathematics, and Standard Higher: AAAAB
Access to HE Diploma
Access to HE Diploma in Science, Biomedical/ Medical/ Health Science or Psychology (or similar titles). The 45 graded Level 3 credits must include:
at least 30 credits at Distinction and 15 at Merit or above; and
at least 12 credits at Distinction from Chemistry units; and
at least 12 credits (with 9 at Distinction) from one of Biology, Physics or Mathematics.

Mature students can contact mature-students@bristol.ac.uk to check the suitability of their Access course.
Welsh Baccalaureate
Requirements are as for A-levels, where you can substitute a non-subject specific grade for the Welsh Baccalaureate Advanced Skills Challenge Certificate at that grade.
Cambridge Pre-U
Requirements for principal subjects are as for A-level, where D1/ D2 is A*, D3 is A, M1/ M2 is B, and M3 is C.
International qualifications
The University of Bristol welcomes applications from international students, and we accept a wide range of qualifications for undergraduate and postgraduate study.
Search international qualifications
Applicants must also meet these requirements
GCSE profile requirements
Advanced numeracy requirement (7 or A in GCSE Mathematics or equivalent)
and
Standard literacy requirement (4 or C in GCSE English or equivalent)
Further information about GCSE requirements and profile levels.
English language requirements
If English is not your first language, you need to have one of the following:
IELTS 7.5 overall with 7.0 in all skills
GCSE English Language grade B or 6
Further information about English language requirements and profile levels
Additional requirements
UCAT: The University Clinical Aptitude Test (formerly UKCAT) is required. Bursaries are available to cover the cost of taking the UCAT; please see the UCAT website for details.
The combined score from all subtests, with the exception of Situational Judgement, will be used to select applicants for interview. For 2022 entry, the final UCAT threshold score to be invited to interview was 2750 for home applicants and 2670 for overseas applicants. However, the number used as a threshold for interview is subject to change year-on-year.
Work experience is not a requirement for this course, but it is encouraged. Please see the Admissions statement for further details.
More about UK qualifications.
Selection process
We select successful applicants based on the UCAS application, UCAT and interview. If you are offered a place you will have to pass a health assessment and undergo a DBS check.
Full information about our selection processes for this course:
The admissions statement above relates to 2023 entry. The statement for 2024 entry will be available in summer 2023.
Regulations and codes of conduct we abide by to create a positive environment for learning and achievement:
Key information about this course