View all news
Refreshed NIHR School for Primary Care Research to strengthen whole primary care research sector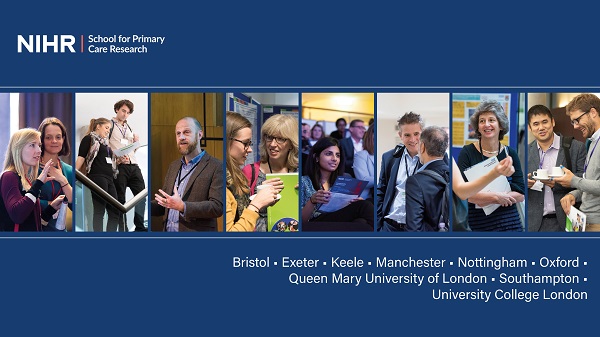 24 March 2021
The NIHR has announced the fourth phase of the School for Primary Care Research (SPCR), with a refreshed membership and a new focus on supporting the full spectrum of primary care research and building research capacity. The Centre for Academic Primary Care at the University of Bristol has been confirmed as one of the nine member institutions.
The new school will be led by Professor Christian Mallen from Keele University, who succeeds Professor Richard Hobbs at the University of Oxford after 15 years of valued service.
NIHR research schools are national collaborations between leading academic centres that fund outstanding research in primary care, public health and social care. The SPCR carries out world-leading research in primary care, providing a focus for primary care research within the NIHR and supporting the development of primary care research.
This new phase of the SPCR has an explicit aim to strengthen the primary care research sector more broadly, covering sectors such as community nursing and pharmacy as well as general practice.
The member institutions share their expertise with non-member institutions, with a strong emphasis on engaging, collaborating and partnering with institutions beyond the school membership.
The fourth phase of the school has a refreshed membership, encompassing new members in Queen Mary University of London and University of Exeter. Some of the members, such as the University of Bristol, have formed partnerships with other institutions to support capacity building across the wider Primary Care workforce.
The new phase of the school, which has been awarded £22 million, will start in April 2021 and run for a five year period. The school has also received funding of £10 million from the NIHR Academy to support capacity building in primary care research.
New director Professor Christian Mallen, NIHR Research Professor in General Practice and the Head of the School of Medicine at Keele University, said: "I'm absolutely delighted to have been appointed director of the NIHR School for Primary Care Research. The renewed membership provides a real opportunity to build on past success whilst extending our remit to work with a broader group of partners."
"Over the past 15 years, the NIHR SPCR has been pivotal in raising the profile of academic primary care. I am particularly grateful to Professor Richard Hobbs, outgoing Director, for working so tirelessly to achieve this."
The core research priorities for the refreshed SPCR are organised around some of the challenges facing national and international primary care. They are organised into four broad themes:
changing patterns of morbidity and mortality
challenges around new technologies
workforce and skill mix in primary care
globalisation, health and inequalities.
Professor Katrina Turner and Professor John Macleod, joint leads for the Centre for Academic Primary Care at the University of Bristol, said: "We are delighted that Bristol has remained within the NIHR School for Primary Care Research. We were one of the founding members when it was established in 2006. It has been great to belong to a partnership that has grown in terms of both size and impact.
"Together as a school we have increased the evidence base and built capacity and collaborations that have benefitted, and will continue to benefit, primary care research, policy and practice. We look forward to working with the other SPCR members to find innovative ways to improve primary health care knowledge, service delivery and outcomes."
The renewed SPCR will continue to conduct research that responds to and meets the needs of local populations and local health and care systems, and which addresses the nation's changing demographics and corresponding impact on disease burdens and service demands.
The current school undertakes a wide range of research projects as well as school-wide research programmes that focus on addressing major primary care challenges. For example, all nine school members collaborate on the CANcer Diagnosis Decision rules (CANDID) study, led by Professor Paul Little of the University of Southampton. The study aims to develop ways of predicting who is more at risk of getting lung or bowel cancer, to improve early detection and assist early referral.
Strong involvement and engagement of patients and the public will be central to the school, ensuring its work draws on their lived expertise, incorporates their perspectives and responds to their challenge. SPCR innovations in Patient Public Involvement and Engagement (PPIE) will continue in phase four. Two rounds have been held for Engagement and Dissemination awards and two rounds of PPIE awards.
School member institutions have strong partnerships within, and outside of, the NIHR. These include NIHR Applied Research Collaborations, NIHR Biomedical Research Centres, NIHR Patient Safety Translational Research Centres and Centres of Excellence funded by charitable organisations. Member departments contribute to all NIHR Academy Fellowship Programmes, with several holding senior investigator and research professor awards.
The nine SPCR member institutions from April 2021 are:
Queen Mary University of London
University of Bristol
University College London (UCL)
University of Exeter
University of Keele
University of Manchester
University of Nottingham
University of Oxford
University of Southampton.
Further information
About the Centre for Academic Primary Care, University of Bristol
The Centre for Academic Primary Care (CAPC) at the University of Bristol is a leading centre for primary care research in the UK, one of nine forming the NIHR School for Primary Care Research. It sits within Bristol Medical School, an internationally recognised centre of excellence for population health research and teaching. Follow us on Twitter: @capcbristol.
About the National Institute for Health Research
The National Institute for Health Research (NIHR) is the nation's largest funder of health and care research. The NIHR:
funds, supports and delivers high quality research that benefits the NHS, public health and social care
engages and involves patients, carers and the public in order to improve the reach, quality and impact of research
attracts, trains and supports the best researchers to tackle the complex health and care challenges of the future
invests in world-class infrastructure and a skilled delivery workforce to translate discoveries into improved treatments and services
partners with other public funders, charities and industry to maximise the value of research to patients and the economy
The NIHR was established in 2006 to improve the health and wealth of the nation through research, and is funded by the Department of Health and Social Care. In addition to its national role, the NIHR commissions applied health research for the direct and primary benefit of people in low- and middle-income countries, using UK aid from the UK government.