View all news
Low cost, low risk intervention could help improve the care of patients who make frequent visits to their GP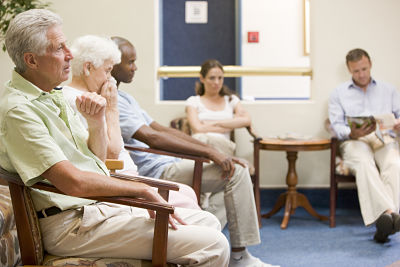 11 January 2019
Training GPs in a consultation technique designed to find out about the wider context to patients' problems, and support patient knowledge, skills and confidence to self-care, is feasible and could reduce costs, according to a study by researchers at the University of Bristol's Centre for Academic Primary Care.
The top 3% of attenders to primary care are associated with 15% of all appointments. Patients who frequently visit their GP attend for a variety of reasons, including physical, psychological and social. They are high users of NHS resources without necessarily gaining benefit, and may even be harmed.
The pilot study, funded by the National Institute for Health Research and published in BJGP Open, looked at the feasibility of training GPs to use a technique called BATHE (Background, Affect, Trouble, Handling, Empathy) during consultations. This involved asking patients a series of questions to uncover any unmet needs that might be contributing to high levels of attendance. Patients were also assigned to a named GP and telephone consultations were encouraged.
The intervention was piloted in six GP practices with differing levels of deprivation. Four practices were randomised to the intervention (451 patients participating) and two to usual care (148 patients participating).
There was some evidence of improved patient activation and lower consultation rates in the intervention group. Patients in the intervention group were positive about the intervention but noticed little change in their care. GPs were keen to engage and there was evidence that the BATHE technique was taken into practice. The intervention was found to be low cost at around £5,627 per practice, with GP training time accounting for over half of all cost.
Although there were some barriers to uptake, for example some GPs reported fear of 'opening a can of worms' in a time-limited environment, use of BATHE did not seem to significantly increase consultation length. They found the technique to be helpful and gave examples of it yielding new insights, even from patients they knew well.
Dr Rebecca Barnes, Senior Research Fellow at the Centre for Academic Primary Care and lead author of the study, said: "We have demonstrated that this intervention is feasible and acceptable to both patients and GPs and that, with some refinements to the intervention design, it could result in increased support for patient self-management and cost-savings. We are using the evidence we collected during the study to improve our BATHE training, including online materials to further reduce intervention costs. We hope to be able to take this to a full trial in 2019."
Paper: A consultation-level intervention to improve care of frequently attending patients: a cluster randomised feasbility trial. Rebecca K. Barnes et al. BJGP Open. January 2019.
Further information
About the Centre for Academic Primary Care
The Centre for Academic Primary Care (CAPC) at the University of Bristol is a leading centre for primary care research in the UK, one of nine forming the NIHR School for Primary Care Research. It sits within Bristol Medical School, an internationally recognised centre of excellence for population health research and teaching. Follow us on Twitter: @capcbristol.
About the National Institute for Health Research
The National Institute for Health Research (NIHR) is the nation's largest funder of health and care research. The NIHR:
funds, supports and delivers high quality research that benefits the NHS, public health and social care
engages and involves patients, carers and the public in order to improve the reach, quality and impact of research
attracts, trains and supports the best researchers to tackle the complex health and care challenges of the future
invests in world-class infrastructure and a skilled delivery workforce to translate discoveries into improved treatments and services
partners with other public funders, charities and industry to maximise the value of research to patients and the economy.
The NIHR was established in 2006 to improve the health and wealth of the nation through research, and is funded by the Department of Health and Social Care. In addition to its national role, the NIHR commissions applied health research to benefit the poorest people in low- and middle-income countries, using Official Development Assistance funding.
This work uses data provided by patients and collected by the NHS as part of their care and support and would not have been possible without access to this data. The NIHR recognises and values the role of patient data, securely accessed and stored, both in underpinning and leading to improvements in research and care. www.nihr.ac.uk/patientdata