View all news
University awarded an additional Centre for Doctoral Training in Artificial Intelligence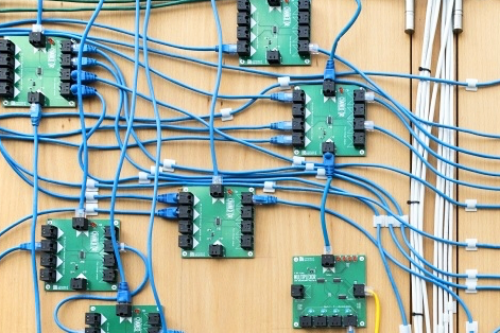 Press release issued: 21 February 2019
The University has been awarded a 10th CDT in Interactive Artificial Intelligence, in today's Government announcement.
UK Research and Innovation (UKRI) have announced today (Thursday 21st February) that the University of Bristol has successfully received a share of their £100 million investment towards the development of Artificial Intelligence (AI) research.
The UKRI Centre for Doctoral Training in Interactive Artificial Intelligence will build on Bristol's unique strengths in intelligent systems, machine learning, and human-computer interaction. The Centre will equip at least 50 PhD researchers over five cohorts with the skills needed to design and deliver AI systems that satisfy the fundamental need for meaningful and productive interaction with humans.
Professor Peter Flach, who will lead the CDT, said; "In the past decade we have seen the first exciting and productive examples of interactive AI in the form of voice-driven virtual assistants such as Siri and Alexa. The next decade will bring many more and diverse human-centred applications of AI, but getting the interaction between humans and intelligent machines right is critical to ensure these systems are safe, fair, and intelligible.
"We are delighted to have been given the opportunity to train the next generation of innovators and research leaders in responsible human-in-the-loop AI systems."
Earlier this month the Engineering and Physical Sciences Research Council (EPSRC) awarded Bristol funding for nine CDTs – the highest number awarded to any university in the country.
All of the PhD programmes are open for application, with students due to start in September 2019. Interested applicants should contact the Centres and start the online application immediately, making sure to specify the particular CDT that is of interest.
The Government's announcement will see the launch of 16 CDT's who will work with 300 partners including Google, Rolls-Royce and AstraZeneca. The investment aims to create one thousand new research and business leaders, to ensure the UK leads the global revolution in AI.
This new generation of PhD students across the CDT's will use AI technology to improve healthcare, tackle climate change and create new commercial opportunities.
Collaboration with industry partners is one of the strengths of the Interactive AI CDT, with 23 partners including Adarga, Centre for Sustainable Energy, EDF Energy, Facebook, Microsoft Research, Ordnance Survey and QinetiQ. having agreed to in-kind and monetary contributions worth around £3 million.
This adds to one of the University's core aims of expanding the regional economy by partnering with leading businesses and enterprises, as further evidenced by the Temple Quarter Enterprise Campus.
Business Secretary, Greg Clark, said: "The UK has long been a nation of innovators and today's package of AI skills and talent investment will help nurture leading UK and international talent to ensure we retain our world-beating reputation in research and development.
"Artificial intelligence has great potential to drive up productivity and enhance every industry throughout our economy, from more effective disease diagnosis to building smart homes. Today's announcement is our modern Industrial Strategy in action, investing in skills and talent to drive high skilled jobs, growth and productivity across the UK."
In addition, the University of Bristol is a partner organisation for another of the 16 CDTs announced today. The UKRI Centre for Doctoral Training in Artificial Intelligence, Machine Learning and Advanced Computing will be led by Swansea University working with the Universities of Aberystwyth, Bangor, Bristol and Cardiff, as well as Supercomputing Wales and a range of external partners, including large multinationals and locally based SMEs.
This CDT will lead on a range of state-of-the-art research projects, which cover fundamental particle physics and astronomy, the health and clinical sciences, and novel ideas in mathematical, physical and computer science.
Dr Henning Flaecher, from the University's School of Physics, said: "This CDT offers an exciting opportunity for young researchers to get immersed in modern AI and machine learning techniques, and to apply them to the vast datasets collected by large science facilities in astro and particle physics using the latest scientific computing technology."