View all news
Get your skates on for the Travel Options Fair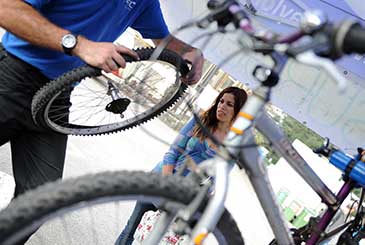 14 October 2015
Staff and students are invited to the University's most comprehensive travel options event yet on Tuesday 20 October. The Travel Options Fair will take place from 11 am to 3 pm in Royal Fort Gardens, opposite Senate House.
This drop-in event is free of charge and is designed to help members of the University community assess different ways of travelling to and from the workplace/campus.
The fair will feature a host of activities, including:
Raffle: the more stalls you visit, the more raffle tickets you get. Prizes include a bicycle, Amazon vouchers, Service 16 bus tickets, and free massage vouchers
Electric bike taster sessions
Sport, Exercise and Health stage: studio cycling mini-classes and wattbike challenge
Led walking group, 12.30 pm to 1 pm, from the Sport, Exercise and Health stand
Led beginner-level running group, 12.15 pm from the Sport, Exercise and Health stand
Free bus taster tickets
Cycle clinic: free bicycle servicing (excluding spare parts) outside the Sports Centre
Cycle maintenance demonstrations
Smoothie bike: cycle on a static bicycle and earn a free smoothie
Cycle lock and light sale: high-quality accessories discounted for students and available to staff at cost price
Cycle-powered music sound system, courtesy of the University of Bristol Cycling Club.
A range of exhibitors will be on hand, including:
Sustainability – Transport: information on University travel policies, including car-parking
University Cycle to Work Scheme: provided by Cycle Solutions
Sport, Exercise and Health: support for active travellers through the University's sports facilities
Bristol Student Union (SU) Sustainability: student sustainability initiatives via Get Green
Get Active: ways of keeping active through Bristol SU Get Active programme
Travelwest: Roadshow
Walkit.com: urban walking journey planner
Bristol Pedal Revolution: social enterprise dedicated to local manufacture and up-cycling of bicycles, trailers and pedal-powered machines
Life Cycle UK: cycling advice and training
Bike UK: participant in the University Cycle to Work Scheme
Electric Bike Store: participant in the University Cycle to Work Scheme
Dash Bristol cycle couriers: options for transporting items across the University and city by bicycle
Fowlers: motorcycles, scooters and accessories, plus special offers for University staff
Co-wheels: public access car club run as a social enterprise
Zipcar: pay-as-you-go car rental.
Amy Heritage, Sustainability Manager (Transport) at the University of Bristol, said: 'Sustainable travel and transport is a high priority for the University. The fair is an opportunity for staff and students to find out more about our Travel Plan, including the new arrangements for car-parking and the measures in place to encourage members of our community to seek environmentally and financially sustainable travel solutions.'
For further information on the Travel Options Fair and the University's Travel Plan, visit www.bristol.ac.uk/transportplan.