June 2023 - Secret Gardens: Exploring Pathways through our Collections
Visit our first virtual museum exhibition. Working with a group of young Bristolians aged 11-18, we co-developed our first virtual museum. Our 'Secret Gardeners' helped us select objects from across the University's rich collections. Together we found connections inspired by the University's public art and driven by our Secret Gardeners' interest in activism and climate change.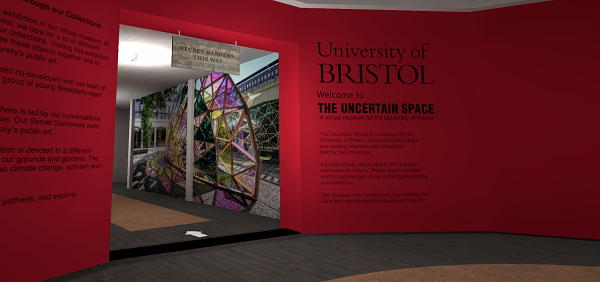 Explore the diverse collections the University cares for, all in one space. Handle objects too delicate to pick up in real life and find yourself transported to unexpected places. The exhibition is hosted by spatial.io or you can download the VR Quest 2 .apk.
Featured Collections
Working across collections this exhibition relied on cross-University collaboration and showcased material from:
• Archaeology
• Anatomy
• Botanic Gardens
• Earth Sciences Collection
• Special Collections
• Theatre Collection
• Public Art
Funding
This exhibition was funded by AHRC Capability for Collections (CapCo) Impact Funding. This project was only possible because it followed a CapCo grant that allowed us to invest in 3D, 2D and AV digitisation tools.

After your virtual visit, please tell us about your experience.
L‌ist of exhibits
Secret Gardens was co-produced with a group of young Bristolians. They contributed new artworks, their words, audio and ideas. Artefacts sourced from the University of Bristol's collections are not necessarily presented at their original scale, and include:
Bay 1: Uncertain World, Lucas Antics, 2009, Park Row, Public Art Collection
Google maps, What3Words location:///apples.patrol.lift
Crocodile Skull, Earth Science Collection, Ref: BRSUG 20137
Sketch for Uncertain World, Alex Lucas, 2015, digital image, University of Bristol Art Collection
The Sea Dragons as they Lived, John Martin, 1840, engraving, Special Collections
Thecodontosaurus, the Bristol Dinosaur model by palaeoartist Bob Nicholls, Earth Science Collection
Bay 2: Castaway, Frank Benson, 2018, Goldney Gardens, Public Art Collection
Google maps, What3Words location: ///loving.cool.noises
Horseshoe Crab Fossil, Earth Science Collection
Horseshoe Crab Illustration from Recueil des monumens des catastrophes que le globe terrestre a éssuiées, Georg Wolfgang Knorr, c1776, Special Collections
Hercules statue, 1758, photograph, Goldney Gardens
Rubbish found under Bristol Old Vic Gallery floor, Theatre Collection Ref: BOV/12/5,
Bay 3: Follow Me, Jeppe Hein, 2009, Royal Fort Gardens, Public Art Collection
Google maps, What3Words location: ///decreased.hotel.ground
The Garden, Rex F Hopes, 1934, Special Collections
Fragments of the Royal Coburg Looking Glass Curtain, Theatre Collection, Ref: OV/M/236
Print showing the Looking Glass Curtain at the Coburg Theatre [London Old Vic] with a juggler on the stage, Ref: TC/P/T/101
Glass Bottle with "SE" stamp, c1700, Ref: RFG.2001/SF/17, Archaeology
Clip from Centenary Film, Terry Flaxton, 2019
Bay 4: Voronoi Screen, Wilkinson Eyre & Prof Peter Green, 2017, School of Mathematics, Public Art Collection
Google maps, What3Words location:///engine.tunnel.under
Malachite, Earth Science Collection
Gull clip from The World We Live In: Animal War-Animal Peace (1968), Special Collections, Ref: DM2911/2/6/43
Bay 5: Edith & Hans, Sarah Staton, 2016, Stoke Bishop Campus, Public Art Collection
What3Words location:///stone.plates.long
Welfare State International Brick on Wheels, Theatre Collection, Ref: WSI/UNCA/11
Excerpt from The Story of the Brick that Moved by Peter Longman, Theatre Collection, Ref: WSI/UNCA/11
Edith and Hans and the Currency Mesh, Sarah Staton, 2017, Silk screen print on paper, University of Bristol Art Collection
Bay 6: Hollow, Katie Paterson, 2019, Royal Fort Gardens, Public Art Collection
Google maps, What3Words location:///smug.poker.wire
Bristol Whitebeam branch, Botanic Gardens, Sorbus bristoliensis
Fossilised wood, Earth Science Collection, Ref: BRSUG 28788
Stigmaria, fossilised root, Earth Science Collection, BRSUG 28765
Vasculum, Botanic Gardens
Petrified wood built into wall adjacent to Senate House, What3Words location: ///front.frost.client
Bay 7: Henrietta Lacks, 2021, Helen Wilson Roe, Royal Fort Gardens, Public Art Collection
Google maps, What3Words location: ///swift.cove.tube
Cell Drawing, RS Smith, 1870, Special Collections, Ref: DM2654/5
Image of a HeLA cell being used in COVID-19 research, James Daly, Pete Cullen lab, School of Biochemistry
Bay 8: Palm Temple, Luke Jerram, 2020, Chemistry Precinct, Public Art Collection
Google maps, What3Words location: ///spirit.often.jukebox
Kaleidoscope Magic Lantern Slide, Special Collections, Ref: DM3192
Polar Bear Skeleton, photograph, Veterinary Anatomy
Bay 9: Atlas, Annie Cattrell, 2017, Queens Building, Public Art Collection
Google maps, What3Words location: ///editor.engage.debate
Slate Globe, Philips & Son's, c1950s, Earth Science Collection
Title page from Atlas, Justus Danckerts, 1690, Special Collections, Ref: DM511
Three-Dimensional Map of Mount Etna Volcano, Earth Science Collection
Relief Map of the Bristol District, c1920s, Earth Science Collection