Somali First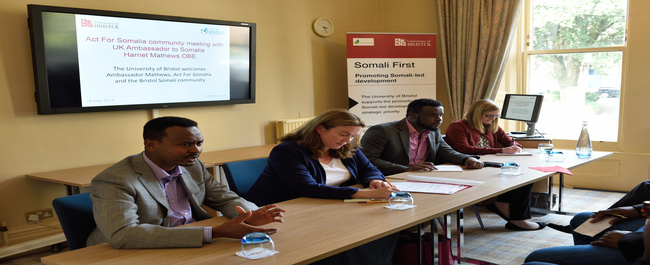 The purpose of Somali First is to promote Somali-led development through impartial facilitation, research and education. Somali First is a joint initiative of Somali social enterprise Transparency Solutions and the University of Bristol launched in 2014. The University of Bristol supports Somali First as an official Strategic Priority and in 2015 gave Transparency Solutions official status as a Strategic Partner.
While the immediate goal of Somali First to deliver specific projects, the bigger goal is to contribute to the transformation of the process of development in Somalia so that it is sustainable and locally-led. This deeper purpose is what unifies our diverse projects. The approach to development seen far too often is that foreign organisations generate project ideas and appoint consultancy teams at arm's length and short notice, with limited chance of leaving a positive longer-term legacy. In that flawed approach, Somalis are too often kept in subordinate positions and defined as lacking capacity that has to be provided by outsiders. However, externally-led projects can be valuable if they pave the way for sustainable, locally-led development, which is why we are involved selectively with such projects. We have a balanced relationship with multiple actors across Somalia/Somaliland and internationally. We have had joint Memorandums of Understanding with the Federal Government of Somalia, the Government of Somaliland and the two leading Somali telecommunications companies Telesom and Hormuud Telecom, which are pioneers in mobile banking with outstanding Corporate Social Responsibility track records.
In some cases, we as the Somali First team deliver projects ourselves. In other cases, we facilitate projects and processes across all sectors to deliver it. We are aiming to help ensure that development is led by Somalis wherever they are from – Somalia/Somaliland or the diaspora – by integrating our approach across issues and through levels of governance. Our approach involves the following steps: 1) find good people, 2) agree commitment to a Somali-led approach, 3) build strong relationships, 4) identify needs, 5) design projects and 6) secure funding to deliver those projects. While these steps may seem like common sense, often that is not what happens - too often funding is announced and then a team is thrown together to chase the funding without a long-term commitment. We provide research and information resources, build relationships and hold events that bring together Somalis from government, business, civil society, academia and the diaspora with academics and development practitioners. In all our activities we seek to combine academic expertise with Somali knowledge in productive partnerships. We are here and committed for the long-term, which means that we can absorb setbacks and build on successes.
In 2015, Somali First received the prestigious University of Bristol Engagement Award ahead of 23 other nominated projects. For an overview of Somali First, see out 5-minute film.
Commenting on the award, the Engaged University Steering Group judges said: 'Somali First has developed a model of engagement which shows genuine co-production. The diverse strands of activity, the many partnerships and the high level of impact make it an excellent example of engagement linked to research.'
We have supported all the Somali First-related colleagues and projects indicated below by combining the services of Transparency Solutions in research, training, strategy and project management with Horn Risk Management's services in risk management, security and logistics. As a result, we have been able operate in all regions safely, effectively and with integrity. Some of these projects were directly funded as Somali First activities while others were wider projects that have been facilitated and influenced by Somali First e.g. in terms of access, impact and involvement of Somalis (EU-CIVCAP, WIDER-SOMA, Ejdus Marie Curie Fellowship).
Current projects: tbc
Current members:
Co-Director: Professor Eric Herring
Co-Director: Mr Nasrul Ismail