Electrical energy management facilities
The Energy Management Group has offices in Merchant Venturers Building and in Queen's Building. The laboratories are situated in Queens Building and are where most of the group's practical research is carried out. The laboratories also provide research space for students carrying out their final-year projects.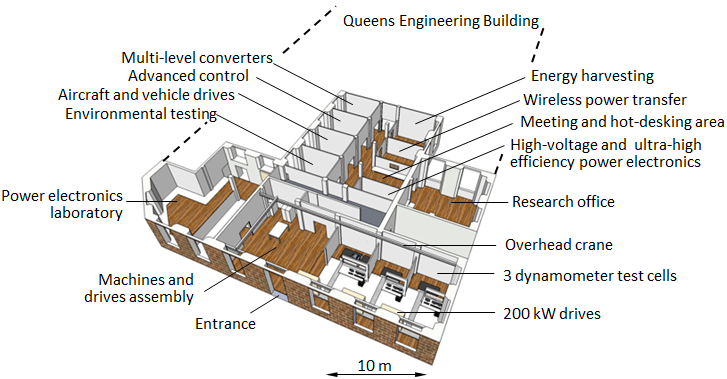 Facilities
Joint design and manufacturing of machines, drives, and other types of power electronic converters.
High-fidelity AC/AC power conversion equipment for the optimisation of drive efficiency, this is equally applicable to networks.
200 kVA and 1 MVA dynamic testing, and hardware-in-the-loop simulation.
Large pool of measurement equipment with torque transducers, high-bandwidth (GHz+) oscilloscopes, impedance analysers, source meters, specialist probes, real-time control and measurement systems etc.
Simulation tools and validation techniques spanning systems and sub-components.
Environmental chambers, and a high precision calorimeter for the evaluation of losses in power electronics.
Access to main Engineering Workshop in the same building, with precision machining, wire eroding, laser cutting, PCB manufacture etc.
Access to other laboratories in the same building, e.g. composite fibre, hydraulics, and aerodynamics laboratories.