Working in Finance
With over 200 staff across 18 different teams, we are one of the larger divisions. Meet a few of the team below to find out what they do.
Meet some of our team
Angela Nansera, Income and Credit Control Manager

I'm Angela Nansera and I am the Income and Credit Control Manager, since 2018. My team collects the University income including tuition and accommodation fees, research, grants and commercial income as well as supporting students with their fee payments.

Prior to joining the University, for over 30 years, and following my degree in Social Policy and Education, I had various roles in the social rented sector that were committed to tackling poverty, homelessness and increasing social, finance and community inclusion.

I am passionate about promoting a rich, inclusive, culturally diverse university community to meet our civic offer.
Kane Ingram, Finance Assistant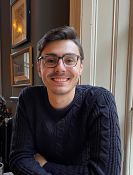 Howdy! I'm Kane Ingram and I am a Finance Assistant in Accounts Payable, I started with the University in April 2021. We are responsible for making sure all our diverse range of suppliers get paid. However, there is so much more to the role than that, such as collaboration, investigatory work, data collection, analysis and process reviews.
This is my first finance role, having spent the rest of my career until now in retail management. The University have been great at supporting me in taking my previous experience and adapting this to my role, whilst developing my skills and increasing my industry knowledge. But above all else, the work is fun, and the people are great and that ultimately is what makes me happy in my work.
Les Finnemore, Costing Specialist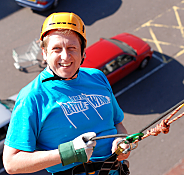 My name's Les Finnemore and I'm a Costing Specialist, working with anyone seeking research funding, for the Arts Faculty. My role combines relationship building, data analysis, detective work, translation, reassurance, attention to detail …. oh and the odd bit of finance. My work ranges from understanding funder rules and eligibility criteria; building a budget; completing funder documentation; facilitating approval; arranging award acceptance (the really nice bit) or dealing with non-acceptance (the sad bit).; setting up contracts and setting up the project.
I've worked for the University for almost four years arriving in this role via HR Business Management, Equalities and Finance Systems Development. My whole career has spanned a diverse range of jobs from heading up multiple Finance Divisions; contract and project lead of traffic enforcement systems (across the UK and US); running the recycling centre at Glastonbury Festival; change management consultant; operations director of mail distribution in Oxfordshire and a stage manager at the 2012 Olympics opening ceremony. The fact that I have few formal qualifications has meant I've been more flexible in job choice and have gained vocational and personal skills. I believe strongly in people and as Patti Smith says "people have the power".
Lidiane Griffiths, Finance Assistant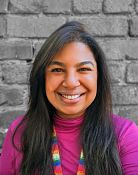 Hello, I am Lidiane but you can call me Lidi. I'm originally from Brazil and I'm working as a Finance Assistant in the Accounts Payable team. I joined the University in April 2021 while the Covid restrictions were still in force, so I've been working remotely. It hasn't felt much different as I've received outstanding support from my team and line managers since day one!
I've previously worked as a Demand Planning Analyst and in hospitality before switching my career for accounting in 2018. I worked as an Assistant Accountant in the maritime and offshore industry before joining the University. Most of my experience to date has been in small teams, but working at the University has introduced me to large and diverse Finance teams, which is what I was looking for! There is a breadth of knowledge and experience that I can rely on to develop my career, especially as I am working towards my accounting qualification.