News and Features
Recent news and features from the Centre for Doctoral Training in Digital Health and Care
‌

‌

Women in Engineering Day 2022 - meet Mairi and Erin

Join us on Wednesday 2 February for a CDT webinar to find out more about our 4 year fully-funded PhDs in Digital Health and Care.

13 Dec 2021

Congratulations to CDT student Immi Biswas for her recent publication 'Wearable GPS and Accelerometer Technologies for Monitoring Mobility and Physical Activity in Neurodegenerative Disorders: A Systematic Review' in Sensors

We are officially OPEN for applications for the CDT in Digital Health and Care and MSc in Digital Health, September 2022 entry. Apply now!

If you have any questions about the programme, please contact enquiries-dhcdt@bristol.ac.uk

4 October 2021


The University of Bristol Digital Health Engineering Group in collaboration with We the Curious are recruiting 3 Hidden Health Young Leaders aged 16-24 to lead conversations with other young people and capture voices often left out of discussions on health and wellbeing

‌

19 August 2021

Congratulations to Dani Kalarikalayil Raju, an #HCI specialist at Studio Hasi in Mumbai, and Digital Health's Dr Erin Dooley, who have successfully applied for funding from the new Swansea University Morgan Advanced Studies Institute (MASI) for their project:

3D printing and rapid prototyping to provide wider access to prosthesis especially in resource-constrained communities in India.

2 August 2021

On Wednesday 11 August, 6pm, we will be hosting a public talk and panel discussion as part of Digital Health Week.

Dr Chris Bordeaux, Consultant in Intensive Care Medicine & Chief Clinical Information Officer at University Hospitals Bristol NHS Foundation Trust , will explore the role that artificial intelligence can play in decision making in the ICU.

The talk will be followed by a panel discussion with leading Digital Health industry professionals exploring the broader ways in which AI can be used in clinical decision making.

26 July 2021

Join us at We the Curious 7-15 August to explore the healthcare of tomorrow and get hands on finding out about how digital technologies will change our relationship to health in the future.

29 July 2021

CDT and SPHERE Director Professor Ian Craddock talks to Wired on the role that digital technologies will play in the future of social care.

13 July 2021

CDT Digital Health and Care Cohort 1 student Romana Burgess reports back from the "MHINT micro-coding workshop" that she recently participated in.


As part of the Bristol Engineering Research Showcase, Centre Director Ian Craddock joined Rachael Gooberman-Hill, Anne Roudaut and David Bull to discuss the ways in which technology will affect our future day-to-day lives.

Welcome to new Digital Health lecturer Alessandro Masullo


Welcome to new Digital Health lecturer Alessandro Masullo. Alessandro was previously a Research Associate at Digital Health research project SPHERE and his research interests focus on Computer Vision, Human Motion Analysis, Sensor Fusion and Digital Health. Welcome Alessandro!

Best of Luck to Holly in the Three Minute Thesis Final!

17 June 2021



Good luck to Cohort 1 CDT student Holly Fraser who is in the Bristol Doctoral College Three Minute Thesis Final- the event will be broadcasting live on Friday 18 June at 12.30pm here.

14 June 2021

CDT student Harry took part in the Alan Turing Institute Summer School From Theory to Practice 1-7 June 2021. Here he reflects on his experiences of the event.

10 June 2021

As part of the Jean Golding Institute's Bristol Data week Professor Ian Craddock and Miquel Perelló Nieto of SPHERE will be presenting on 'Collecting big data from family homes'. Wednesday 16 June 2021, 10am, register here.

3 June 2021

Led by the University of Bristol, the SPHERE ('Sensor Platform for Healthcare in a Residential Environment') project is demonstrating the practicality of measuring, in people's own homes, behaviours that may indicate or adversely affect their state of health.

24 May 2021

CDT second year student Bridget Ellis' DASH study is looking for 14-18 year olds with a history of self harm to participate in workshops exploring their thoughts on technology and research.

13 May 2021

CDT Research Fellow Erin Dooley has recently taken part in 'The Crucible', a skills and development programme for early career researchers run by Swansea University with a focus on the digital economy.

10 May 2021

CDT Research Associate, Dr Erin Dooley has recently been awarded an Engineering Faculty Post-Doctoral Research Prize to investigate her research project The utilisation of 3D printing and rapid prototyping technology in adaptive surfing equipment design: a participant-led approach.

With the help of an undergraduate student, Erin hopes to use 3D design to develop a participant led protocol for designing bespoke accessibility prototypes for surfers.

Faculty of Engineering Education Research Grant for Digital Health Team

15 March 2021

Congratulations to Hanna Isotalus, Amberly Brigden and Claire McCallum for receiving a Faculty of Engineering Education Research Grant. The grant will support research into the skills developed by our first cohort of MSc in Digital Health students.

25 February 2021

Recognising the enormity of the challenges faced by the NHS during the COVID-19 pandemic, a team including second year CDT student Marceli Wac and Director Ian Craddock have created a data monitoring system to help hospital staff as they care for patients.

20 February 2021

Deputy Centre Director Dr Aisling O'Kane has been jointly awarded The Engineer C21 2020 award in medicine and healthcare for her work with Quin Technology developing a new diabetes app.

New CDT Films

11 February 2021


In collaboration with Blue Fire Films, we are pleased to unveil a series of new films on our CDT courses:

What are you looking for in applicants?

How is the course structured? What do students go on to do?

What our students say: Holly Fraser, Second Year Health Stream

What our students say: Marceli Wac, Second Year Engineering Stream

8 February 2021


Second year student Holly Fraser talks about her time at the Psychological Networks Amsterdam Winter School 2021

7 December 2020

Engineering stream student Marceli talks bouldering, startups and his Covid ICU dashboard project, currently being trialled at Bristol Royal Infirmary

7 December 2020


Health stream student Neshika reflects on her first few weeks on the CDT course

7 December 2020



Engineering stream student Romana talks life in Bristol, baking, and developing her PhD project

7 December 2020


Health stream student Joe talks about his path to the CDT in Digital Health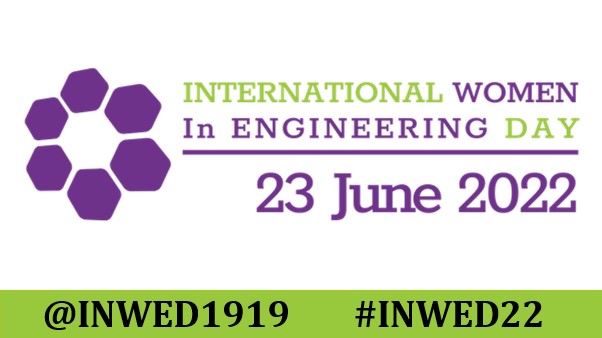 Women in Engineering Day 2022 - meet Mairi and Erin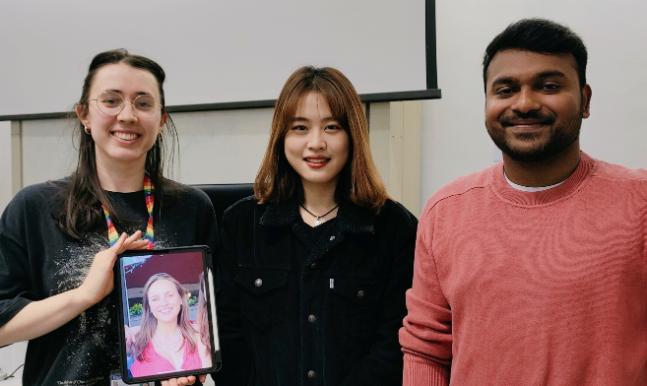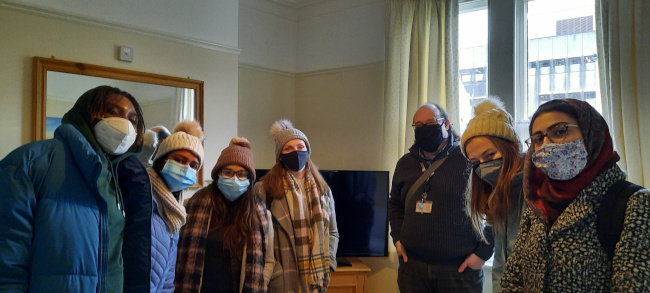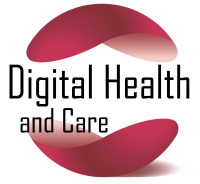 Join us on Wednesday 2 February for a CDT webinar to find out more about our 4 year fully-funded PhDs in Digital Health and Care.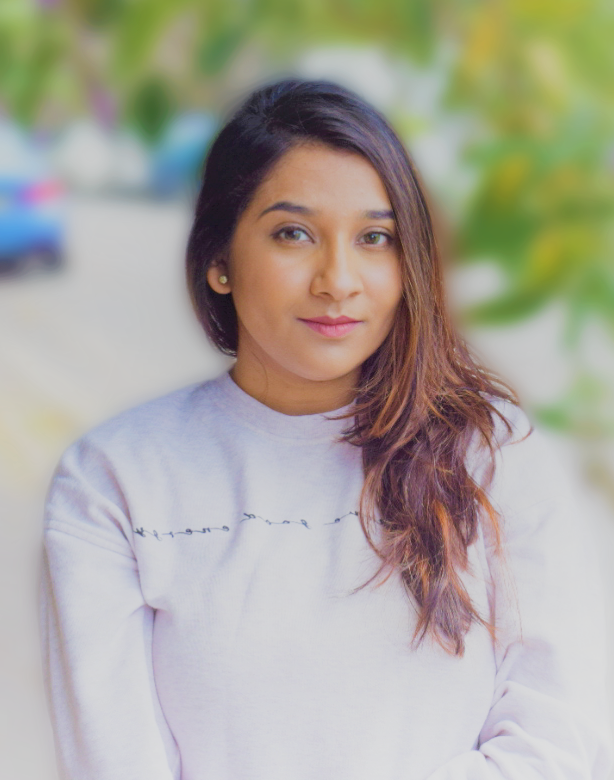 13 Dec 2021
Congratulations to CDT student Immi Biswas for her recent publication 'Wearable GPS and Accelerometer Technologies for Monitoring Mobility and Physical Activity in Neurodegenerative Disorders: A Systematic Review' in Sensors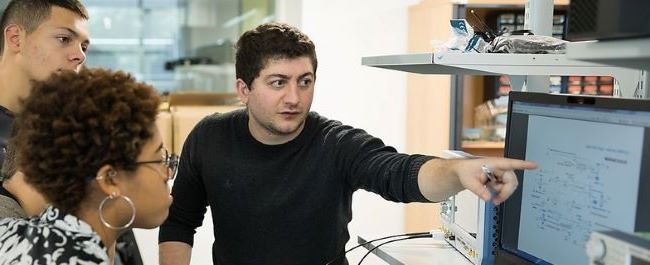 We are officially OPEN for applications for the CDT in Digital Health and Care and MSc in Digital Health, September 2022 entry. Apply now!
If you have any questions about the programme, please contact enquiries-dhcdt@bristol.ac.uk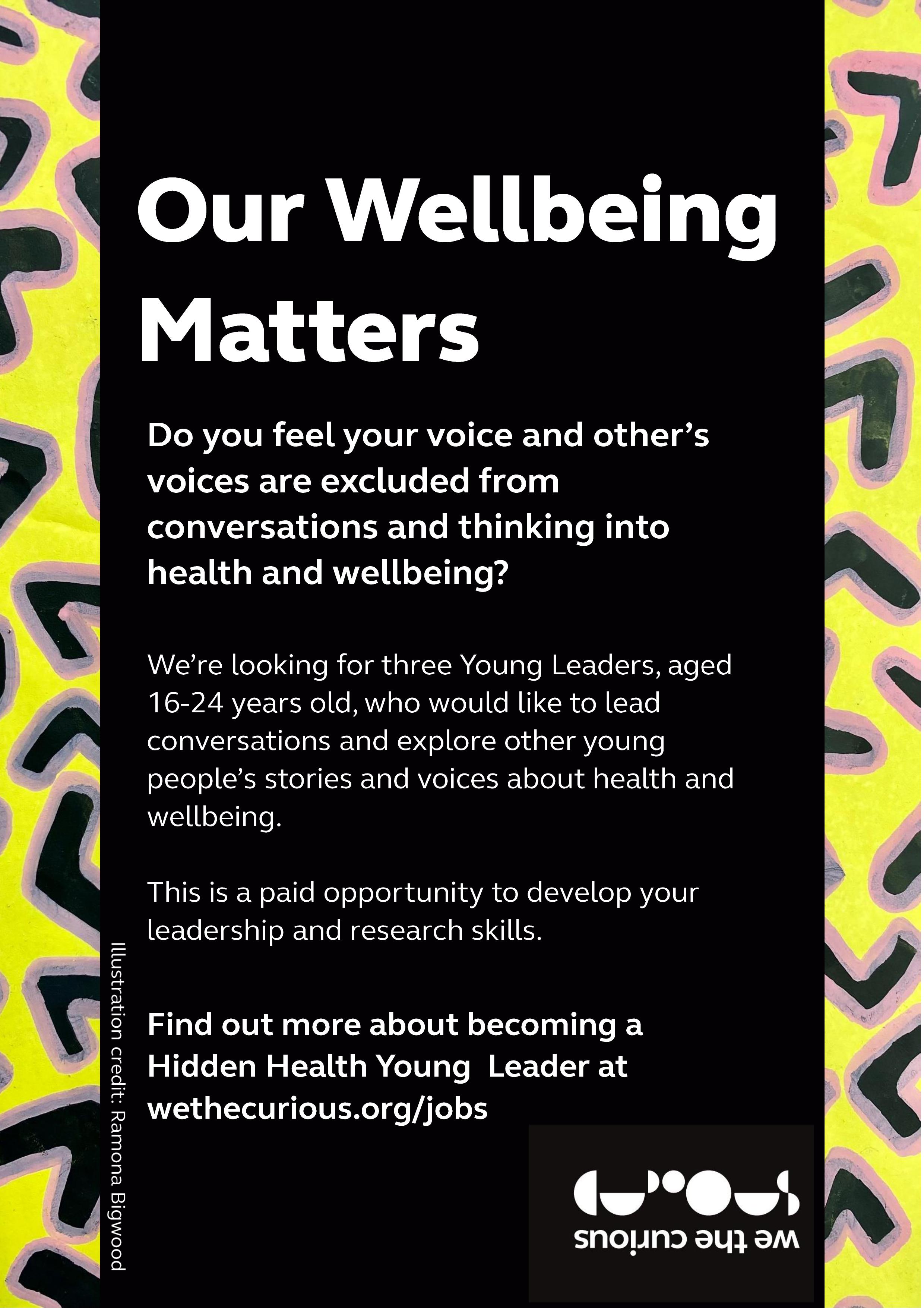 4 October 2021

The University of Bristol Digital Health Engineering Group in collaboration with We the Curious are recruiting 3 Hidden Health Young Leaders aged 16-24 to lead conversations with other young people and capture voices often left out of discussions on health and wellbeing
‌
19 August 2021
Congratulations to Dani Kalarikalayil Raju, an #HCI specialist at Studio Hasi in Mumbai, and Digital Health's Dr Erin Dooley, who have successfully applied for funding from the new Swansea University Morgan Advanced Studies Institute (MASI) for their project:
3D printing and rapid prototyping to provide wider access to prosthesis especially in resource-constrained communities in India.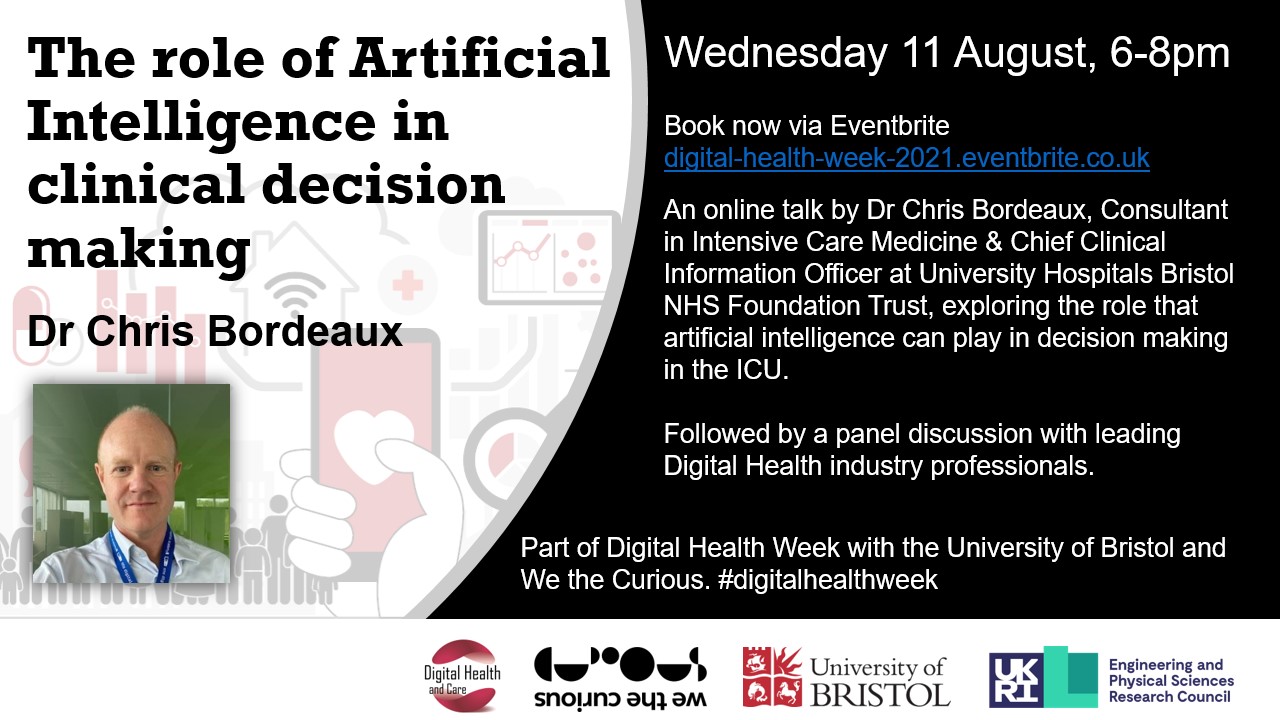 2 August 2021
On Wednesday 11 August, 6pm, we will be hosting a public talk and panel discussion as part of Digital Health Week.
Dr Chris Bordeaux, Consultant in Intensive Care Medicine & Chief Clinical Information Officer at University Hospitals Bristol NHS Foundation Trust , will explore the role that artificial intelligence can play in decision making in the ICU.
The talk will be followed by a panel discussion with leading Digital Health industry professionals exploring the broader ways in which AI can be used in clinical decision making.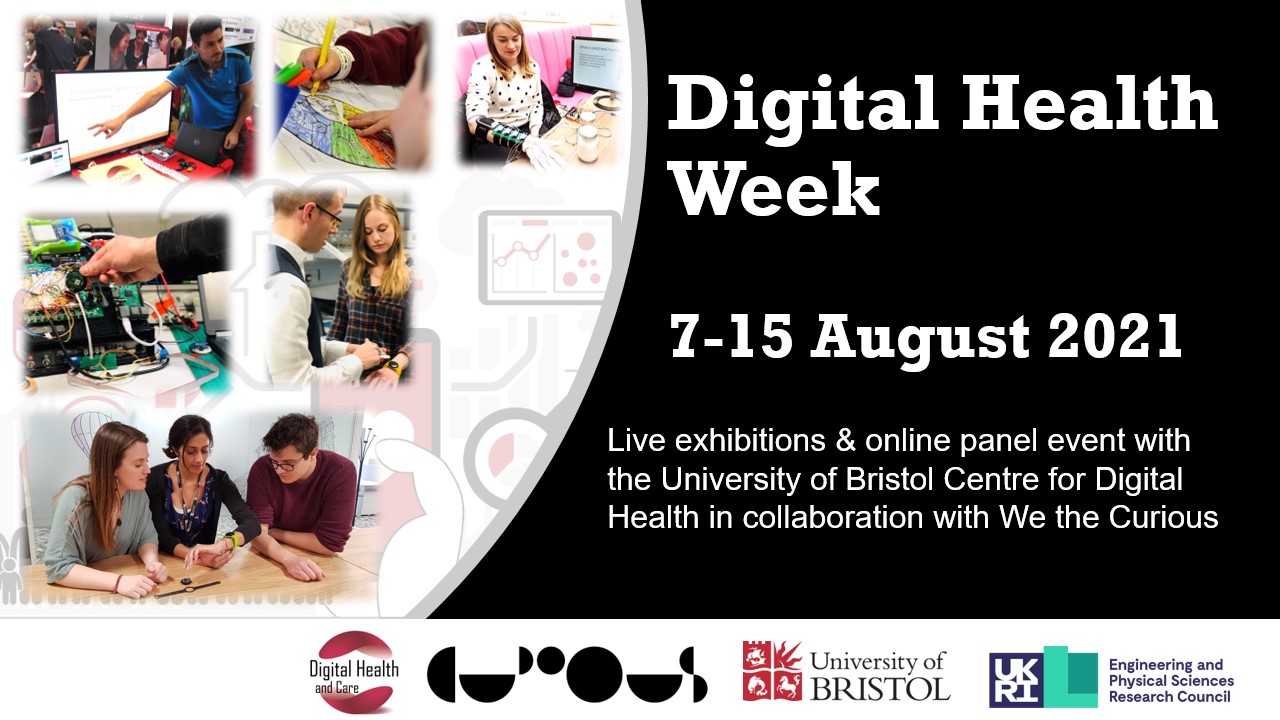 26 July 2021
Join us at We the Curious 7-15 August to explore the healthcare of tomorrow and get hands on finding out about how digital technologies will change our relationship to health in the future.

29 July 2021
CDT and SPHERE Director Professor Ian Craddock talks to Wired on the role that digital technologies will play in the future of social care.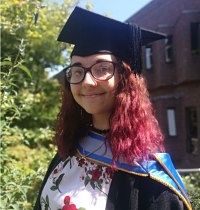 13 July 2021
CDT Digital Health and Care Cohort 1 student Romana Burgess reports back from the "MHINT micro-coding workshop" that she recently participated in.


As part of the Bristol Engineering Research Showcase, Centre Director Ian Craddock joined Rachael Gooberman-Hill, Anne Roudaut and David Bull to discuss the ways in which technology will affect our future day-to-day lives.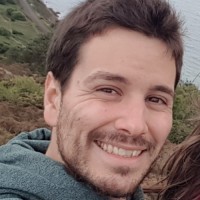 Welcome to new Digital Health lecturer Alessandro Masullo

Welcome to new Digital Health lecturer Alessandro Masullo. Alessandro was previously a Research Associate at Digital Health research project SPHERE and his research interests focus on Computer Vision, Human Motion Analysis, Sensor Fusion and Digital Health. Welcome Alessandro!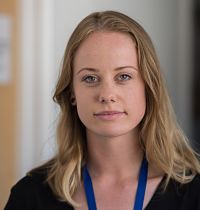 Best of Luck to Holly in the Three Minute Thesis Final!
17 June 2021

Good luck to Cohort 1 CDT student Holly Fraser who is in the Bristol Doctoral College Three Minute Thesis Final- the event will be broadcasting live on Friday 18 June at 12.30pm here.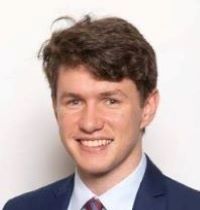 14 June 2021
CDT student Harry took part in the Alan Turing Institute Summer School From Theory to Practice 1-7 June 2021. Here he reflects on his experiences of the event.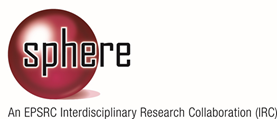 10 June 2021
As part of the Jean Golding Institute's Bristol Data week Professor Ian Craddock and Miquel Perelló Nieto of SPHERE will be presenting on 'Collecting big data from family homes'. Wednesday 16 June 2021, 10am, register here.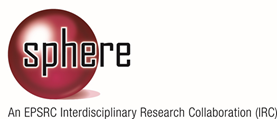 3 June 2021
Led by the University of Bristol, the SPHERE ('Sensor Platform for Healthcare in a Residential Environment') project is demonstrating the practicality of measuring, in people's own homes, behaviours that may indicate or adversely affect their state of health.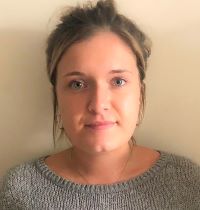 24 May 2021
CDT second year student Bridget Ellis' DASH study is looking for 14-18 year olds with a history of self harm to participate in workshops exploring their thoughts on technology and research.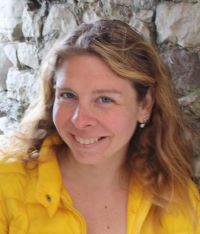 13 May 2021
CDT Research Fellow Erin Dooley has recently taken part in 'The Crucible', a skills and development programme for early career researchers run by Swansea University with a focus on the digital economy.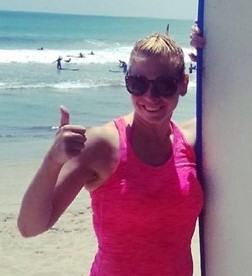 10 May 2021
CDT Research Associate, Dr Erin Dooley has recently been awarded an Engineering Faculty Post-Doctoral Research Prize to investigate her research project The utilisation of 3D printing and rapid prototyping technology in adaptive surfing equipment design: a participant-led approach.
With the help of an undergraduate student, Erin hopes to use 3D design to develop a participant led protocol for designing bespoke accessibility prototypes for surfers.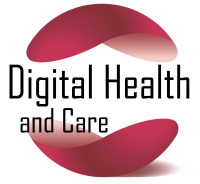 Faculty of Engineering Education Research Grant for Digital Health Team
15 March 2021
Congratulations to Hanna Isotalus, Amberly Brigden and Claire McCallum for receiving a Faculty of Engineering Education Research Grant. The grant will support research into the skills developed by our first cohort of MSc in Digital Health students.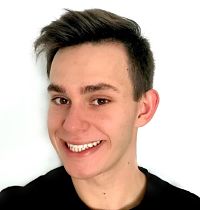 25 February 2021
Recognising the enormity of the challenges faced by the NHS during the COVID-19 pandemic, a team including second year CDT student Marceli Wac and Director Ian Craddock have created a data monitoring system to help hospital staff as they care for patients.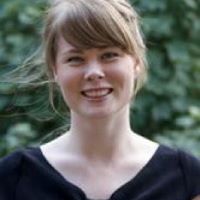 20 February 2021
Deputy Centre Director Dr Aisling O'Kane has been jointly awarded The Engineer C21 2020 award in medicine and healthcare for her work with Quin Technology developing a new diabetes app.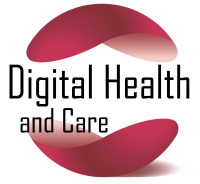 New CDT Films
11 February 2021

In collaboration with Blue Fire Films, we are pleased to unveil a series of new films on our CDT courses:
What are you looking for in applicants?
How is the course structured? What do students go on to do?
What our students say: Holly Fraser, Second Year Health Stream
What our students say: Marceli Wac, Second Year Engineering Stream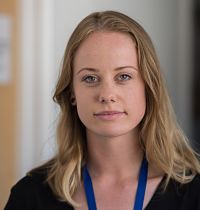 8 February 2021

Second year student Holly Fraser talks about her time at the Psychological Networks Amsterdam Winter School 2021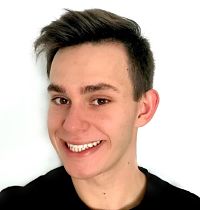 7 December 2020
Engineering stream student Marceli talks bouldering, startups and his Covid ICU dashboard project, currently being trialled at Bristol Royal Infirmary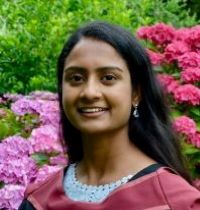 7 December 2020

Health stream student Neshika reflects on her first few weeks on the CDT course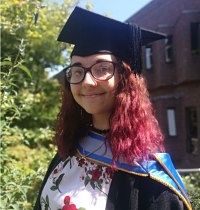 7 December 2020


Engineering stream student Romana talks life in Bristol, baking, and developing her PhD project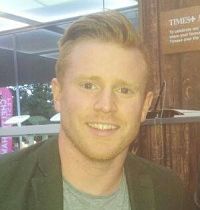 7 December 2020

Health stream student Joe talks about his path to the CDT in Digital Health