Questionnaires
Original Children of the 90s Life @30+ Questionnaire
Original Parent Winter 2023 Questionnaire
The data you provide will be available to researchers across the world and will help in answering important questions on beliefs, behaviours, health and disease.
Please remember your username and password is unique and will not be the same as other questionnaires – please check your email for links or your letter for your username and password.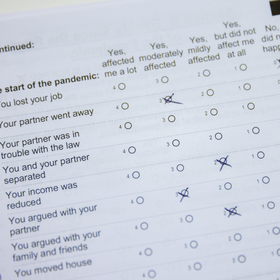 Confidentiality
Please remember that your answers to all these questions are confidential and will be processed using a unique ID number. All your personal details will be removed by Children of the 90s staff and researchers will not be able to link your answers back to you. Your data will only be shared with approved researchers for research that has been approved by Children of the 90s. The questionnaires have been approved by the ALSPAC Ethics and Law Committee.
Answering the questions
Some questions may seem very similar to each other. This is because the combination of answers gives a clearer picture than one single answer. There may be questions that seem a bit strange or don't apply to you because they are about specific feelings or problems. We would be very grateful if you answered all the questions but we understand if there are some that you either prefer not to answer or are unable to answer. Please just leave these questions blank. There are no right or wrong answers.
Some questions you will have seen before. It is important that we see how things change over time and so we may ask you the same questions again.
Help with completing your questionnaire
If we have your email address, we will send you an email with a link to the online questionnaire. To help save paper and reduce costs, we are cutting the number of paper questionnaires that we send out. We would appreciate it if you can complete this questionnaire online, but you can request a paper copy by contacting us.
If you need help to complete your questionnaire, please contact us and we will make the necessary arrangements. If you do not wish to complete your questionnaire, please leave it blank and return it to us in the prepaid envelope provided. We will then know not to send you any reminders.
Some of the questions included in this questionnaire may cause distress. If you are affected by any of the issues raised in this questionnaire, there are a number of organisations listed on the helplines page at the back of the booklet.
Vouchers and prize draw
We expect it will take 30-40 minutes to complete the questionnaire. To say thanks for taking part, we'll send you a £10 shopping voucher.
If you would like to receive a thank you voucher please make sure that you check the box at the end of the questionnaire. We will then send you a Love2Shop digital code or voucher.
If you're an original parent and return your Life @30+ questionnaire by 17 April 2023, we will also enter you into a prize draw to win one of five £200 Love2Shop vouchers.
If you win, we will contact you within two weeks using the contact details on our database. You can update these online. You will receive your prize up to six weeks after the draw has been held. Please check the details in your questionnaire for options on receiving vouchers and being entered into the prize draw.