Cat of the month 2020
September
Stig is September Cat of the Month
Stig's owner tells us "Stig has asked me to tell you that he is delighted and flattered to have been chosen as Cat of the Month" and has been granted permission by Stig to release the following information:
"- He responds to being fussed by giving us licks back.
- He's a creature of habit and is quite upset if we don't sit down and watch the television at the usual time.
- He doesn't sit on our laps but likes to sit alongside us, cuddled up close.
- Stig loves cat treats and we limit him to four at a time which he gently takes from our fingers. He seems to be able to count as he becomes agitated if he doesn't get all four.
- Both Stig and his brother Timo have hyper-mobile limbs and, as a result, lay comfortably in some very strange positions.
- Stig actively seeks out company.
- Both cats, despite being semi long haired, like to sleep in the south west facing conservatory at temperatures in the high 30s."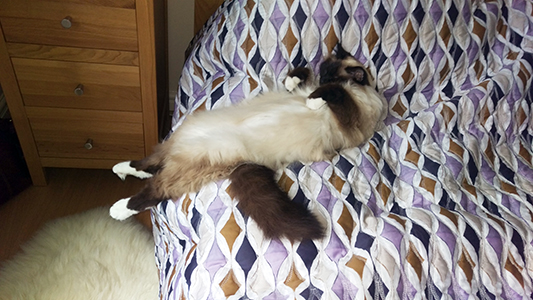 August
Kip is August Cat of the Month
His owner Claudine tells us:
"
This is our beautiful Kip. We are thrilled that he is your cat of the month as he makes our day every day. He is a quirky little fellow. He loves snuggles with both us and our other cat Max, he plays fetch for my husband and he definitely loves his food! You only have to look at him and he starts purring and despite being a fairly sensitive soul
we think he enjoys his life and for us is a cat in a million."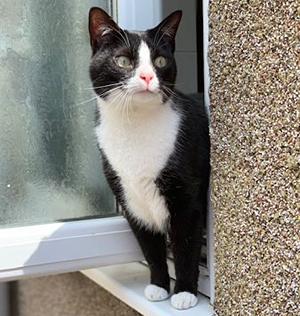 ‌
---
July
Storm is July Cat of the Month
His owners Richard and Avril told us:
"Storm is the mischief to his brother Breeze's calmness. He loves to explore the house even where he's not supposed to go, climb to the top of anything he can especially cupboards and shelves, sit and watch the birds or the fish in the aquarium. When he's tired out from all his adventures, he likes to curl up next to me and fall asleep. He's very talkative and friendly once he gets to know you. We have had him and his litter brother Breeze for 9 years".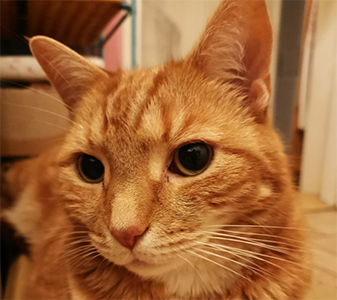 ---
June
Ivy May is June Cat of the Month
Here's what Ivy May's owner told us about her adventurous kitty;
"Cats name themselves: Ivy May is a vigorous climber, born in May.
She's 7, very lithe and active, and so petite and delicate that you hardly feel her land when she jumps on you.
She's mainly an outdoor cat and despite her size, good at defending her territory.
Upsides of an outdoor cat: she has a life of her own as well as with us, and the cheery chirrup and tail up in greeting we get when she comes in.
The downside: "presents" - we'll never forget the mouse brought onto our bed one Christmas morning'
‌‌
‌
---
May
Betty is May Cat of the Month
Her owner Jess tells us:
"Betty was definitely born with the hunting instinct and despite a minor heart murmur, continues to catch mice, bats and frogs! She will only give you affection on her terms and quite often will sit just close enough so she can place a paw on you. She does enjoy giving your nose a lick though. She's a fussy eater, will only eat cat food in gravy so she can lick it all off and will even turn her nose up at fresh fish. Obviously she goes mad for all cat treats though, even ripping open her Christmas present last year when she could smell catnip through the paper.
She rolls around in the kitchen sink like a lunatic after it's been bleached!
She was my saviour when I got her. A crazy, independent cat that we'd be lost without."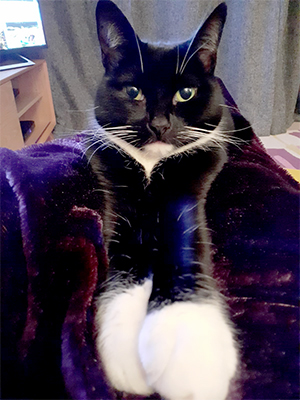 ‌‌
---
April
Scampi is April Cat of the Month
His owners adopted him when he was just a few weeks old and fitted easily into an adult hand!. His owner Mike told us:
"Scampi had had a difficult start to life as he had been found feral and had had to be fostered in order to get him used to human interaction. He had a big bald patch on his side where he had been operated on to be spayed before they realised that 'Tia' (as he had been known) was actually a male! However,despite all this he is now the tamest and most loving cat you could ever wish for. He doesn't meow but instead squeaks, he is absolutely terrified of being outdoors on his own (so it's a good job he was destined to be a house cat!), and he constantly craves human affection (including lengthy belly-tickling). In fact, the only human that he has not yet made friends with is our three month old daughter who he is very wary of, but we are sure they will be buddies for life very soon!
We actually picked his name because he didn't walk normally when we first brought him home - he seemed to scamper instead, and he has certainly lived up to his name as he has become older. You can guarantee that you will find him wherever he shouldn't be, so you can always find him lounging on freshly cleaned clothes or even in the washing basket. All in all he thoroughly deserves to be recognised as a fantastic companion to all of us"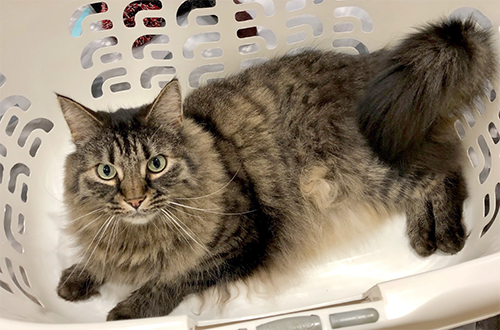 ---
March
Poppy is our March 'Cat of the Month'! Poppy was selected at random from all of the Bristol Cats to feature as Cat of the Month, and to receive a new toy.
Poppy is an eight year old rescue cat & a housecat.
Her owner tells us "She enjoys playing with her catnip mice & football & is a very sociable cat. When she is not hiding under her blanket she enjoys watching the birds outside, watching television especially if there are squirrels on the television & exploring the house. We enjoy having Poppy as a pet & were lucky to be able to give her a home when she was a kitten".
Congratulations Poppy.