Cat of the Month 2022
January
Kenickie is January Cat of the Month
His owner shared with us: "Kenickie is a super-friendly cat who is quite possibly part dog. He greets us at the door and follows us around the house. He loves sitting in the kitchen sink (he complains if we leave dishes in there) and 'helping' us work from home. We adopted him from Sunshine Cat Rescue in 2012 - I rolled a ball over to him and his sisters, and he rolled it back and looked at us as if to say: "How about it then?" He's nine now and is the most friendly, gentle, loving cat who even adores his vet!"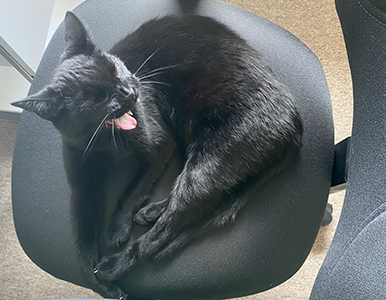 ---
Cat of the Month 2021
December
Princess is December Cat of the Month
Her owner shared: "Princess joined the Bristol cat study as a kitten in 2009. Now, she's still looking good, feeling great and in charge of the house as you would expect. She spends time on the important garden patrol, dealing with all comers - cats, birds and has a special distain for the wind, rain and leaves. The rest of her time she squanders lounging on any bed or sofa (no cat beds needed). With a very special love of Dreamies, unknowingly, she shares her food with her frenemie, Mitzi (a fellow oldie, Lhasa Apso). No toys on her Santa list, a string or ribbon are all she needs. Such a calm and beautiful pet - loved (and respected) by us all."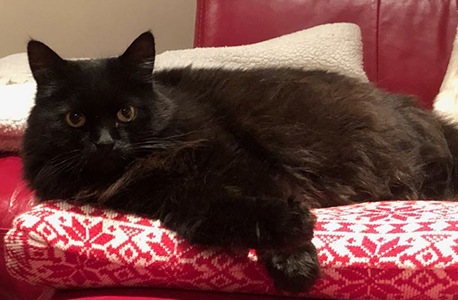 ‌
---
November
Dibs is November Cat of the Month
His owner shared: "Dibs is a lovely, calm little man who loves being held and is a real lap kneader! Sometimes he forgets he has claws! He's an only cat now having lost his brother and litter mate suddenly in May just after their 11th birthday. He's adjusting well and loves nothing more than lounging in the sun under his favourite laurel bush. He's a friendly boy and very gentle. He has many local cat friends and doesn't mind when they nip into the kitchen and steal his biscuits! He's a much loved member of a small family which is enhanced with him in it!"
---
October
Orion is October Cat of the Month
His owner Vicky tells us: "Orion was adopted from Cats Protection (with his sister Maia) in mid-2011. Orion, his Mum and his four brothers and sisters were found in a warehouse in Bracknell at an estimated 6-7 weeks old. As you can see in the photos, Orion is a big, fluffy boy which is lovely, but it would be even better if he actually groomed himself occasionally - we do occasionally have to shave him! Orion is a real lap cat and will often complain if he can't immediately sit on me when he decides that he wants to. In the summer, Orion has a real fondness for sitting in a herb planter, pretty much on the thyme. He is the opitomy of a scaredy cat and doesn't like anything or anyone that he doesn't recognise! When he was a lot younger he went to stay with my parents and got so scared by their doorbell ringing that he ran up their chimney! It took a whole day and a tin of tuna to get him down, and when he did come down he was grey! Fortunately he just hides behind the sofa when the doorbell rings at home. He might be a bit weird, but he's our lovely ginger fluffy lump!"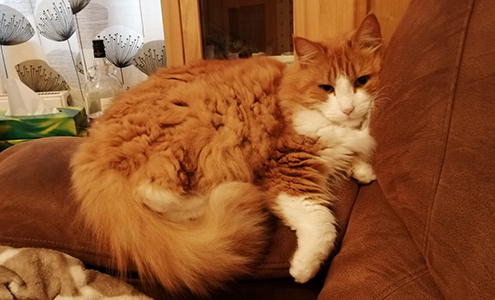 ‌
---
September
Alfie is September Cat of the Month
His owner shared with us: "Early one morning, eleven years ago, newborn Alfie was found all alone and crying on a patio. The owner went to work, hoping that his mother would come back for him, but when she arrived home that evening, he was still there - and still crying. She took him inside, tried unsuccessfully to feed him with cat milk, and the next morning handed him into the vet. From there he went to a rescue charity, and three weeks later came to me, as I was fostering for the charity at the time. I had never hand-reared a kitten before and was initially terrified! However, all went well and Alfie blossomed from a creature resembling a hamster to the big, healthy, happy cat he is today. When I decided to keep him, my vet warned me that hand-reared kittens could become difficult cats, and Alfie certainly has the classic personality traits associated with hand-rearing: he's boisterous, demanding and lacking in self-control when frustrated. However, he's very loving and good-natured, gets on well with other cats, and keeps everyone amused with his clownlike antics!"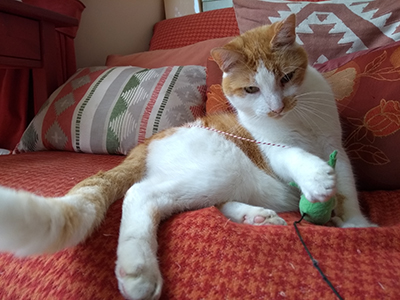 ‌
---
August
Bailey is August Cat of the Month
His owner Elizabeth tells us: "Bailey has just turned eight. I got him and two other cats from the CPL when he was just a couple of months old. The three of them were thick as thieves until they were about four and then they went their separate ways. Bailey still head bumps the other two but sadly for him, they don't respond favourably! Luckily he's developed a bromance with the cat next door and the two of them spend most days hanging out on the greenhouse roof. He's a gentle giant, laid-back and happy and I'm very thankful to have him in my life."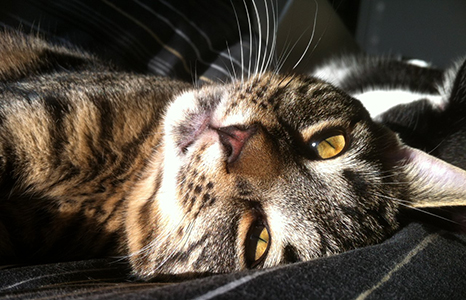 ---
July
Oscar is July Cat of the Month
His owner Smita shared: "We got Oscar from Cats Protection, at 9 weeks old, alongside his littermate Wilbur, who we sadly lost aged 7. Oscar is now 10 years old and one of the most affectionate cats I've ever met. Wherever we are, he's there, sitting with us. He has a bird like trill of a meow when he wants food, and the loudest tractor engine purr. He always wants to be centre of attention, and if I'm reading he'll either nudge the book away or sit straight on the book, and then turn as if to say 'look at me!'. His favourite toys are pipe cleaners and we wake up to a few being left outside our bedroom doors. It's as if he's telling us he's kept us safe from them! Whenever I've been sad or crying, he'll run from wherever he is and sit with me. He started that nurturing side when he was just 5 months old, where he licked my tears away and rested his paw on my hand. He was the reason for my daughters first word, because she pointed at him beneath her cot, and said 'Cat!'. Although Oscar is a moggie, we've always stated his pedigree show cat name would be 'Eloquence FruFru'. He is an older grumpy uncle to our young cat Hugo, although he's definitely still Top Cat in this house. He's the best Floofle, a huge bundle of fluffy joy, and we love him to bits. He's our Star Cat every month!"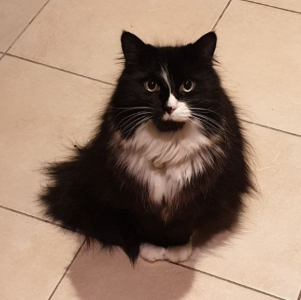 ---
June
Monty-Tom is June Cat of the Month
His owner Beverly shares: "Monty-Tom has the loudest purr and is the biggest cat I've ever seen, weighing twice the average domestic cat but he's not fat. I call him my gentle giant although he doesn't know his own strength. Even though he's nine years old, he loves to play chase with his younger brother Eric and they both go for walks together over the fields and they sometimes come with me too. It's a source of amusement among my neighbours! He's playful, immense fun and loves a cuddle, he spends hours on my lap. He's very engaged and eager to learn new things, he comes running when I call him and seems to understand what I'm saying. He's obsessed with kittens. He understands a lot of words and is a great communicator, he's always chatting to me - he's fantastic company. Monty-Tom is a pacifist, if his brother or full sibling Maggie is fronted out by another cat, he will sit between them and the other cat to de-escalate the situation. If one of them is having a fight, he'll run to their aid. He used to feed our dog by locating some food or a packet of treats and pushed it off the kitchen worktop for her. My husband came home with a box of fresh, hot pizza and left it on the kitchen counter while he went for a shower. They broke into it and ate the lot between them. He also used to open the stairgate for her. He has to know everything that is going on and is the neighbourhood curtain-twitcher. I couldn't be prouder or love him anymore if I tried!"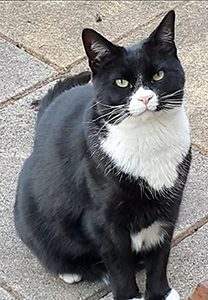 ‌
---
May
Fable is May Cat of the Month
Her owner Beckie says: "Fable is a 10-year-old house cat who I adopted when she was approximately 12 weeks old. Fable is a bit of a diva and an absolute flirt with anyone who visits the home, she lives with two other slightly younger Bristol cats who she tolerates (but has also been caught cuddled up with on more than one occasion!). Fable loves eating grass, which I grow indoors for her, paper bags, cardboard boxes and belly rubs. Fable is more than happy to vocalise her disgust if she is stopped from doing anything she wants to do (jumping on kitchen worktops) and is very good at what we call 'paw tennis' using screwed up kitchen foil (I think she would make an excellent goalie). Fable loves a lap, but it's a little more about stealing your warmth than pure affection, although the purrs and paw padding will leave you thinking otherwise. I adore Fable and all her quirks, she is full of character and definitely knows her own mind - if I'm honest I see a little of myself in her…"
‌
---
April
Jasper is April Cat of the Month
His owner Emma told us: "Jasper is 10 years old and we've had him since he was a kitten. He spends most of his time outdoors, and enjoys hunting, although as he's got older he is sleeping more inside on his favourite cushioned bench, rather than under bushes. He loves us in his own way and enjoys a tickle on his head or jowls, but woe betide if you try to stroke his back! He tolerates our other cat who is younger, smaller, and female, but probably thinks of her as an annoying younger sister, who needs to be put in her place when she gets too much. An open cupboard is an invitation for investigation, a cat flap an invitation to ignore, and prefers to sit at a closed door and wait for it to be opened by his human servants."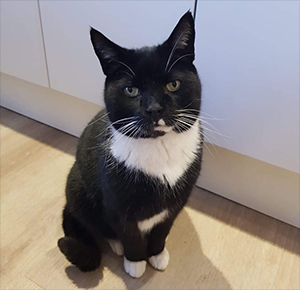 ---
March
Candy is March Cat of the Month
Her owner Jennifer told us: "Named temporarily as a joke after my two friends Courtney & Andy; Candy is a 10-year-old rag doll cross. We've always assumed she was crossed with a squirrel as she spends most of her time climbing trees and running around the garden. Bringing in all sorts of delights on her tail like snails, leaves and mud. She enjoys a box, tunnel, shed, car, van and was also found in our neighbours' bedroom last summer. However, she can't open a door. Or won't - she'll wait for someone to open the door wide enough. A princess after my own heart."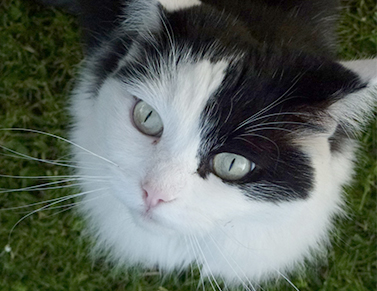 ---
February
Snap is February Cat of the Month
His owner Laura says: "Introducing Snap, he is eight years old and has been with us since he was a kitten. His mum used to live a few houses away and up until the family moved last year he would still visit with her quite frequently. He has a fairly easy life, spending at least half his day out and about. We live outside of Bristol so he often hunts in the fields around our house. On the whole he and the neighbour's cats have not really changed in their relationships over the years, on one side he is friends with Fluffy and he and Snap would often 'hang out' together. On the other side is his arch enemy, on the whole they have adopted an avoidance strategy to cope with each other. This doesn't always work and Snap came off the worst just before Christmas and needed a vet visit - his first since he was a kitten. Luckily he is in fine health now and back to sitting on the neighbour's fence or snoozing which is his favourite pastime."
‌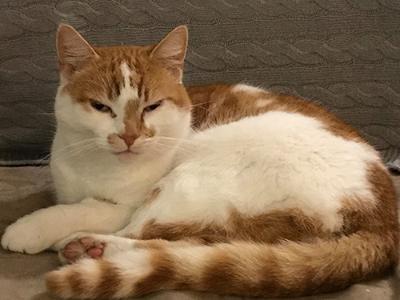 ---
January
Cookie is January Cat of the Month
Her owner Becky told us: "We are delighted that Cookie is January cat of the month. We have had Cookie since 9 weeks old. Cookie is now 10 years old but still can be very kitten like and playful at times. She enjoys going outside to potter about and see if there maybe anything to prowl and hunt. Also is very protective of her surroundings outside the house/garden not liking any other cat to enter!! Cookie during the pandemic is very happy to have both my husband and myself working from home, as she gets more attention and fed more!!! Our daughter enjoys feeding her treats and she has a very clever trick in catching "Dreamies" in her paws. She can be found in the evenings curling up or stretched out on me."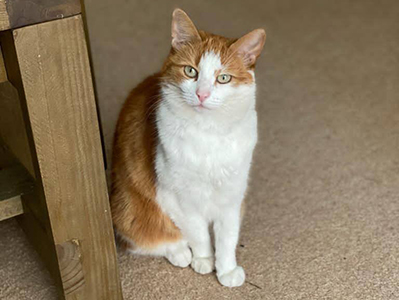 ---
Cat of the Month 2020
December
Pebbles is December Cat of the Month
Her owner Lucy tells us: "Pebbles is a much-loved family cat. She is naturally timid but once she gets to know you she is very affectionate. She likes to sit on our laps and also climb on us and sleep on our shoulders at night or curl up behind my knees on the bed. She loves chasing flies, squirrels, and hunting mice. She brings us surprise gifts of mice and hides them around the house for us to find. Sometimes they are still alive!"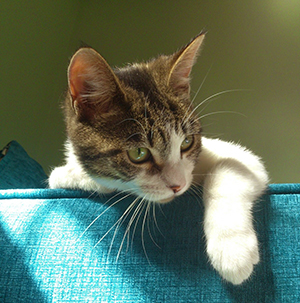 ---
November
Lola is November Cat of the Month
Her owner Louise said "I'm delighted that Lola is cat of the month. Lola is a 9 year old house cat. She is extremely cuddly, and very loving with a savage side, a carpet shark that prowls the house ready to pounce on anything that moves. She's also a Queen and lives her life to be served and demands submission from all other living beings in the household! Most of her life is spent napping on my bed and being as annoying as possible for attention. Lola shares her home with Cookie and Winnie her sister cats and Sammy her sister dog, who's her closest animal companion."

---
October
Alfie is October Cat of the Month
His owner Elizabeth tells us: "We're so pleased Alfie is cat of the month! Alfie is now 10 years old although he's still a kitten at heart! He loves to play, potter round the garden, snooze in any sunny spots he can find and is super chatty! He loves to spend time with us, is so affectionate and will follow us round for a fuss. Alfie also shares his home with Parsley the dalmatian who he face rubs and loves nothing more than having his ears licked by! We sadly lost his beautiful sister a few years ago but are so thankful to have this amazing boy in our lives! He really is a superstar and we can't imagine life without him".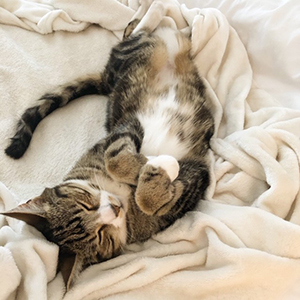 ---
September
Stig is September Cat of the Month
Stig's owner tells us "Stig has asked me to tell you that he is delighted and flattered to have been chosen as Cat of the Month" and has been granted permission by Stig to release the following information:
"- He responds to being fussed by giving us licks back.
- He's a creature of habit and is quite upset if we don't sit down and watch the television at the usual time.
- He doesn't sit on our laps but likes to sit alongside us, cuddled up close.
- Stig loves cat treats and we limit him to four at a time which he gently takes from our fingers. He seems to be able to count as he becomes agitated if he doesn't get all four.
- Both Stig and his brother Timo have hyper-mobile limbs and, as a result, lay comfortably in some very strange positions.
- Stig actively seeks out company.
- Both cats, despite being semi long haired, like to sleep in the south west facing conservatory at temperatures in the high 30s."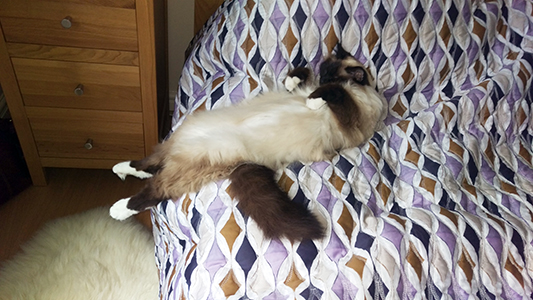 August
Kip is August Cat of the Month
His owner Claudine tells us:
"
This is our beautiful Kip. We are thrilled that he is your cat of the month as he makes our day every day. He is a quirky little fellow. He loves snuggles with both us and our other cat Max, he plays fetch for my husband and he definitely loves his food! You only have to look at him and he starts purring and despite being a fairly sensitive soul
we think he enjoys his life and for us is a cat in a million."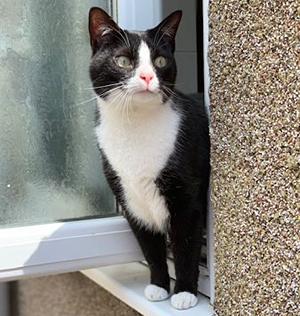 ‌
---
July
Storm is July Cat of the Month
His owners Richard and Avril told us:
"Storm is the mischief to his brother Breeze's calmness. He loves to explore the house even where he's not supposed to go, climb to the top of anything he can especially cupboards and shelves, sit and watch the birds or the fish in the aquarium. When he's tired out from all his adventures, he likes to curl up next to me and fall asleep. He's very talkative and friendly once he gets to know you. We have had him and his litter brother Breeze for 9 years".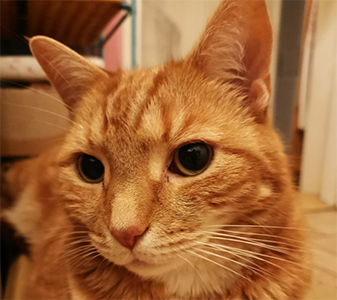 ---
June
Ivy May is June Cat of the Month
Here's what Ivy May's owner told us about her adventurous kitty;
"Cats name themselves: Ivy May is a vigorous climber, born in May.
She's 7, very lithe and active, and so petite and delicate that you hardly feel her land when she jumps on you.
She's mainly an outdoor cat and despite her size, good at defending her territory.
Upsides of an outdoor cat: she has a life of her own as well as with us, and the cheery chirrup and tail up in greeting we get when she comes in.
The downside: "presents" - we'll never forget the mouse brought onto our bed one Christmas morning'
‌‌
‌
---
May
Betty is May Cat of the Month
Her owner Jess tells us:
"Betty was definitely born with the hunting instinct and despite a minor heart murmur, continues to catch mice, bats and frogs! She will only give you affection on her terms and quite often will sit just close enough so she can place a paw on you. She does enjoy giving your nose a lick though. She's a fussy eater, will only eat cat food in gravy so she can lick it all off and will even turn her nose up at fresh fish. Obviously she goes mad for all cat treats though, even ripping open her Christmas present last year when she could smell catnip through the paper.
She rolls around in the kitchen sink like a lunatic after it's been bleached!
She was my saviour when I got her. A crazy, independent cat that we'd be lost without."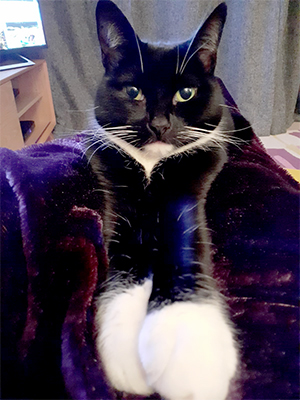 ‌‌
---
April
Scampi is April Cat of the Month
His owners adopted him when he was just a few weeks old and fitted easily into an adult hand!. His owner Mike told us:
"Scampi had had a difficult start to life as he had been found feral and had had to be fostered in order to get him used to human interaction. He had a big bald patch on his side where he had been operated on to be spayed before they realised that 'Tia' (as he had been known) was actually a male! However,despite all this he is now the tamest and most loving cat you could ever wish for. He doesn't meow but instead squeaks, he is absolutely terrified of being outdoors on his own (so it's a good job he was destined to be a house cat!), and he constantly craves human affection (including lengthy belly-tickling). In fact, the only human that he has not yet made friends with is our three month old daughter who he is very wary of, but we are sure they will be buddies for life very soon!
We actually picked his name because he didn't walk normally when we first brought him home - he seemed to scamper instead, and he has certainly lived up to his name as he has become older. You can guarantee that you will find him wherever he shouldn't be, so you can always find him lounging on freshly cleaned clothes or even in the washing basket. All in all he thoroughly deserves to be recognised as a fantastic companion to all of us"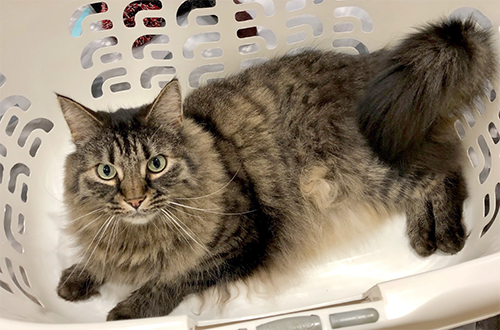 ---
March
Poppy is our March 'Cat of the Month'! Poppy was selected at random from all of the Bristol Cats to feature as Cat of the Month, and to receive a new toy.
Poppy is an eight year old rescue cat & a housecat.
Her owner tells us "She enjoys playing with her catnip mice & football & is a very sociable cat. When she is not hiding under her blanket she enjoys watching the birds outside, watching television especially if there are squirrels on the television & exploring the house. We enjoy having Poppy as a pet & were lucky to be able to give her a home when she was a kitten".
Congratulations Poppy.