Cleanroom
Open to all researchers at the university and accessible for external organisations as well, our cleanroom enables wafer-scale micro and nano fabrication. It comprises several class-1000-rated rooms and houses process tools for lithography, dry etch, deposition, chemical processing, post processing and characterisation. These tools are used for rapid prototyping of a range of devices, including photonic structures, microfluidics, micro-lenses, integrated circuits and MEMS. Equipment and specifications listed below.
Lithography
Raith Voyager EBL system
High performance electron beam lithography tool
Greater than 1cm²/hr writing speed (at 50 % pattern density)
8nm linewidth in HSQ resist
30nm pitch grating with 10nm linewidth
Stitching accuracy <20nm
Fixed Beam Moving Stage (FBMS) and Modulated Beam Moving Stage (MBMS) patterning modes available (stitching-error-free)
Linear grating coupler fabricated on SOI wafer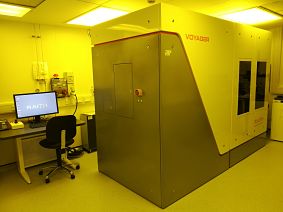 Karl Suss MJB3 Mask Aligner
3" maximum wafer size
UV 400 optics
Standard processes available using S1800 series, LOR, AZ resists
Sub-micron resolution achievable in vacuum contact mode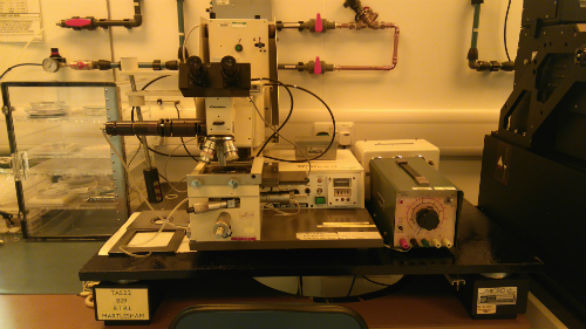 MIDAS MDA-400M-6 Mask Aligner
Up to 6" wafer size
Sub-micron resolution in vacuum contact mode
Backside alignment using through-wafer IR illumination
Beam uniformity of 3% across 4" wafer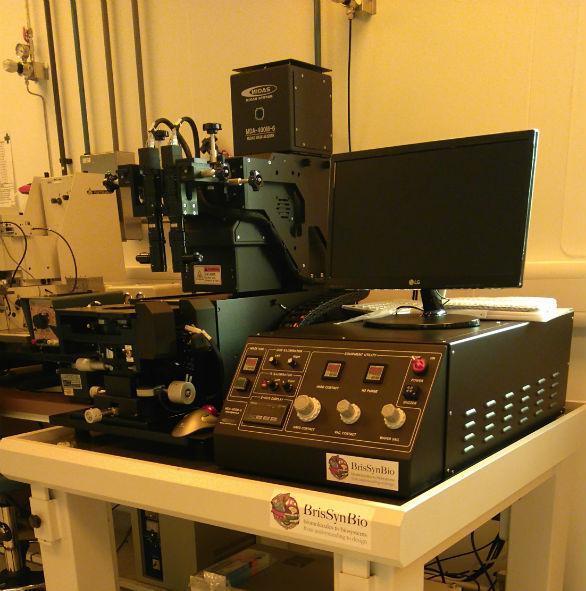 Zeiss EVO SEM and EBL system
30 kV accelerating voltage
Raith ELPHY plus patterning system
50nm linewidth resolution
Imaging with tilt and rotation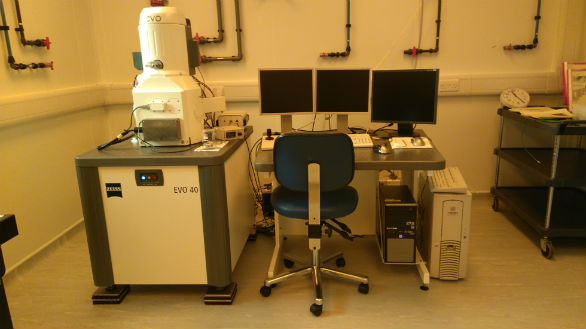 Dry etch
RIE - Silicon dioxide and silicon nitride etch
JLS Designs Plasmapod Plus and Plasmatherm RIE 550-570
Available for etching SiO2 and Si3N4
Primarily these system are used to produce hard masks for further wet and dry etching steps
Other materials have also been etched in the Plasmatherm system, most recently polyimide
Gases available are CF4, CHF3, Ar, O2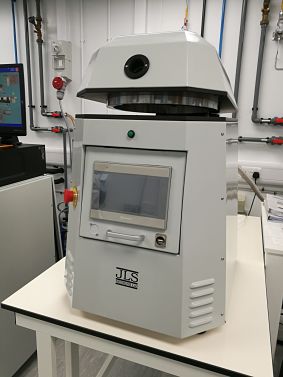 RIE - Silicon etch and niobium nitride etch
JLS Designs Plasmapod RIE
Used for etching silicon and superconducting thin films such as niobium nitride
Available gases are SF6, CHF3, Ar and O2
A further two gas lines are currently spare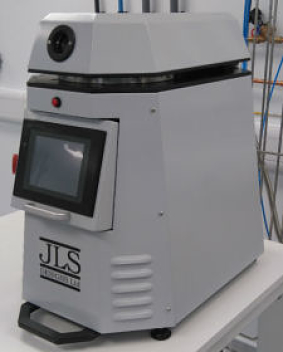 ICP-RIE - Oxford Instruments system 100 ICP 180
Configured for III-V, II-VI etching
4" wafer holder
Up to 8 process gases available that are suitable for etching a wide range of materials, including silicon and LiNbO3
Standard processes available for high quality InP etching
ICP-RIE - Oxford Instruments System 100 Cobra
Configured for high quality Si etching
SF6-based etch processes
Etch recipes for
4" wafer holder, can be configured for up to 8"
Laser end-point detection
Plasma asher - Diener Zepto
O2 and Ar plasma asher
Surface functionalisation and sample cleaning
105mm diameter chamber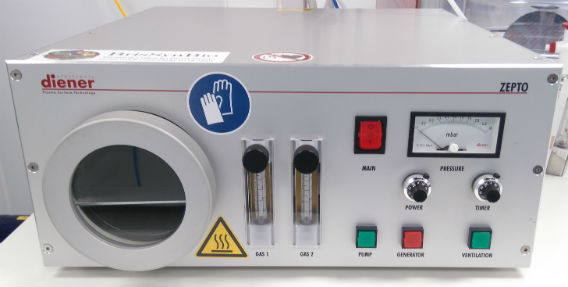 Deposition
Sputter Coater - Moorfield Minilab
Three targets, 2" diameter - Au, NiCr, Ti, Pd, Pt available and other materials by request
Rotational sample holder
Confocal or parallel sputter head orientation
Better than +/- 5% uniformity across 4" wafer (confocal deposition)
Thermal Evaporator - Edwards E306
Metal deposition - Au, Ni, Ag, Al, Cr, other metals by request
Thin films, usually < 300 nm
Base pressure typically 1.10-6 mbar
PECVD - Oxford Instruments System 100
a-Si, SiO2 and Si3N4 deposition
Loadlocked system
Ammonia-free Si3N4 recipes available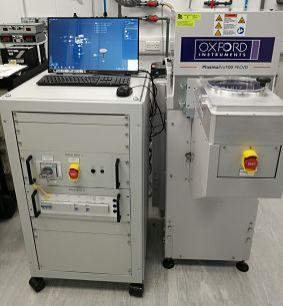 E-beam evaporator - Moorfield Minilab
Metal deposition: Au, Ti, Al, others by request
Dielectric material deposition: Al2O3, SiO2
Six-pocket e-beam gun with 7 cc volume
Integrated into sputter coater system
Chemical processing
Wet benches
Acid/base processing
HF processing
Fume cupboards
Solvent cleaning
Spin station (photoresists)
Spin station (coating system for SU-8 and spin coater for EBL resists)
Standard etch processes
Transene TFA Au etch
Transene TFG Ni etch

Transene TFN NiCr etch

Aqua regia

Piranha

HF/BOE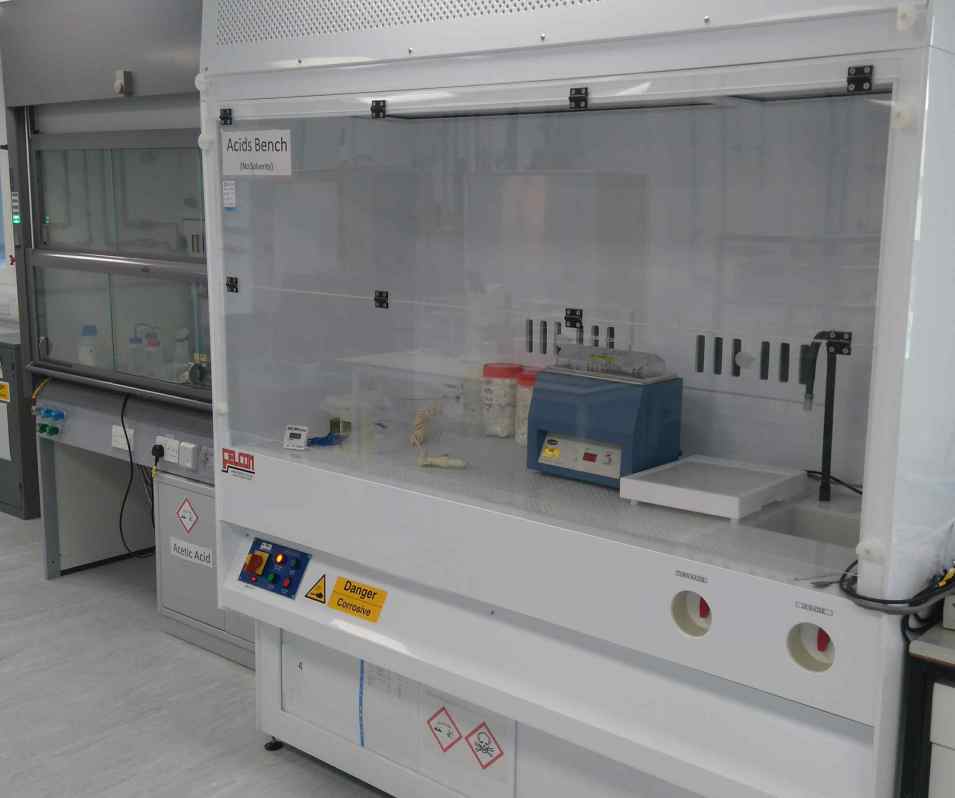 Post processing
Cammax Precima EDB80 Die Bonder
Eutectic die bonder
Precision placement
Vacuum pick and place
Loadpoint Microace Series 3 Wafer Dicer
4" wafer compatible
Variety of cutting modes

Single and multi pass
Programmable rotation with 0.005° resolution
Square, circular, hexagonal substrates, up to 8 mm thick

Servo-driven y-axis with 2 μm resolution
Feed-rate from 0.1 mm/sec upwards
Spindle speed from 3000-40000 rpm
Suss Auto Scriber
Precision diamond scribing
Optical alignment
3" wafer vacuum chuck
K&S 4524 Wire Bonder
Gold ball bonding
25um diameter wire
Fine pitch capillaries available
TPT HB16 Wire Bonder
Gold ball and wedge bonding (25um diameter as standard)

Aluminium wedge bonding (33um diameter as standard)

17-50um diameter wire bonding possible

Fine pitch capillaries available

Loop control

Manual, semiautomatic, automatic bonding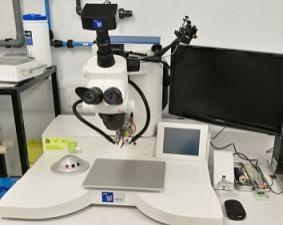 Characterisation
Zeiss EVO SEM
SEM used for surface characterisation and imaging
5-30kV accelerating voltage
Primarily a patterning tool, but available for some imaging purposes
Variable pressure mode available
Agilent Atomic Force Microscope
High precision, scientific-grade microscope, providing atomic-scale resolution
Applications in material science, polymers and general surface characterisation
Contact and Intermittent contact AFM modes available
Dektak Surface Profiler
Stylus with 2 μm diameter tip
3D profilometer
Step height repeatability of 4 Å possible
Vertical size limit of 1 mm
6" wafer compatible
J A Woollam RC2 Spectroscopic Ellipsometer
High quality measurement of thin film and bulk characteristics including

Optical dispersion (complex refractive index, dielectric permittivity)
Film thickness
Multi-layer characterisation

Films may be isotropic or anisotropic, homogenous or graded
Wide wavelength range: 210-2500 nm
Variable angle: 45-90 degrees
Filmetrics Profilm3D Optical Profilometer
Interferomtric white light profilometer
Measures surface profiles with vertical feature resolution down to 0.001 µm by using white light interferometry (WLI)
Automated XY stage
Two objective lenses

20x : field of view = 1.0 x 0.85 mm (spatial sampling = 0.44 um)
100x : field of view = 0.2 x 0.17 mm (spatial sampling = 0.088 um)
Filmetrics White-Light Reflectometer
Quick and easy thin film thickness measurement
Wafers up to 6"
Inspection microscopes
Variety of inspection microscopes available
Polyvar Polymet microscope fitted with objectives ranging from x2.5 to x150 calibrated to permit length measurements
Leica viewers and inspection microscopes also available
Cleanroom requests
To enquire about using the cleanroom email Cleanroom Manager
Dr Andrew Murray
or call 0117 95 46932 and download our project proposal form
Enquiries
---
Dr Andrew Murray

Dr Pisu Jiang

Senior Process Engineer

Virtual tour
Get support
Get advice on your process requirements from our experienced engineers

Health and safety