View all news
Man who 'built' Minority Report to deliver thought-provoking lecture in Bristol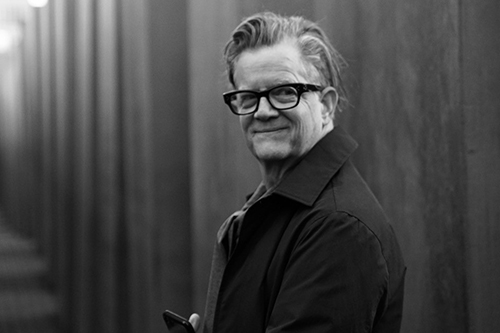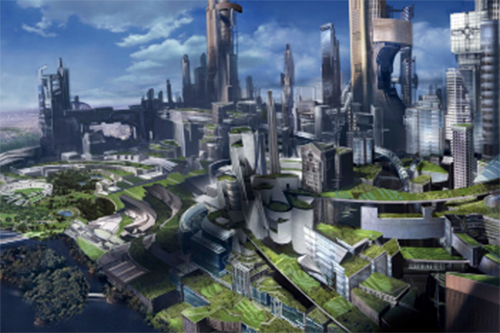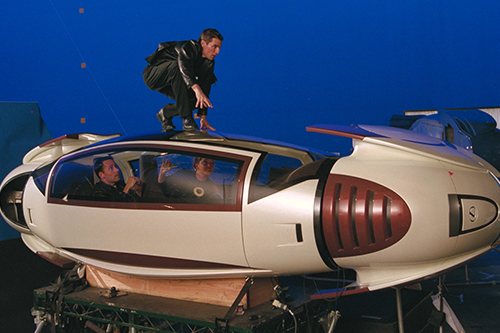 Press release issued: 14 November 2019
This year's Bristol Vision Institute Richard Gregory Memorial Lecture will be given by multi-award-winning visionary designer and storyteller, Alex McDowell, on Thursday 28 November at the University of Bristol's Wills Memorial Building.
Director of the World Building Media Lab at the University of Southern California, Alex has over 30 years' experience as a film production designer, working with directors including Steven Spielberg, David Fincher and Anthony Minghella.
Alex uses emerging technologies to 'build' worlds, including the fictional world in Spielberg's Minority Report, and will talk about story-telling and creating the future in his lecture: Reality Starts Here. Building Fictional Futures to Change the World.
In Alex's own words: "We use stories to make sense of the world around us, to create a vision, stimulate our imagination, and touch our emotions. In this talk I will be showing how story-telling worlds place the human experience at the centre, framed in relation to time and space, culture and infrastructure, art and science, governance and energy, population and environment. Our process is based on the reality that the future starts now, and disruptive narratives are designed to stimulate and challenge. World Building taps into the innate ability of the creative collective to tell new stories that make sense of the rapidly changing world around us."
The annual lecture is held in memory of Professor Richard Gregory, the inspiration behind Bristol Vision Institute (BVI). Professor David Bull, Director of BVI, said: "It is a great coup to welcome someone with such extraordinary talent as Alex to Bristol. His work has had considerable influence on inter-disciplinary creative design and story-telling, and as a film production designer, his vision of fictional worlds has truly shaped our collective imagination of the future.
"It is Alex's ability to view the world differently, and to take others on that journey, that makes him a true visionary. He is therefore the perfect choice to deliver this lecture on behalf of the Bristol Vision Institute and in memory of another great visionary, Professor Richard Gregory.
"We are grateful to Bristol+Bath Creative R+D who have supported the event and hope to see members of the public, staff, students, young people in the Great Hall of the Wills Memorial Building for a voyage of discovery through futuristic worlds!"
Tickets are free and are available via Eventbrite. Book your place now.
Further information
About Alex McDowell, Director, World Building Institute, USC
Alex McDowell is an award-winning visionary designer and storyteller who works at the intersection of emergent technologies and experiential media. He has spent the last 20 or more years building on his experience as a film production designer, to develop new narrative design systems that take on real-world issues by building holistic worlds that can shift our present stories towards aspirational futures.

He has worked with directors including David Fincher (Fight Club), Anthony Minghella (The English Patient) and created the fictional world for Steven Spielberg's "Minority Report".
http://www.bristol.ac.uk/vision-institute/events/richard-gregory-memorial-lecture-2019/professor-richard-gregory/rgl-speaker-biographies/
Bristol Vision Institute
Bristol Vision Institute (BVI) is the home of vision science research in Bristol and has been successfully stimulating research interaction and collaboration in science, engineering, arts and medicine since its creation in 2008. It brings together some 170 associates from engineering, computer science, biological sciences, psychology, ophthalmology, history of art, film & television and medicine with the aim of addressing grand challenges in vision research.
http://www.bristol.ac.uk/vision-institute
Richard Gregory Memorial Lecture
Professor Richard Gregory CBE FRS FRSE (1923-2010) was a British psychologist, polymath and Professor of Neuropsychology at the University of Bristol. Richard was a great interdisciplinary thinker and an inspiration behind the formation of Bristol Vision Institute. These annual lectures are held in his memory.
Richard's passions included visual perception and understanding visual illusions. He is well known for his explanation of the Café Wall Illusion. Richard's achievements were recently recognised by the City of Bristol through the award of a Blue Plaque which is mounted on the Workhouse Kitchen above the Cafe Wall Illusion in Bristol at the bottom of St Michaels Hill.
http://www.bristol.ac.uk/vision-institute/events/richard-gregory-memorial-lecture-2019/professor-richard-gregory/

Bristol+Bath Creative R+D
Bristol+Bath Creative R+D is a first of a kind, a £6.8 million collaboration between the region's four universities - the University of Bristol, University of Bath, UWE and Bath Spa - and digital creativity centre Watershed. The University of Bristol is represented thanks to BVI Director Dave Bull who is a key partner.
We are grateful for Bristol+Bath Creative R+D's support with this event.
https://bristolbathcreative.org/