View all news
Open letter on mental health and wellbeing from the Vice-Chancellor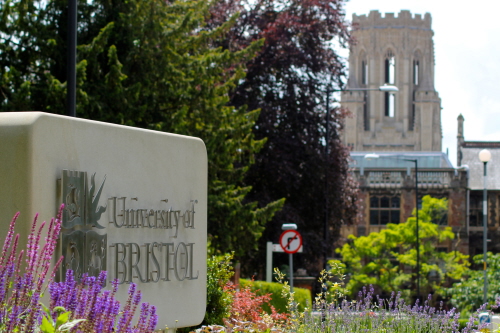 Press release issued: 6 May 2018
Open letter on mental health and wellbeing from Professor Hugh Brady, Vice-Chancellor and President of the University of Bristol
Being at university is an exciting and rewarding time – a chance to learn new skills, challenge yourself academically and make new friends for life. We also know that for some students there can be times when they struggle with the demands of studying or life in general.
Nationally, and indeed globally, there is increasing concern about mental health, and the growing pressures young people face living, studying and working in today's world. We know that approximately one in four young people report a mental health problem each year, and that 50 per cent of chronic adult mental illness starts in teenage years, and 75 per cent before the age of 24.
As participation in higher education in the United Kingdom has expanded, there has been a significant increase in the number of students coming forward to seek help from counselling services, with a tripling of referrals across the sector since 2006.
It is an issue that has been acknowledged at a national level. A Universities UK (UUK) working group has been set up to look at what are the causes of the rise and what more can be done to tackle the problem. UUK launched their #stepchange framework earlier this year, and we are using its principles to inform many of the aspects of our own support services at Bristol.
Sadly, for our University community, we have suffered the loss of a number of our students in the past two years. It is a tragedy that we all feel deeply. We work hard every day to keep our students safe and secure and to provide an environment and support network where they can thrive and grow. When we hear the news of a student death it hits us all very hard.
It has also meant that the focus of this national and global issue has at times been on us as a University and a city.
We are working tirelessly to improve the level and access to support and services, and I feel strongly that for any institution to get ahead of the growing problem it needs to take a joined-up and proactive approach. That is why at Bristol we are taking a whole-institution approach to wellbeing and pastoral care. We believe an integrated approach across all areas of support will help provide the best possible experience for all our students. This includes major new investment to support student wellbeing in our academic schools, in our central services, and in our halls of residence. Alongside support for students we are also working on improving the support services for staff.
For many years we have operated student support services including on-campus GP services, counselling and services that specifically support our most vulnerable students. We are adding to these by investing an additional £1m annually in a new Student Wellbeing Service. This will see staff whose primary responsibility is to support student wellbeing embedded in academic schools and faculties who are well placed to identify and assist students at an early stage, so they can be offered support before any issues start to escalate. Staff are being recruited now and will all be in place before the start of the new academic year.
In line with universities across the UK, the demand for specialist Students' Health and Counselling Services has been unprecedented this academic year. In the short term we have implemented a new range of group drop-in sessions, workshops and self-help resources to help meet demand and we have permanently increased staffing within these services.
We have also been investing in more support for our students living in University residences – in response to increasing student numbers, greater diversity in the student body, and more complex student wellbeing issues. The 24/7/365 support team will work with the new Student Wellbeing Service to support our students through a combination of full-time trained staff and live-in peer mentor support.
Academically, we already offer students the support of personal tutors led by a senior tutor in each school. Earlier this academic year, we introduced the new Bristol Futures online courses, which are freely available to all students. The themes of these courses – innovation and enterprise, global citizenship and sustainable futures – include elements designed to help our students improve their personal resilience and adaptability, and to develop skills to deal with the increasing complexity of our world. We have also put on a programme of events to support student wellbeing and offer guidance on stress management during the examination period: http://www.bristol.ac.uk/students/support-2018/
Collectively, this approach represents one of the highest levels of investment in pastoral care in the UK higher education sector.
The challenges of mental health are not ones our University can address alone. We already work closely with the City of Bristol, Public Health England and the local NHS, the Samaritans and other third-sector groups such as Big White Wall and Papyrus. This year we also signed up to the Time to Change pledge. Equally it is important that we acknowledge that challenges regarding wellbeing are not limited to students but affect staff as well.
Given the complexity of the challenges surrounding wellbeing, and the need to ensure that we are making evidence-based decisions and assess our approach each step of the way, I have convened two groups – an internal University of Bristol Mental Health and Wellbeing Taskforce to look at immediate issues for both staff and students, and an Expert Advisory Group of regional and national experts in health and education to advise on implementation and monitoring of our University-wide model.
We are fortunate to have amongst our staff world-leading experts and researchers in the areas of mental health and suicide prevention. They will be part of this Expert Advisory Group and ensure that universities across the country can learn from our experience.
We know that improvements in response and prevention will be best achieved based on accurate and reliable data. Producing a robust national dataset remains challenging and we welcome the fact that the Office for National Statistics is currently working with the Higher Education Statistics Agency to link national aggregate records, work that will report in Spring 2018. I am confident that in building a whole-institution approach to wellbeing and mental health, we will not only better support our students and staff but contribute meaningfully to this global challenge.
The steps we are taking are the start of a journey that will evolve over time. New activities and initiatives will emerge as we learn from our actions here at Bristol, and as all parts of our society understand more about these complex challenges. Whilst there are no quick fixes, I would encourage all members of our community to remember that there is never a wrong time to simply ask someone how they're feeling and take the time to listen and care.
Working together I believe we can build an environment on our campuses where our staff and students can thrive, and where all aspects of wellbeing are reflected in every facet of the University of Bristol experience.
Hugh
Professor Hugh Brady
Vice-Chancellor and President
Further information
Are you affected by any issues raised by this letter? Talk to someone.
There are useful helplines and websites available now.
Students can access services at http://www.bristol.ac.uk/students/wellbeing/
Staff can access the staff counselling service at http://www.bristol.ac.uk/staffcounselling/
Samaritans (116 123) operates a 24-hour service available every day of the year. If you prefer to write down how you're feeling, or if you're worried about being overheard on the phone, you can email Samaritans at jo@samaritans.org.
Childline (0800 1111) runs a helpline for children and young people in the UK. Calls are free and the number won't show up on your phone bill.
PAPYRUS (0800 068 41 41) is a voluntary organisation supporting teenagers and young adults.
Depression Alliance is a charity for people with depression. It doesn't have a helpline, but offers a wide range of useful resources and links to other relevant information. http://www.depressionalliance.org/
Students Against Depression is a website for students who are depressed, have a low mood or are having suicidal thoughts. http://studentsagainstdepression.org/
The Sanctuary (0300 003 7029) operates a 24-hour service available every day of the year, for people who are struggling to cope – whether they are experiencing depression, anxiety, panic attacks or are in crisis.