View all news
Mental health campaigners share their story as University signs Time to Change pledge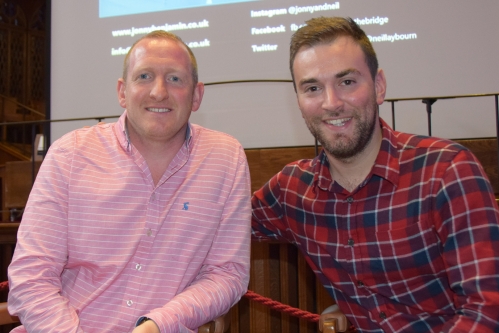 Press release issued: 6 October 2017
Award-winning mental health campaigners Jonny Benjamin and Neil Laybourn, who met when Neil talked Jonny out of taking his own life by jumping from London's Waterloo Bridge, have shared their powerful story with staff and students at the University of Bristol.
The life-changing moment in January 2008 has not only raised the profile of mental illness but also led to a push for further parity between physical and mental health in all areas of society, from healthcare to workplaces, and particularly within schools and universities.
Their talk on Friday [6 October] coincided with the University signing the Time to Change employer pledge – a move which signifies its ongoing commitment to looking after the mental health of its students and staff.
Jonny and Neil told a sold-out audience about their first encounter one winter morning on Westminster Bridge and spoke about the importance of talking about your problems with those around you, reaching out for help and not suffering in silence.
When asked about what advice they would give to new students, Jonny said: "When I started university, it was really hard. I wanted to fit in and be like everyone else. I just shut down and didn't talk about the struggles I was facing.
"It's so important to talk about it and know that you're not alone. It's amazing to discover that people are feeling the same. Be brave and open up to those around you."
Time to Change is a growing social movement, run by charities Mind and Rethink Mental Illness, which supports people to talk openly about mental health problems and improve public attitudes and behaviour.
Professor Hugh Brady, Vice-Chancellor and President of the University of Bristol, signed the Time to Change pledge and also introduced the changes being made at the University this year to support the wellbeing of its staff and students.
He said: "Signing the pledge is part of the University's commitment to changing how we think, talk and act about mental health, and ensuring students and staff who are facing these problems feel supported.
"None of us are immune to mental health difficulties – whether that be our own, a family member, friend, classmate, colleague, or a stranger you meet by chance who needs someone to notice that they are struggling.
"There are increasing levels of concern about mental health across the higher education sector and we're committed to helping all our students and staff cope with the various pressures they may face, while also breaking down the stigma around mental health."
The University recently announced that it would be investing an additional £1 million per year to introduce a team of 28 full-time wellbeing advisers and managers who will be embedded in academic departments and cater for the welfare needs of students.
It is also investing additional resources in its specialist Students' Health and Counselling Services to ensure they can meet the increasing demand from students for mental health and wellbeing support.
In making a Time to Change pledge, the University of Bristol joins thousands of others in committing to change the way we all think and act about mental health in the workplace.
In addition to signing the pledge and Jonny and Neil's talk, there was an exhibition showcasing the mental health support and resources on offer at the University and from partners across Bristol.
Sue Baker, Director of Time to Change, said: "We know it can be hard to talk about mental health, which is why we're supporting employers to open up; to talk and to listen. Too many people with mental health problems are made to feel isolated, ashamed and worthless, but with the right support, those of us with mental health problems can recover and have equal opportunities in all areas of life. Everyone's attitude makes a difference and it's fantastic to see organisations like the University of Bristol taking the lead.
"Many leading employers have found that making a strategic commitment to the mental wellbeing of their workforce not only benefits their staff but also their bottom-line, improving productivity and staff retention. With one in six British workers experiencing mental illness it's time for businesses to make a change and start creating more mentally healthy workplaces."
Further information
Information for students on what help is available can be found on the welfare and pastoral care page of the website.
Jonny and Neil's story
In January 2008, Jonny decided to take his own life after being diagnosed with schizoaffective disorder - which is a cross between schizophrenia and bipolar. He was standing on Waterloo Bridge contemplating suicide when Neil stopped to talk to him, saying: "It'll get better mate, you will get better." After a 25 minute conversation, the emergency services stepped in and the pair were swept away and back to their respective lives.
Jonny's recovery was slow but when he started to feel better, he launched the #FindMike social media campaign in 2014. It went global and within two weeks, he found his man - who was actually called Neil Laybourn. The pair, who both live in London, are now firm friends, campaigning jointly on mental health issues and earlier this year ran the London Marathon to raise money for charity Heads Together.
In the Queen's 2017 New Year Honours List, Jonny was awarded an MBE for his services to mental health and suicide prevention.
About Time to Change
Time to Change is a campaign to change how we all think and act about mental health problems, led by the charities Mind and Rethink Mental Illness. It is funded by the Department of Health, Comic Relief and the Big Lottery Fund. Set up to create a positive shift in public attitudes towards mental health problems, Time to Change supports communities, schools and workplaces to open up to mental health problems; to talk and to listen.