View all news
University of Bristol research - world-leading with global impact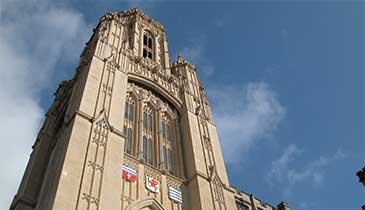 Press release issued: 18 December 2014
The Research Excellence Framework (REF) 2014 has ranked Bristol among the UK's top research universities. Our research is shown to have top quality and major impact on society and the economy, according to this assessment of research at every UK university. REF2014 will decide how around £2 billion in research funding will be allocated each year from 2015-16.
Thirty-six per cent of the University's research received the top 4* rating, defined by the Higher Education Funding Council for England (HEFCE) as 'world-leading'. This is six per cent above the sector average and twice the level the University achieved in the Research Assessment Exercise (RAE) 2008, placing Bristol tenth in the Russell Group.
Geography at Bristol has consolidated its position at the top of the UK rankings. Other research areas in which the University has achieved particular distinction include: public health, health services and primary care; earth sciences; chemistry; mathematical sciences; and sport and exercise sciences.
The University has ten impact submissions ranked in the top five in the Russell Group. Four of these achieved 100 per cent world-leading 4* impact: clinical medicine; public health, health services and primary care; economics and econometrics; and sport and exercise sciences. Eighteen of the University's 31 submissions are in the Russell Group top ten by 4* impact including submissions from across all six faculties, underlining the range of the impact of the University's research across a wide range of disciplines.
Over 91 per cent of eligible staff at Bristol were included in the University's REF submission – indicating Bristol has among the highest research intensity in the sector, coupled with a strong and diverse quality profile.
Professor Sir Eric Thomas, Vice-Chancellor of the University of Bristol said: "These results underline the outstanding quality of the world-class research carried out at Bristol. It is particularly pleasing to see the high quality reflected across the broad disciplinary base for which Bristol is known, whereby 83 per cent of our research is rated as 'world-leading' or 'internationally excellent'.
"It is also of note that we purposefully chose to enter a high proportion of staff which reflects our research intensive ethos and the role this plays across our diverse research communities and in enriching our students' educational experience.
"The impact of our research is clear, benefiting society and the UK economy, with almost 60 per cent of our submissions achieving world-leading, 4*, impact.
"These outstanding results, coupled with current major successes in attracting research funding, reflect well on our research prowess as well as on the future strength of our position as a global, research intensive institution.
"I would like to thank all colleagues involved for this significant achievement."
Summary information about Bristol University's REF2014 results is available at www.bristol.ac.uk/research/assessment/
Further information about the national REF2014 results is available at www.ref.ac.uk/
University of Bristol ranked among top ten UK universities for research
Further information
Research at the University of Bristol contributes to the University's international reputation, it informs our teaching and it is the basis of our economic and societal role in the region and of our collaborations across the world. Articles celebrating the range and depth of this research, and how it impacts on society, are available at: www.bristol.ac.uk/research/impact-stories/
In 2013 the University of Bristol was awarded the Queen's Anniversary Prize for Higher Education - the highest accolade for any academic institution – in recognition of its leading-edge research and impact in obstetric and neonatal practice, which has made a positive difference to mothers and babies throughout the world.
The University of Bristol has 40 Fellows of the Royal Society and 15 Fellows of the British Academy on its active and emeritus staff. That is impressive by any standards; in relation to the University's modest size, it is remarkable.
The University has two flagship University Research Institutes, delivering cross-disciplinary research and impact of an institutionally-defining scale and quality.
The Cabot Institute, launched in 2010, carries out fundamental and responsive research on risks and uncertainties in a changing environment. Its interests include natural hazards, food and energy security, resilience and governance, and human impacts on the environment.
The Elizabeth Blackwell Institute for Health Research (EBI), launched in 2013, brings together leading researchers from a range of different fields to help solve the most pressing health problems of the 21st century.
About Research Excellence Framework 2014
The four UK higher education funding bodies [Note] allocate about £2 billion per year of research funding to UK universities, based on the quality and volume of each university's research. They aim to support a dynamic and internationally competitive UK research sector that makes a major contribution to economic prosperity, national wellbeing and the expansion and dissemination of knowledge.
Aims of the Research Excellence Framework
To distribute funds selectively on the basis of quality, the funding bodies assess universities' research through a periodic exercise. This was previously known as the Research Assessment Exercise (RAE), and was last conducted in 2008.
The 2014 Research Excellence Framework (REF) replaced the RAE. It assessed the quality and impact of research submitted by UK universities across all disciplines. The results will be published in December 2014 and will be used by the funding bodies to allocate block-grant research funding to universities from 2015-16.
As well as informing funding allocations, the REF provides accountability for public investment in research, demonstrates its benefits, and provides important reputational yardsticks and benchmarking information about the research performance of UK universities.
REF2014 key facts
● 154 UK universities took part. They made 1,911 submissions for:
– 52,077 academic staff
– 191,232 research outputs
– 6,975 impact case studies
● 36 expert sub-panels reviewed the submissions, overseen by four main panels
● Around £2 billion per year of research funding will be allocated on the basis of
the results.
Note
The four UK funding bodies are: the Higher Education Funding Council for England (HEFCE), Scottish Funding Council, Higher Education Funding Council for Wales, and Department for Education, Northern Ireland.