View all news
"Reaching my full potential": Q&A with law prize winner Victoria James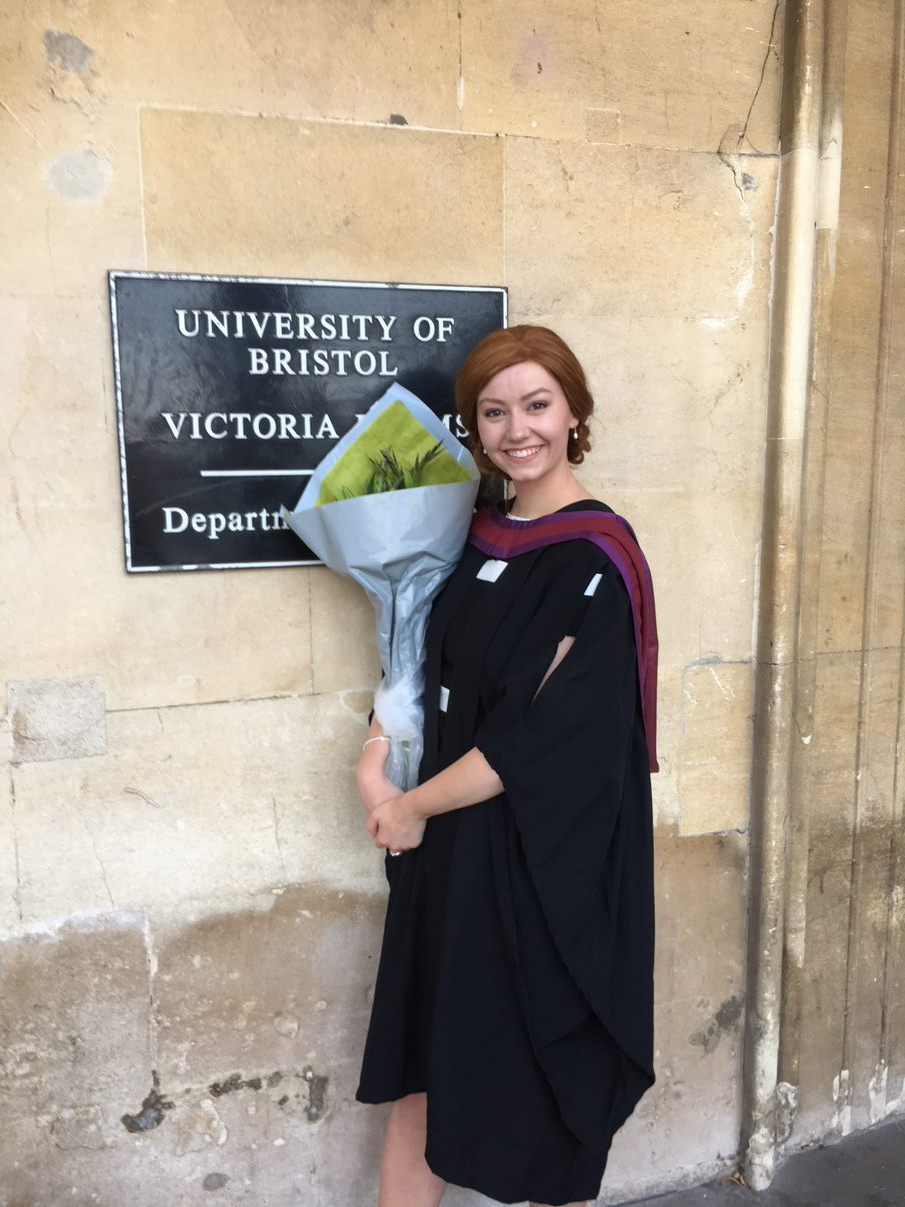 Press release issued: 12 August 2019
Following last month's graduation celebrations, we caught up with recent final year LLB graduate, Victoria James who scooped the prize for 'Best student in Employment law'. In this Q&A, Victoria outlines why she chose to study at Bristol, what she loved about her course and how she came to realise her full potential.
What made you decide that Bristol University was the one for you?
When researching and deciding upon a university, I knew I wanted somewhere which offered an academically stimulating course, whilst also being in a city which I would enjoy living in. For me, Bristol University offered both of those, as well as offering great career opportunities. Not only is Bristol a vibrant city, it is also one which provides something for everyone. In addition, the Law course at Bristol is structured in a way which tries to give you as many optional modules as possible. This allows you to tailor your degree towards the areas you are most interested in or take an open module from a different degree discipline to add variety. I was therefore able to guide my study towards my desired career as a commercial solicitor, choosing modules such as Company Law, Corporate Law Simulation and an open module of Mathematics.
What have you found most inspiring during your time at the University of Bristol?
As students of the University of Bristol, we are incredibly lucky to have such passionate tutors, many of who are leading academics in their respective fields. In Employment Law, for example, our lecturers' research has been used as key material in recent Supreme Court judgements. To attend a lecture on a case whereby the lecturers' work is a formative part of the judgement not only makes it more exciting, but also brings the lecture to life. That being said, I have been most inspired by my friends and fellow Law students at the university. Despite having different strengths, interests and aspirations, we have all pulled together, sharing ideas and helping each other through the more pressured moments. To share my time at university with such intelligent, thoughtful and motivated individuals has been a pleasure, and I have made very fond memories over my three years at Bristol.
What has been the biggest challenge you have faced while studying?
I think the biggest challenge for me has been recognising that progress is not always a simple upward curve. Upon starting at university, I was confident that I would settle into the lifestyle very quickly and that the workload would not phase me. However, I think it is important to recognise that having setbacks is not only normal, but actually beneficial in order to reach your full potential. The process of receiving marks which may be lower than you expect, or not being offered your preferred internship, actually enables you to acknowledge your strengths and where you can improve, enabling you to refine your skills and make moments of success mean even more.
Congratulations on winning the award for 'Best student in Employment Law'! How do you feel about receiving this?
I am absolutely delighted to receive this award. Studying Employment Law has opened my eyes to the interaction between law, economics and sociology to see how political ideologies and historical developments have shaped employment relations today. Grappling with some of these core themes and critically engaging with the course content has been challenging, yet highly rewarding. In addition, the Employment Law team is formed of very passionate academics, all of which have published research which is highly appraised amongst employment scholars. As such, to win this award is a privilege, and testament to the dedication and enthusiasm of the tutors leading this course and the time they invest in helping students exceed their expectations.
What had you dreamed of being when you were little?
I am not sure I had a clear idea of exactly what I wanted to be when I was little. I have always found the City of London appealing and envisaged myself working in a corporate environment, so having a job as a city lawyer feels like a pretty good fit!
What are your plans now you've graduated? Do you have any long-term goals?
During my time at university I attended a number of networking events arranged by the Law School and student societies such as the University of Bristol Law Club (UBLC). Not only were these great events for meeting fellow students, but they also gave me a valuable insight into different law and non-law career options. After completing several vacation schemes in London, I am delighted to have secured a training contract with US Law firm Squire Patton Boggs commencing in September 2021.
What advice would you give someone starting out at the Law School this year?
There is more to university than just your degree. Although you will have chosen to study Law at university, you do not have to spend your whole time sitting in a library. There are so many extra-curricular activities in and outside of Law: there are debate, negotiation and mooting opportunities, sports societies, and socials such as Winter and Spring Balls. Alternatively, having volunteered as a primary school Maths tutor for a local education charity, I have loved having an interest in the local Bristol community. Working hard is important, but make sure you enjoy some time off too!
Make use of your tutors - ask questions! Law is, in its nature, a very content-heavy course and so it does require you to be on top of your work and engage with further reading for tutorials. A mistake I think I made in first year was viewing these tutorials as a tutor's way of 'testing' that I had done the preparation, and as such could find myself holding back from really making use of my tutors' knowledge. Of course, the tutors want to feel you have done some preparation – after all, they are not there to give you all the answers. That said, they are an excellent source of information, and are very keen to share their knowledge and research to help you if you show a willingness to learn.
Prepare to make mistakes and don't be afraid to get things wrong! It certainly gets easier throughout your time at university, especially as you gain confidence in yourself and your studies, but as intimidating as it can be to be sat in front of your textbook's author, answer (and ask!) questions. Undoubtedly the best way to make the most of your time at university is to use the help around you and not be afraid of voicing any confusion you have; I can promise you that if you are hardworking and enthusiastic no tutor will mind answering what you may think is an obvious question!
Further information
Find out more about studying law at the University of Bristol on our course pages.