View all news
Mental Health and the City: Dispelling the Myths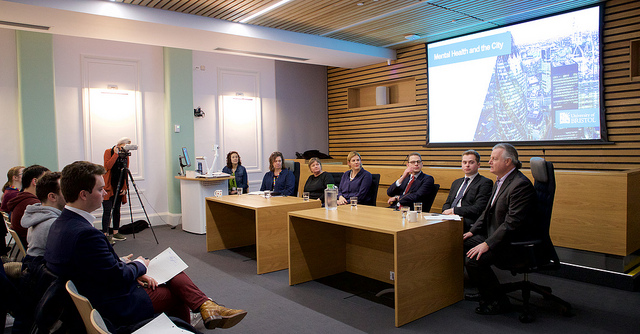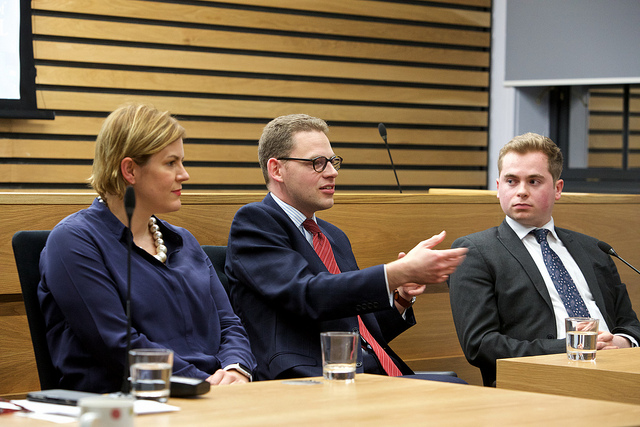 Press release issued: 25 February 2019
Big law firms often get a bad rap in terms of how they treat their staff. On 11 February a panel of individuals who have experienced periods of clinical depression and anxiety as well as those that provide support and guidance gathered in the Lady Hale Moot Court for an open dialogue about mental health and how much is going on in the industry to create a more caring legal community.
Chaired by Head of School Professor Ken Oliphant, the event's panellists included Bristol alumni, staff from international law firm Herbert Smith Freehills (HSF), the Chief Executive of LawCare, an organisation dedicated to the vision of a legal community that promotes and supports good mental health and wellbeing, and the Law School's Employability Advisor.
The event, sponsored by HSF, aimed to highlight the importance of destigmatising mental illness and of raising awareness of common themes and warning signs, as well as the support that is available to people. The panellists shared their personal journeys towards better mental health to illustrate that perceived obstacles can be overcome, and that mental ill-health should not put off students considering a career in the City.
The London Ability Network Committee at Herbert Smith Freehills put together a short film featuring colleagues from their UK offices, highlighting how individuals throughout the organisation are standing up to talk about their mental ill-health experiences:
Recognising the signs: a common thread affirmed by the panellists is that often people don't recognise the signs. Will Merry, Trainee Solicitor at HSF, graduated from the University of Bristol in 2016. In his first year, Will developed clinical depression and anxiety, which came to a head during his first-year contract law exam:
"I didn't realise I was developing a bad habit. When it came to my exam I had a panic attack – that's when I realised I had an illness."
He deferred the remainder of his first-year exams – which, though a struggle at first, led to a paradigm shift: "I realised the most important thing was not, did I do well at studies or have a training contracts, it was: was I well?" - and through a combination of medical help and support from friends, family and the School, developed a much healthier relationship with his studies and career-hunting.
Sam Brown, partner in the Employment & Pensions team at HSF, and Andrew Wells, Senior Associate in the IP team at HSF, described how they, too, suffered from clinical depression and anxiety, and struggled to recognise how unwell they were.
Looking back, Sam said she had "a real perfectionist problem. Every step seemed like the end of the world to me – taking time off, seeing a psychiatrist – but I survived each of these steps. I have much more respect for myself now, and I have much better relationships with colleagues and clients."
Andrew initially struggled with the thought that going down to working four days a week meant he couldn't cope with a five-day working week – "depression affected my perception" – but HSF's support reassured him that asking for help didn't mean he couldn't be a good lawyer.
Following a combination of taking time off, therapy, medication, flexible working arrangements and support from friends, family and colleagues they resumed their practice. Sam is now co-chair of the Firm's Ability Network, with a particular focus on mental health and wellbeing, and Andrew has been interviewed on BBC Radio 5 Live regarding mental health in the workplace and most recently wrote a blog piece for the MyPlus Student Blog which was subsequently published in The Lawyer.
Perfectionism, a personality trait shared by many lawyers, can make for a fear of admitting that you're struggling. Elizabeth Rimmer, CEO of LawCare, which aims to help the legal community with personal or professional concerns that may be affecting their mental health and wellbeing, and to promote understanding of how and when to seek help without fear or stigma:
"Mental health is much more on the agenda now – big changes are on the way. We're still at the beginning of the journey. I feel positive that things are changing in a positive way. Physical and mental health are connected and they're equally important."
Advice from the panel included:
Andrew: Spend some time working out what warning signs to look for – in others too, but primarily yourself. Take time to check in with yourself: 'Am I anxious?' Address it and wherever possible and nip it in the bud.
Sam: Work smarter, not harder. Take breaks. Switch off: don't always be available, make sure you set boundaries so that you take real breaks.
Will: Work out what your self care regime is. I like to go to the city farm and look at pigs.
Elizabeth: If you're worried, talk to a friend or a family member. Getting your worries off your chest will reassure you you're not the only one feeling that way. We've listened to thousands of lawyers and these are common experiences.
Jo Cooksley, the Law School's Employability Advisor: Don't underestimate micro-victories when feeling stressed: achieve some sleep; go for a swim; eat something healthy. Be an active participant in your future: make a plan for the short-, mid- and long-term. This will help you to drown out the voices around you announcing their plans and activities and instead allow you to focus on your own plan and what's right for you.
After previously practising law, teaching law and working with legal apprentices at CILEx Law School, Jo provides specialised careers support to all law students, offering 1:1 development sessions to create space to really think about what they want, workshops, tailored CV and application support and more.
As part of her role, Jo helps those struggling with confidence to visualise their future providing advice on career options and pathways. Whilst a majority of students are keen to pursue a corporate law career, it isn't always for everyone. Illustrating how a law degree can open up career paths previously not considered can often help move people away from feelings of hopelessness and reignite their passion in the subject.