View all news
Graduation celebrations and prizes: Congratulations class of 2019!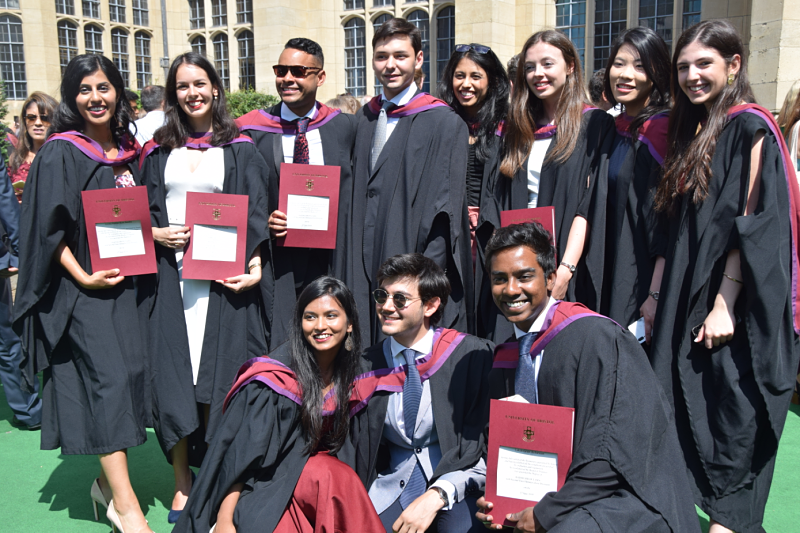 Press release issued: 25 July 2019
This week the Law School celebrated the graduation of the class of 2019 and their excellent results. From the cohort of students who had undertaken all assessments in their final year 90% achieved a 2.1 or above in their degree, with 98% of our Law with Study Abroad students achieving a 2.1 or above, an outstanding achievement.
Each year the Law School recognises those students who went above and beyond during their time studying at the University by honouring their hard work with a selection of prizes.
This year's prize winners were:
Emily Rigler Gillingham: Best student in the third year of the LLB single honours programme - Debbie Phillips Law Prize.
Tara Clarke: Best student in Trusts Law – sponsored by Slaughter and May.
Victoria James: Best student in Employment Law – sponsored by K&L Gates.
Sean Sutherland: Best performance in the Law MA – sponsored by the Law School.
Siew Boo: Best student in IT Law – sponsored by Gregg Latchams Ltd.
Emily Rigler Gillingham: Best final year research project – sponsored by CMS Cameron McKenna LLP.
Nikiana Lambert: Best student (Citizenship and Immigration Law: problem solving and reasoning) – sponsored by Burges Salmon LLP.
Emma Bowman: Best student volunteer in the Law Clinic – sponsored by the Law School.
"I am absolutely delighted to receive this award. As students of the University of Bristol, we are incredibly lucky to have such passionate tutors, many of whom are leading academics in their respective fields. Winning this award is a privilege, and testament to the dedication and enthusiasm of the tutors leading this course and the time they invest in helping students exceed their expectations." - Victoria James
"Being part of the Law Clinic has been one of the most challenging and rewarding parts of my time at university. I feel so proud to have been trusted to engage and support people in real world situations and to be involved with outreach projects such as CLIC Sargent. The experience has helped prepare me for my future work in the legal sector and I am very grateful to have had this opportunity at Bristol!" - Emma Bowman
"I am delighted to receive the Debbie Phillips Prize for best LLB student - it is a great honour to win such a competitive award! Knowing the Law School and its alumni recognise the hard work put in by students is so encouraging and a great confidence boost going forwards. I must give my upmost thanks to the family of Debbie Phillips for their generosity and support!" - Emily Rigler Gillingham
Julio Mkok, Bristol Student Union officer, founder of the East African Society and soon-to-be Law graduate, shared his experience of being a Kenyan student in Bristol on the University of Bristol Student Blog. Julio also did a University of Bristol and Law School Instagram takeover on the Law graduation day, sharing photos and videos from the Law graduation celebrations, as well as highlights of his time in Bristol – find out more on the Law School Instagram.
Further information
A selection of photos will shortly be available on our Flickr page. There is also a wealth of advice for new graduates on the University webpages, including how to update your details so that we can help you throughout your career.
Did you know that we have a growing online alumni community for the Law School? Join our LinkedIn Alumni group today to ensure you keep in touch with fellow graduates, take advantage of networking opportunity and share careers advice online.