View all news
Inside an Impressive Mind: Law School alumni advice on how to excel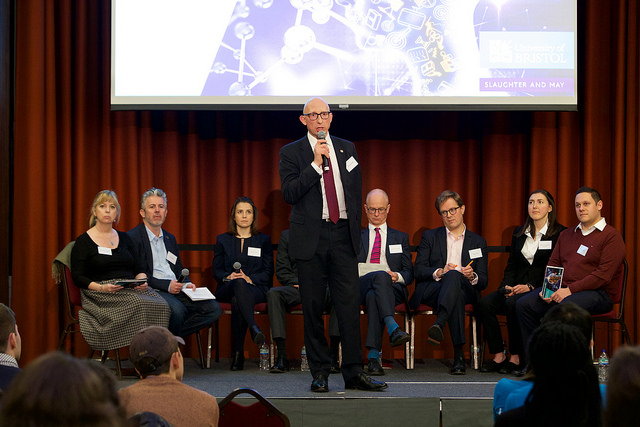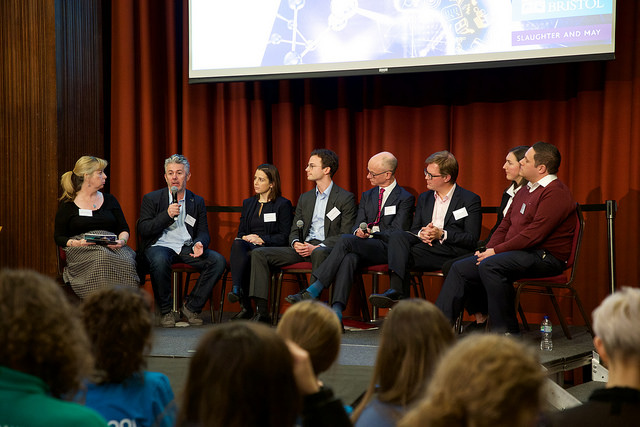 Press release issued: 4 December 2018
On 12 November a panel of prize-winning Law School alumni who excelled here academically and in their early careers gathered in the WMB Reception Room to deconstruct what tutors and employers consider makes an impressive mind. The evening's topics ranged from tips on how to approach essay and exam questions, boost critical thinking, building confidence through developing good oral communication skills, preparing for interviews, and the importance of mental and physical wellbeing.
Now, you can watch the event on youtube.
Chaired by Professor Joanne Conaghan ("Impressive minds don't spring into place, they have to be crafted"), the event consisted of a panel of alumni reflecting on the key elements of their approach at Bristol that led to their success in securing top flight jobs.
Their analysis of how to achieve excellence was complemented by that of two Law Professors, Michael Ford QC and Alan Bogg, and by Slaughter and May partner and Law School alumnus (LLB 1996) Robert Byk, who has led recruitment within his organisation.
Advice from the panel included:
Serena Crawshay-Williams (LLB 2016 LLM, future pupil Old Square Chambers) shared tips on studying and standing out, and how to approach essay questions; her advice was to read widely (research articles, practitioner blogs, etc) so that your answer doesn't simply echo the content of lectures and textbooks, but also to think carefully about how to interpret a question so that your answer can remain relevant but tackle a different angle.
Emma Loizou (LLB 2014, BCL, pupil Radcliffe Chambers) recommended handwriting rather than typing up notes, and finding your personal strategy to read in an engaged manner to avoid spending hours of reading without taking content in. Her talk reflected on seeing the bigger picture, reviewing material strategically (such as through making tables for cases with different categories) to place cases into context and make connections between them clearer.
Tristan Goodman (LLB 2017, trainee Slaughter and May) talked about overcoming awkwardness by speaking up and engaging in tutorials: take advantage of being new to a subject, peers are likely to have similar questions, and tutors are there to help and might even be inspired by thinking about familiar topics from new angles. His advice included drawing analogies with topics you're already familiar with and intrigued by as a way of engaging with and remembering material more effectively.
Professor Joanne Conaghan expanded on this point, commenting on how to make your subject choices: "Choose what you're interested in, because that's what you'll excel in."
Robert Byk agreed: "Don't live for us – don't layer things on your CV that you think we'll like. Do things you will like and find interesting, and your enthusiasm is more likely to make you interesting to us."
Professor Alan Bogg's advice: communicate complex ideas with clarity and simplicity: "make sure you write simply, write short sentences, don't try and 'be clever'.... don't be proud because your mum doesn't understand a word you're saying! Really smart people make complex issues simple."
Professor Michael Ford spoke about the 'P's' to success: Look for the fundamental Principles at play; Don't Panic – don't rush, absorb and think about your audience; Read with Purpose – set up a hypothesis; Process the material – summarise the key arguments; Be Pernickety; Be a Pain; and PRACTISE.
Aaron Khan (LLB 2010 LLM, tenant Brick Court Chambers) spoke about how to build confidence and resilience: "Don't be afraid to ask your friends and your tutors for help if you don't understand something. Look out for each other. If you see someone struggling, reach out ... Put setbacks in perspective. Place them in context, see the positives as well as the negatives ... And always make time outside of work and study. It's important to identify and make time for the things you enjoy: they will help you keep balance and perspective."